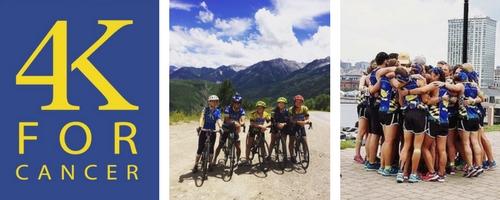 Zachary Shaps's Fundraising Page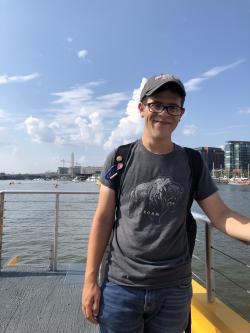 Zachary Shaps is a senior at Stony Brook University. In the summer of 2019, he will be traveling with a group of college-aged students on a 70-day, 4000+ mile ride from Baltimore to Seattle, raising money and awareness for the Ulman Foundation.
What is your connection to the cancer community?
Having family, friends, and interactions with inspiring people, I have seen firsthand the loss and devastation that comes with cancer. It's always been heartbreaking to me to see even the best of people impacted so deeply by the disease. Being too familiar with cancer through family, close friends, and an important mentor, and having lost some special to me, I decided early on to make it my life's work to help others. I've always felt a strong sense of responsibility to support and empower others in their fight, providing hope and inspiration to people who need it most.
Devoting some of my time to important missions like Relay for Life, Red Cross, and the Stony Brook Hospital also helps me fulfill that responsibility while bringing me closer to the community. The experiences I've had helped me realize the importance of a support network to those with cancer: to help carry heavy burdens but also spread joy.
Why are you traveling 4,000 miles this summer with the Ulman Foundation?
Through my years as a public servant and volunteer, I have heard so many stories from those personally touched by cancer. As a rider in the Ulman 4K for Cancer, I hope to hear more inspiring stories of young adults, their families, and friends, impacted by cancer across the country. I believe that every story is a lesson, and those lessons can be used anywhere: to lend wisdom, instill hope, and spread love.
The 4K for Cancer is the experience of a lifetime, so I want to complete it for other young adults who cannot, and to honor those I lost to cancer. I hope to be an example for my community by showing optimism and dedication. It's important to show that cancer should not be fought alone, and it requires everyone in the community to lend a helping hand. Through the team's commitment to service and riding, I know we can inspire countless others to join the fight!
ABOUT 2019 4K for Cancer
2019 marks the 18th year of the 4K for Cancer sending young adults on journeys across the country in an effort to inspire hope and unite communities in the fight against cancer. The 4K for Cancer is a program of the Ulman Foundation (Ulman). Interested in joining the fight? Apply to be a rider or runner a at www.4kforcancer.org!
CHALLENGE:
Over 72,000 young adults are diagnosed with cancer every year. Young adults (ages 15-39) face a variety of unique challenges with a cancer diagnosis including fertility preservation, social isolation, lack of insurance, delayed diagnosis, and more.
SOLUTION:
Ulman Foundation changes lives by creating a community of support for young adults, and their loved ones, impacted by cancer. With your support, Ulman is able to provide free support services and resources for the young adult cancer community including:
Cancer to 5K - a 12-week training program designed to introduce or reintroduce cancer survivors to physical activity.
Patient Navigation - a free program (onsite at cancer centers and remotely through our office) that ensures no young adult ever faces cancer alone. We provide one-on-one support & resources to young adults and their families to help them manage the cancer experience and long-term cancer survival.
Scholarships - a financial assistance program to help young adults continue their education after being affected by cancer through their own diagnosis or the diagnosis of a loved one.
Ulman House - This year Ulman will open a "home away from home" to provide free housing for young adult cancer patients, and their caregivers, in East Baltimore.
Your donation will help make these programs and our mission possible!
Supporters
Name
Date
Amount
Comments
Zachary Shaps
04/25/2019
$170.00
More raffle donations! $50 from Janice $20 from Ceci $100 from Joanna B. Thank you all for your support!
Zachary Shaps
04/25/2019
$12.00
Last $12 from my big brother Max! I love you bro!
Jeremy Rosen
04/16/2019
$18.00
Joshua Schor
04/16/2019
$100.00
Good Job!!
Zachary Shaps
04/12/2019
$230.00
Thank you to all of my family and friends who donated for the raffle so far, and for National Young Adult Cancer Awareness Week! $100 donation from Berit and Lynn $50 donation from Ruben and Shirley $50 donation from Tracy $10 donation from Nicole $20 from Patrick
Zachary Shaps
01/26/2019
$270.00
More rodeo proceeds, thank you to Bruce and Jill for the donation!!
Zachary Shaps
01/24/2019
$2,000.00
Proceeds from the 4K for Cancer Rodeo - thank you to everyone who came out to support! Special thank you to J2M Ranch and Gravity Check Arena for hosting, as well as Brick's River Cafe for donating raffle items! I couldn't have done this without any of you!
Alana Gross
01/09/2019
$25.00
So excited to be co-director with you!! Let's do this!!
Laura McCabe
12/09/2018
$50.00
Thank you and Good luck!
Zachary Shaps
10/26/2018
$500.00
Homecoming Jamba Juice fundraiser! Thank you to the students, alumni, friends, and family who donated and bought from me!
Zachary Shaps
10/18/2018
$35.00
From Jess and Izzy - thank you!
Amanda Tam
10/17/2018
$20.00
You are a legend, Zach Shaps. Your devotion and passion are incredibly inspiring. Good luck on your journey in the summer!
Zachary Shaps
10/05/2018
$70.00
MORE BRACELET PURCHASES FOR YOUNG ADULT-BREAST CANCER AWARENESS! Thank you to everyone who bought one!
Zachary Shaps
10/01/2018
$30.00
Thank you Robin, Draven (Derek), and Justas for the contributions and support!
Zachary Shaps
09/27/2018
$25.00
Thank you Grace and Rayna!! (first bracelet purchases!)
Michael Shaps
09/23/2018
$100.00
You're a good man, Zachary
Christine Marullo
09/16/2018
$25.00
Zachary Shaps
09/14/2018
$20.00
Donation from the Trejo family, thank you Leon and Ceci!!
Holly Mydland
09/13/2018
$100.00
Very proud of you Zachary!
Zachary Shaps
09/12/2018
$20.00
Donation from Daymond C., Thank you so much!!
Anonymous Friend
09/07/2018
$150.00
Go Zach Go!
Linda Foster
09/06/2018
$100.00
Good luck and love you
Carolyn VanderMale
09/06/2018
$20.00
Thank you for doing this - Cancer Sucks!!!
Zachary Shaps
08/29/2018
$25.00
Donation from Gloria, thank you!! ❤️
Robert Huffman
08/20/2018
$100.00
Good Luck Zachary!
Zachary Shaps
08/09/2018
$35.00
Thank you Harbir!
Zachary Shaps
08/09/2018
$50.00
Venmo donations - thank you to everyone who donated, I can't do this without you guys!
Julie Muetz
08/05/2018
$100.00
Ready set go! Proud of you Zack!
Zachary Shaps
07/30/2018
$100.00
Total
$4,500.00