4 Thousand Miles to Fight Cancer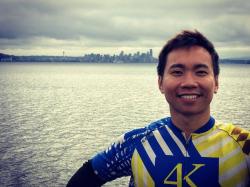 Sang Bui is a senior at Truman State University. In the summer of 2017, he will be traveling with a group of college-aged students on a 70-day, 4000+ mile ride from Baltimore to Seattle, raising money and awareness for the Ulman Cancer Fund for Young Adults.
What is your connection to the cancer community?
Cancer constantly impacts countless people and their loved ones in several ways. Although I have only known a couple close family members and friends affected by cancer, my connection with the cancer community grows bigger and bigger through volunteer service events at hospitals.

Meeting those people completely changes my mind about the meaning of struggles in life. Interacting with them teaches me invaluable life lessons about hope and my personal goals in life. Their amazing stories fighting against cancer inspire and motivate me to push myself harder everyday and has taught me to never give up on my dreams.
Why are you traveling over 4,000 miles this summer with the Ulman Cancer Fund for Young Adults?
The reason I want to be part of this cause is because during last semester, one of the most difficult times of my life, I was severely depressed and lonely. I struggled with internal conflicts about the choice I made for my career and my life. At one point, I actually thought about dropping out of college as a senior. Surprisingly, several people not only gave out their hands to help me unconditionally, but also showed me the values of human connections. While I was seeking for a motivation to get back up, I found the amazing stories of the cancer survivors who went from being very sick, but fought through the exhausting cancer process and finally beat cancer to get back to their normal life. Those stories not only inspired and motivated me but also pushed me to challenge myself everyday.
That is the reason why I want to reach out my hands to the cancer patients. I want to raise awareness of young adults affected by cancer in our society. I want to listen to the inspirational stories of the cancer survivors and learn how they overcome struggles in life. I want to let them know that although my trip will be extremely challenging, both physically and emotionally; I hope that it will inspire and give hope to young adults in their fight against cancer. I wish their life will get better with smiles and laughters through every mile of my ride.
ABOUT 2017 4K for Cancer
2017 marks the 16th year of the 4K for Cancer sending young adults on journeys across the country in an effort to inspire hope and unite communities in the fight against cancer. The 4K for Cancer is a program of The Ulman Cancer Fund for Young Adults (UCF). Interested in joining the fight? Apply to be a rider or runner at www.4kforcancer.org!
Challenge:
Over 70,000 young adults are diagnosed with cancer every year. Young adults (ages 15-39) face a variety of unique challenges with a cancer diagnosis including fertility preservation, social isolation, lack of insurance, delayed diagnosis, and more.
Solution:
The Ulman Cancer Fund for Young Adults changes lives by creating a community of support for young adults, and their loved ones, impacted by cancer. With your support, the Ulman Cancer Fund is able to provide free support services and resources for the young adult cancer community including:
Cancer to 5K - a 12-week training program designed to introduce or reintroduce cancer survivors to physical activity.
Patient Navigation - a free program (onsite at cancer centers and remotely through our office) that ensures no young adult ever faces cancer alone. We provide one-on-one support & resources to young adults and their families to help them manage the cancer experience and long-term cancer survival.
Scholarships - a financial assistance program to help young adults continue their education after being affected by cancer through their own diagnosis or the diagnosis of a loved one.
UCF House - This year UCF broke ground on a "home away from home" to provide free housing for young adult cancer patients, and their caregivers, in East Baltimore.
Your donation will help make these programs and our mission possible!
Supporters
Name
Date
Amount
Comments
Polly Matteson
06/12/2017
$25.00
Thank you for taking on this amazing challenge for such a good cause.
Carol Mills
06/08/2017
$25.00
Stay strong! Glad your on Parker's team. From Parker's Gee and Pa
Brandon Crane
06/07/2017
$10.00
You're so close!! I'm sorry I can't do more, but I'm so glad I've been able to be a part of this amazing journey! Stay safe on the road. God bless, and I'll see you soon!
Kelly Gray
06/07/2017
$23.33
Ride on Sang!
Dan Davis
06/05/2017
$50.00
Good luck, Sang!
Anonymous Friend
06/03/2017
$50.00
Anonymous Friend
06/03/2017
$20.00
Troy Paino
06/01/2017
$25.00
Troy Paino
06/01/2017
$25.00
Cindy Spiker
05/31/2017
$100.00
Have a great ride for a great cause! Enjoy and endure.
Anonymous Friend
05/31/2017
$20.00
Lam Nguyen
05/31/2017
$5.00
Anonymous Friend
05/31/2017
$20.00
Go em!
Cuong Le
05/31/2017
$10.00
I admire what you are doing. Good luck!
Derick Morris
05/30/2017
$50.00
William Ashcraft
05/30/2017
$100.00
Jeremy Falloon
05/30/2017
$50.00
You're a courageous one, Sang. I'm proud of you, man! Hope this helps.
Julia Walther
05/30/2017
$15.00
Ride safe, and show that infectious smile off to both coasts!
Ted Frushour
05/30/2017
$10.00
Erin Shaw
05/30/2017
$40.00
Good luck Sang!
Paxton Lemmons
05/30/2017
$20.00
JoAnna Hill
05/30/2017
$15.00
You're awesome, Sang! Good luck!
Rebecca McClanahan
05/30/2017
$25.00
Marvin is a cancer survivor and a veteran of the war in Vietnam. Thank you for your commitment. We wish you well!
Cardinal Key
05/30/2017
$50.00
Good luck Sang! Sending CK Love!
Phuong Doan
05/30/2017
$10.00
Good luck my friend!
Jay Belanger
05/29/2017
$100.00
Anonymous Friend
05/29/2017
$25.00
Arletta Nelson
05/26/2017
$25.00
Good luck!
Thomas Kearney
05/25/2017
$10.00
Best of luck in travels!!!
Chad Mohler
05/25/2017
$20.00
Amber Johnson
05/25/2017
$25.00
Best wishes for a journey that helps you heal and connect with others.
Racheal Kissee
05/25/2017
$3.00
From Kirksville Kiwanis. Thank you!
Denise Sidwell
05/25/2017
$20.00
From Kirksville Kiwanis. Thank you!
James O'Donnell
05/25/2017
$20.00
From Kirksville Kiwanis. Thank you!
Kathy Bulen
05/25/2017
$40.00
Good luck. Best wishes to you!
Ashley Young
05/25/2017
$25.00
Good luck and best wishes from the Kirksville Kiwanis Club!
Amy Eagan
05/24/2017
$25.00
What a great cause! Best of luck in your journey :)
Zac Burden
05/24/2017
$10.00
Keep on pedaling, because you know patients will keep on fighting. Best wishes!
Rachel Nielsen
05/24/2017
$10.00
Sang.... good luck!!! Can't wait to hear all about your ride
Elizabeth Gregory
05/23/2017
$50.00
You are an inspiration! You can do it!! - See you in the fall.
Tau Kappa Epsilon
05/23/2017
$100.00
Good luck Sang!
Phi Beta Lambda - Eta Alpha Theta
05/23/2017
$150.00
Good luck! We wish you the best on this journey.
Brittany Harden
05/22/2017
$20.00
What a great cause! Best wishes!
Denise Smith
05/22/2017
$25.00
Best wishes and good luck!
Jonathan Vieker
05/22/2017
$50.00
Ride strong!
Brenda Higgins
05/22/2017
$10.00
Best wishes!
Nathan Komar
05/21/2017
$50.00
Best of luck my boy!
Nancy Daley-Moore
05/19/2017
$50.00
Best of luck!
Janes Dreamweaver
05/19/2017
$33.77
Become The One You Dream You Are
Hung Nguyen
05/19/2017
$20.00
Best of luck for you and thank you so much
Trang Nguyen
05/18/2017
$16.00
Wish you had the greatest memories in this trip
Sue Limestall
05/18/2017
$50.00
Good luck - I know you can reach your goals!
Anonymous Friend
05/17/2017
$20.00
This is incredible, Sang. Thank you for choosing to live a life of service. It is inspiring!
Anonymous Friend
05/17/2017
$40.00
Good luck!!!
Elaine AuBuchon
05/17/2017
$25.00
Ian Lindevald
05/17/2017
$50.00
Good Luck and Have Fun
Roberta Donahue
05/17/2017
$50.00
Thank you for making the world a little kinder.
Alan Garvey
05/16/2017
$50.00
Mike Sit
05/13/2017
$5.00
Best of luck with this journey, Sang! -Mikey Sit
Michael Morrison
05/12/2017
$50.00
Shristi Shakya
05/12/2017
$20.00
Good luck Sang and have fun.
Justin Jarvis
05/11/2017
$50.00
Best of luck!
Sheila Garlock
05/11/2017
$25.00
Best wishes.
Paul Yoder
05/11/2017
$25.00
Brent Stoller
05/11/2017
$25.00
Kaylen Fowler
05/11/2017
$15.00
Yay Sang -- thank you for sharing your story and good luck on this journey!
Phil, Mary & Micki McIntosh
05/10/2017
$100.00
May the wind always be at your back...and when it's not, enjoy the breeze in your face!
Aria Cabot
05/09/2017
$10.00
Good luck!
Steve Smith
05/09/2017
$50.00
Sounds like a great trip for a great cause
Charles & Deanna Hunsaker
05/09/2017
$25.00
Enjoy the ride!!
Anonymous Friend
05/09/2017
$100.00
Good luck on your journey.
Deb Kerby
05/08/2017
$50.00
Sigma Tau Gamma
05/08/2017
$100.00
Debra Cartwright
05/08/2017
$45.00
Good luck Sang! - Delta Sigma Pi
College Republicans Truman State University
05/07/2017
$150.00
Good luck Sang! - Truman State University College Republicans
Delta Zeta
05/06/2017
$200.00
This donation is from the Delta Zeta sorority at Truman State. We are honored to support Sang and the Ulman Cancer Fund, and we're so excited to follow his adventure!
Jessica Rhoades
05/05/2017
$10.00
Best of luck to you!
Alpha Phi Omega - Epsilon
05/04/2017
$200.00
Alpha Phi Omega supports you, Sang! Good luck!
Megan Lenhard
05/04/2017
$10.00
Maddie Cloonan
05/04/2017
$15.00
You are awesome! Thanks for sharing your story with us, best of luck!
Sang Bui
05/03/2017
$20.00
From Dr. Carter - APO Advisor!
Brianne Bannon
05/02/2017
$15.00
This is amazing, good luck!
Alpha Sigma Gamma
05/01/2017
$569.00
Good luck, Sang! -The Women of Alpha Sigma Gamma
Zac Suazo
04/29/2017
$20.00
Abigail Atwell
04/29/2017
$10.00
Best of luck, Sang! I'm cheering for you!
Breanna Vonachen
04/28/2017
$20.00
Good luck Sang!!!!
Suren Fernando
04/26/2017
$50.00
Anonymous Friend
04/25/2017
$45.00
Blue Key Dodgeball Tourney! Thanks everyone for coming!
Alyssa Borst
04/25/2017
$5.00
From Alyssa Borst!
Anonymous Friend
04/25/2017
$10.00
From Alec Bland
Anonymous Friend
04/25/2017
$20.00
From Riley Katsev!
Jimmy Higgin
04/25/2017
$5.00
Joe Harrell
04/25/2017
$10.00
From Joe Harrell
Jeremy McAninch
04/23/2017
$30.00
Good luck man!
Anonymous Friend
04/23/2017
$50.00
celebrate....and be celebrated my friend!!
Devin Gant
04/20/2017
$15.00
Tony Vazzana
04/19/2017
$15.00
Anonymous Friend
04/17/2017
$10.00
Anonymous Friend
04/16/2017
$15.00
William Ashcraft
04/15/2017
$200.00
Best wishes Sung Bui
Anonymous Friend
04/14/2017
$5.00
Sang Bui
04/10/2017
$100.00
Total
$4,530.10