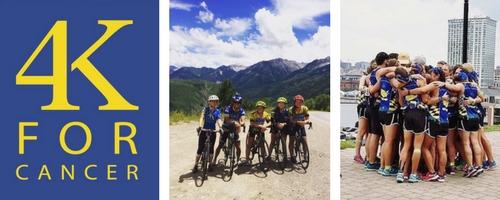 Natalie Korba's Fundraising Page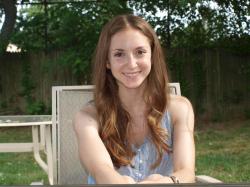 Natalie Korba is a senior student at Stony Brook University. In the summer of 2019, she will be traveling with a group of college-aged students on a 49-day, 4000+ mile run from San Francisco to Baltimore, raising money and awareness for the Ulman Foundation.
What is your connection to the cancer community?
It seems like almost everyone I know has been affected by cancer in some way. I have family members who have battled lung cancer and melanoma. My great aunt passed away from pancreatic cancer several years ago. I also have friends and classmates who have lost family members and other loved ones to cancer.
Why are you traveling 4,000 miles this summer with the Ulman Foundation?
I have always had a passion for helping people and fitness. Being able to spend my summer running across the country while helping others is a rare opportunity to combine the things that I love. I hope to attend a graduate program this fall to earn a Master's Degree in Social Work, but the 4K for Cancer is a way that I can start having a positive impact on others starting right now.
ABOUT 2019 4K for Cancer
2019 marks the 18th year of the 4K for Cancer sending young adults on journeys across the country in an effort to inspire hope and unite communities in the fight against cancer. The 4K for Cancer is a program of the Ulman Foundation (Ulman). Interested in joining the fight? Apply to be a rider or runner a at www.4kforcancer.org!
CHALLENGE:
Over 72,000 young adults are diagnosed with cancer every year. Young adults (ages 15-39) face a variety of unique challenges with a cancer diagnosis including fertility preservation, social isolation, lack of insurance, delayed diagnosis, and more.
SOLUTION:
Ulman Foundation changes lives by creating a community of support for young adults, and their loved ones, impacted by cancer. With your support, Ulman is able to provide free support services and resources for the young adult cancer community including:
Cancer to 5K - a 12-week training program designed to introduce or reintroduce cancer survivors to physical activity.
Patient Navigation - a free program (onsite at cancer centers and remotely through our office) that ensures no young adult ever faces cancer alone. We provide one-on-one support & resources to young adults and their families to help them manage the cancer experience and long-term cancer survival.
Scholarships - a financial assistance program to help young adults continue their education after being affected by cancer through their own diagnosis or the diagnosis of a loved one.
Ulman House - This year Ulman will open a "home away from home" to provide free housing for young adult cancer patients, and their caregivers, in East Baltimore.
Your donation will help make these programs and our mission possible!
Supporters
Name
Date
Amount
Comments
Anonymous Friend
07/29/2019
$25.00
You're almost there! What an amazing act of kindness!
Natalie Korba
07/25/2019
$62.00
Thank you to Taylor, Trista, Bree, Kat, Kim, and Julianne for donating to my bingo board fundraiser!
Moira Haltigan
07/25/2019
$50.00
Thank you for running and my nieces name - Meghan Roach.
James Remmers
07/25/2019
$5.00
America runs on me. Merry Christmas
Natalie Korba
07/25/2019
$87.00
Thank you to Stephan, Michael, Wen Na, Tiffani, Gillian, Shuxing, Izzy, Tom, Minah, and Will
Maryanne Braverman
07/21/2019
$45.00
Thanks for remembering Meghan. Thanks to Kim for letting her family know about your run!!
Stacey Korba
07/14/2019
$100.00
You've got this!
Natalie Korba
07/14/2019
$55.00
Thank you to Asna and AnneJeannine for their generous donations!
Terence McCormick
07/11/2019
$100.00
For you on your amazing journey, with love from the McCormicks
Victoria Shields
06/30/2019
$100.00
Good luck Natalie in your amazing undertaking of running across the Country!
Jen & Chris Tomczyk
06/14/2019
$123.00
So proud of you Nat!
PaintNite
05/10/2019
$360.00
Bill Tempone
04/25/2019
$150.00
Best of luck, Natalie!! The world needs more people like you!
Natalie Korba
04/22/2019
$67.00
Thank you to Linda Cohen, Daniella, and Jess for their donations!
Anonymous Friend
04/18/2019
$68.04
I am really proud of you and wish you the best of luck on your run! You are an inspiration and you constantly brighten up my day; thank you for being you! P.S. We should run some time!
Tony & Kathy Yaskulski
04/15/2019
$200.00
Good Luck and have a great time. Love you
Doherty Breads, LLC
04/11/2019
$81.96
Bonnie Heinrich-Goess
04/10/2019
$200.00
Thankful for you!
Natalie Korba
04/03/2019
$76.00
Thank you to Rachel, Jin Ho, Ish, Gary, and Angelo for participating in my Venmo fundraiser! And thank you to Rita for her cash donation.
Shuxing Lin
04/01/2019
$10.00
ʕ•ᴥ•ʔ ♥ ฅ^•ﻌ•^ฅ
Jasmine Allen
03/31/2019
$50.00
Constance Rossman
03/31/2019
$50.00
Stacey Korba
03/28/2019
$25.00
You go! Bring me back a present!
Wesley Powell
03/27/2019
$100.00
Kim & Eddie Ramirez
03/26/2019
$50.00
Good Luck Natalie!
Natalie Korba
03/24/2019
$420.00
Judith Silz
03/24/2019
$500.00
Martha Peterson
03/21/2019
$100.00
Lurline Dixon
03/21/2019
$25.00
Anonymous Friend
03/16/2019
$25.00
Cabo Fresh
03/15/2019
$90.00
Anonymous Friend
03/14/2019
$15.01
You are an amazing young lady, Natalie. You have helped me in life in more ways than you'll ever know. Someone to look to for great positivity, endless laughter, and a great workout! You will do amazing on this journey and I know everyone you meet along the way you'll have touched in such a bright light as you did mine. Never lose your smile!
Tina Zheng
03/13/2019
$10.00
Good luck Natalie ♥︎
Erica Miller
03/13/2019
$10.00
Good Luck!!
Nakiya Findley
03/12/2019
$50.00
Tim Chin
03/11/2019
$50.00
I wish you the best of luck Natalie.
Sandy Koppmann
03/10/2019
$100.00
Carol Ketcham
03/10/2019
$100.00
Evelina Pan
03/10/2019
$25.00
Mary Tomczyk
02/28/2019
$100.00
Good luck! This is such an amazing event! Your energy to help others is inspiring!
Stacey Korba
02/28/2019
$25.00
You go girl!
Terence McCormick
02/27/2019
$150.00
Natalie, enjoy the journey, revel in the experience and keep making a positive impact on the world.
Cathy and Steve Reis
02/27/2019
$50.00
Michael Korba
02/26/2019
$28.99
Woof! Woof!
Melissa Kennedy
02/25/2019
$100.00
Good luck, Natalie!
Lisa Gulbrandsen
02/24/2019
$100.00
Good Luck Natalie!!
Linda Hoffman
02/21/2019
$50.00
Good luck, Natalie
Dorothy Bausch
02/19/2019
$100.00
Dorothy and Spencer Hyman
02/16/2019
$25.00
We love you!
Joe Tirella
02/15/2019
$15.00
Really proud of you, Natalie. This is an amazing feat to take on. Hope all goes well for you.
Ish Haque
02/15/2019
$10.00
Good luck Natalie!!!
Rachel Korba
02/15/2019
$5.00
Good luck this summer Natalie. You'll do amazing!
Maria Gomez
02/14/2019
$20.00
You are amazing!! So proud of you
Rachel Korba
02/14/2019
$10.00
You got this girl!!
Stephan Ungar
02/14/2019
$50.00
You are an absolute inspiration! Ever since the Lemon Lions two years ago, to Purple Reign, to the Orang-entation Nation now, you are an absolute SUPER STAR and you grace the world with your presence! You got the power to run across this country and then some!
Jen & Chris Tomczyk
02/12/2019
$100.00
We are so proud of you Nat! You got this!!! XOXO- Aunt Jen & Uncle Chris
Anonymous Friend
02/11/2019
$50.00
Great cause, Natalie!
Katherine Colantuoni
02/11/2019
$30.00
YOU GOT THIS NATALIE!!!
Madeline Schoenfeld
02/11/2019
$10.00
Good luck Natalie!!! You are incredible and I am so excited for you.
Stacey Korba
02/11/2019
$140.00
Good luck! Send us a post card!
Samantha Davison
02/11/2019
$50.00
So proud of you!
Bobo Stella
02/11/2019
$100.00
Good Luck Natalie!!!
Trista Lu
02/10/2019
$50.00
Be the change you wish to see in the world! Keep up the good work.
Kim Marko
02/10/2019
$25.00
Steven Honovic
02/10/2019
$25.00
Melissa Ikizoglu
02/10/2019
$25.00
You got this!!
Natalie Korba
02/10/2019
$100.00
Jamie Kunzmann
02/09/2019
$30.00
Mike D`Adamo
02/09/2019
$20.00
You got this Natalie!
Sam Zinke
02/09/2019
$30.00
Good luck friend<3
Rachel Korba
02/09/2019
$20.00
You're the best!
Susan Reichbach
02/09/2019
$100.00
Your the best Natalie!
Valerie D'Adamo
02/09/2019
$25.00
Natalie Korba
02/01/2019
$100.00
Total
$5,629.00