Megan Sullivan's Fundraising Page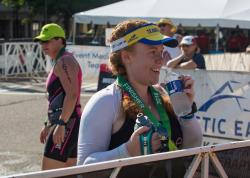 2017 is my year of giving back. I have gotten so much out of running and triathlon, and this year, I want to give back. I'm giving back to other racers. I'm spending time volunteering. And as I do every year, I'm racing for Team Fight and also volunteering with the Ulman Cancer Fund. When things get tough in my training, I think about why I'm doing it and the money that I'm helping to raise. I thank everyone for all of their support. Cancer Change Lives - So Do We!
ABOUT 2017 Team Fight's Fight Club
The Ulman Cancer Fund for Young Adults changes lives by creating a community of support for young adults, and their loved ones, impacted by cancer. With your support, the Ulman Cancer Fund is able to provide free support services and resources for the young adult cancer community including:
Cancer to 5K - a 12-week training program designed to introduce or reintroduce cancer survivors to physical activity.
Patient Navigation - a free program (onsite at cancer centers and remotely through our office) that ensures no young adult ever faces cancer alone. We provide one-on-one support & resources to young adults and their families to help them manage the cancer expereience and long-term cancer survival.
Scholarships - a financial assistance program to help young adults continue their education after being affected by cancer through their own diagnosis or the diagnosis of a loved one.
Your donation will help make these programs and our mission possible!
Supporters
Name
Date
Amount
Comments
Megan Sullivan
12/08/2017
$45.00
Bill Sullivan
09/09/2017
$50.00
Megan Sullivan
04/16/2017
$105.00
Stella and Dot Fundraising Show
Jenny Prazak
04/07/2017
$50.00
Total
$250.00