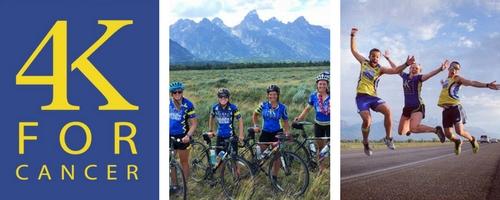 Matthew Litchfield's Fundraising Page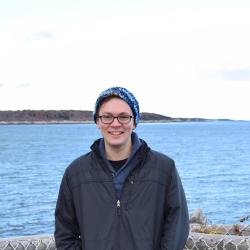 Matthew Litchfield is a graduate of the University of Massachusetts Dartmouth. In the summer of 2018, he will be traveling with a group of college-aged students on a 70-day, 4000+ mile ride from Baltimore, MD to Seattle, WA, raising money and awareness for the Ulman Cancer Fund for Young Adults.
What is your connection to the cancer community?
My grandfather has had colon cancer for most of my life. I grew up in the shadow of cancer, told only in hushed tones that something was wrong and that any day could be the beginning of the end. He was a fighter, though: it took me until I was well into college to see the impact cancer has had on him and my family.

When I lived with my grandparents the semester after I returned from studying in France I saw much clearer what living with cancer means, and how it affects the people that care for them. I would sit and do my homework in broad daylight while my grandfather slept on his recliner, too tired to even watch TV. It wasn't stressful for me like it was for my grandmother, the career nurse and family hero who takes care of him, but it was still hard to watch. I was confronted with mortality on a daily basis, which is not something most of my friends living on campus could relate to at the time.

I want to support people whose relationship with cancer is even more fraught - I want to show them that they're not alone.
Why are you traveling over 4000 miles this summer with the Ulman Cancer Fund for Young Adults?
In high school I was inspired to ride across America while following the blog of a writer who made the same trek to raise money for wells in Africa. While the cause is different, the journey is the same. For me, this trip is about fulfilling my dream of an introspective journey across a vast continent - I feel like I've barely stepped out of my little corner of New England. I'm riding for a cause that's so close to heart that I know I will bleed, and yet I feel compelled to do it anyway.
ABOUT 2018 4K for Cancer
2018 marks the 17th year of the 4K for Cancer sending young adults on journeys across the country in an effort to inspire hope and unite communities in the fight against cancer. The 4K for Cancer is a program of The Ulman Cancer Fund for Young Adults (UCF). Interested in joining the fight? Apply to be a rider or runner a at www.4kforcancer.org!
CHALLENGE:
Over 70,000 young adults are diagnosed with cancer every year. Young adults (ages 15-39) face a variety of unique challenges with a cancer diagnosis including fertility preservation, social isolation, lack of insurance, delayed diagnosis, and more.
SOLUTION:
The Ulman Cancer Fund for Young Adults changes lives by creating a community of support for young adults, and their loved ones, impacted by cancer. With your support, the Ulman Cancer Fund is able to provide free support services and resources for the young adult cancer community including:
Cancer to 5K - a 12-week training program designed to introduce or reintroduce cancer survivors to physical activity.
Patient Navigation - a free program (onsite at cancer centers and remotely through our office) that ensures no young adult ever faces cancer alone. We provide one-on-one support & resources to young adults and their families to help them manage the cancer experience and long-term cancer survival.
Scholarships - a financial assistance program to help young adults continue their education after being affected by cancer through their own diagnosis or the diagnosis of a loved one.
UCF House - This year UCF broke ground on a "home away from home" to provide free housing for young adult cancer patients, and their caregivers, in East Baltimore.
Your donation will help make these programs and our mission possible!
Supporters
Name
Date
Amount
Comments
Matthew Litchfield
10/31/2018
$100.00
Lee Parker
08/15/2018
$50.00
In honor of Matt Litchfield In memory of my mom
Angela Davis
06/09/2018
$50.00
You've chosen a wonderful cause to represent. Hope the bike journey brings you fulfillment. As Bobby will confirm my standard mom statement...Have fun and be safe.
Hannah Bowlin
06/05/2018
$15.00
LETS GO MATT!!!!!!!!!!!!!! Sorry this took so long, you are amazing and on my mind all of the time. Can't wait to see you in Mpls!!! Keep your quads strong and your spirit stronger. GROS BISOUS xx
Charlene and Doug Canuel
06/04/2018
$50.00
Best of luck on your ride!
Janice Lakey
05/17/2018
$50.00
Russell James
05/17/2018
$50.00
Home Plate Norton LLC
05/11/2018
$408.07
Raffle Proceeds
05/09/2018
$702.00
Jennifer L Young
05/08/2018
$50.00
Aimee Cunningham
05/08/2018
$50.00
John Ferguson
05/08/2018
$100.00
Get pumped, this is going to be life changing. Remember to keep going even when you don't want to. Don't be afraid to cry. Don't wish the experience away when it becomes difficult. Embrace the suck. Most of all, get to know your teammates. Sacrifice for them. Do not take them for granted. They will be lifelong friends. Best of luck, I will see you at send off. - John
Hannah Baker
05/06/2018
$20.00
You're amazing, Matt. I wish you the best of luck as you go across the country! Your grandfather will be with you every mile. ❤️
Marc Rousseau
05/04/2018
$100.00
Antoine Rauch
05/04/2018
$119.00
Nicolas Pastor
05/02/2018
$25.00
Nice project Matt! :) Good luck for the ride !!!
Shannon Manor Kennedy
04/29/2018
$100.00
Hi Matt - Morgan Lakey wanted to make a donation for your incredible support of the Ulman Cancer Fund. Thanks for fighting for the cause and keep up the great work!
James & Stephanie Stroud
04/10/2018
$100.00
Lynn Litchfield
04/03/2018
$100.00
So proud of all you are accomplishing, and how you are reaching out to help other young adults battling cancer. Love Mom & Dad, Chis and Ben.
Danie Litchfield
04/03/2018
$25.00
Diane Harrington Heath
04/03/2018
$50.00
Anonymous Friend
04/02/2018
$20.00
Liz Lakey
04/02/2018
$100.00
Ride on!
Anonymous Friend
04/02/2018
$20.00
Beth Carroll
04/01/2018
$24.60
Karen V. Rousseau
03/30/2018
$150.00
Hannah Atherton
03/29/2018
$12.30
Bonne chance Matt ! You rock!!
Scott Pickett
03/27/2018
$100.00
Lynn Litchfield
02/17/2018
$100.00
Love you to the moon and back. We are so proud of what you are doing! Love, Mom and Dad
Gina Reis
02/16/2018
$250.00
Lynn A Litchfield
02/10/2018
$875.00
Anonymous Friend
02/02/2018
$50.00
I read about your story in The Torch. So glad they wrote an article about you.
William Findlay
01/19/2018
$12.00
¡Massive respect man!
Bob LeComte
01/19/2018
$200.00
Amy Zhang
01/03/2018
$30.00
Melvin Yoken
12/01/2017
$100.00
Lynn Litchfield
11/22/2017
$50.00
PEDDLE BABY JUST PEDDLE, JOHN COTRELL
Chipotle
11/20/2017
$91.70
Isabel Mularoni
11/05/2017
$50.00
Go Matt!! I'm so excited to see where you'll go on this journey!
Zachary James
10/12/2017
$100.00
GO Matt!!
Robert Davis
10/11/2017
$50.00
Abby Klinedinst
10/09/2017
$20.00
Rock on, Matt! Hope you're enjoying Saint-Étienne and I can't wait to see you sometime during this year abroad ;) Bonne anniversaire et à très bientôt! :p
CAITLIN AMARAL
09/15/2017
$25.00
Cash Cash
09/11/2017
$10.00
Anonymous Friend
09/09/2017
$10.00
Donna Bosworth
09/09/2017
$110.00
Cash Cash
09/08/2017
$40.00
Wendy Holmes
09/08/2017
$100.00
It's wonderful what you are doing Matt. I love that the Ulman group provides such great support services. In my opinion, this is crucial and an often overlooked need of persons in treatment for cancer.
Owen Voelker
09/06/2017
$100.00
Good luck with the ride Matt!
Matthew Litchfield
09/06/2017
$112.00
Proceeds of 50/50 Raffle at Home Plate on 8/29/2017
Home Plate Norton LLC
09/04/2017
$256.24
Karen V. Rousseau
09/03/2017
$100.00
Kara Immonen
08/27/2017
$25.00
Enjoy the ride Matt!
Barbara Berwick
07/13/2017
$75.00
Total
$5,682.91