Kristin Engelhard's Fundraising Page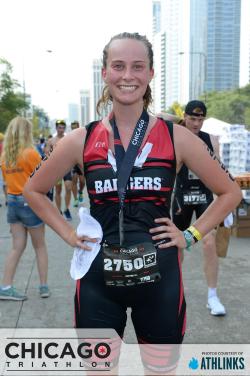 Kristin Engelhard is a recent graduate of the University of Wisconsin-Madison and will be pursuing the Doctor of Physical Therapy degree at Northwestern University next fall. In the summer of 2019, she will be traveling with a group of college-aged students on a 70-day, 4000+ mile ride from Baltimore to Seattle, raising money and awareness for the Ulman Foundation.
If you would like to contact her during the summer, feel free to email her at kristinengelhard@gmail.com. She would love to hear from you!
What is your connection to the cancer community?
Many of my family members, immediate and extended, have faced cancer at some point in their life. From lymphoma to prostate cancer, it has had an impact on me and my family. Nobody should face that alone and it shouldn't be a barrier to achieve what you want in life. As a member of TriDelta, I spent a large part of my college experience fundraising for St. Jude Children's Research Hospital. I have learned that together, we can advocate for healthy living and be catalysts of positive change in the cancer community.
Why are you traveling 4,000 miles this summer with the Ulman Foundation?
I am thankful to be in good health myself and would love to do what I can to contribute to and support the cancer community by participating in this program. As a rider with 4K, I have the opportunity to raise awareness, unite communities and spread compassion over the span of many weeks of hard work. I love to move and use my body, so making this commitment to myself, my team and the cancer community is an exciting and motivating challenge that I would like to tackle and fundraise towards. This growing community of riders seem fierce and passionate, with a strong sense of responsibility towards the genuine health and happiness of others.
ABOUT 2019 4K for Cancer
2019 marks the 18th year of the 4K for Cancer sending young adults on journeys across the country in an effort to inspire hope and unite communities in the fight against cancer. The 4K for Cancer is a program of the Ulman Foundation (Ulman). Interested in joining the fight? Apply to be a rider or runner a at www.4kforcancer.org!
CHALLENGE:
Over 72,000 young adults are diagnosed with cancer every year. Young adults (ages 15-39) face a variety of unique challenges with a cancer diagnosis including fertility preservation, social isolation, lack of insurance, delayed diagnosis, and more.
SOLUTION:
Ulman Foundation changes lives by creating a community of support for young adults, and their loved ones, impacted by cancer. With your support, Ulman is able to provide free support services and resources for the young adult cancer community including:
Cancer to 5K - a 12-week training program designed to introduce or reintroduce cancer survivors to physical activity.
Patient Navigation - a free program (onsite at cancer centers and remotely through our office) that ensures no young adult ever faces cancer alone. We provide one-on-one support & resources to young adults and their families to help them manage the cancer experience and long-term cancer survival.
Scholarships - a financial assistance program to help young adults continue their education after being affected by cancer through their own diagnosis or the diagnosis of a loved one.
Ulman House - This year Ulman will open a "home away from home" to provide free housing for young adult cancer patients, and their caregivers, in East Baltimore.
Your donation will help make these programs and our mission possible!
Supporters
Name
Date
Amount
Comments
Kristin Engelhard
07/22/2019
$3.50
Instagram Donation Total: $170.50 (most given to other 4K teammates to reach their fundraising goal)!
Mark RAGINSKY
06/30/2019
$100.00
good luck on your adventure (Eric's Uncle)
Bill McManus
06/19/2019
$25.00
I was inspired to donate after meeting your group at the beach in South Haven, MI.
Angie Konicek
06/15/2019
$30.00
To my best friend! So proud of you for doing this and I can't wait to hear all the stories. Let's get you to your fundraising goal, I know there's a lot of people you are going to have a positive influence on in your life.. I'm just one of them!!
Robby Pullen
06/02/2019
$35.00
Just keep swimming!
Herbert Engelhard
06/01/2019
$500.00
Go Kristin!! Amazing accomplishment! We love you - Mom and Dad
Barbara Albee
05/23/2019
$50.00
Douglas Hoffman
05/16/2019
$100.00
Jim Norland
05/13/2019
$531.18
Way to go Kristen!!! Keep changing the world!!
Brett Roeglin
05/12/2019
$50.00
Good luck Kristin!!
Marina Mendes
05/07/2019
$100.00
Good luck Kristin! Proud of you!! - The Mendes Fam
Sharon O'Regan
05/03/2019
$50.00
Good Luck great cause love Great Uncle John and Sharon
Raina Paul
04/12/2019
$50.00
Lisa Oldson
04/12/2019
$25.00
We're proud of you Kristin! Thanks for making the world a better place. Love, Lisa, Heiko, Eleanor, Amelia
Hildegard Hutchins
04/01/2019
$100.00
Chipotle
03/29/2019
$117.91
Kristin Engelhard
03/28/2019
$28.00
More venmo donations! Thank you thank you (especially you, kshaps)!
Erin Engelhard
03/27/2019
$25.00
First hour of personal training. Thanks for setting up a fitness plan for me!
Sam Sherman
03/26/2019
$50.00
Ella Counihan
03/26/2019
$25.00
Keep doing you! Miss you!
Emmet Ryan
03/26/2019
$50.00
Good luck Kristin! -Lava
Lauren Engelhard
03/21/2019
$53.00
Thank you to all who donated through Instagram/Facebook!
Stephanie Rotman
03/07/2019
$20.00
Sorry I was so late to donate! Good luck on the big ride!
Zarina O'regan
03/07/2019
$5.00
JONATHAN LURIE
03/05/2019
$40.00
Go, Kristin!! From Jill, Pam and Jon Lurie
Karen Anderson
03/05/2019
$50.00
Good luck Kristin, you are doing a great thing!!! The Andersons
Claudia Petersen
03/05/2019
$100.00
Bruce Miller
03/03/2019
$25.00
Enjoy the journey ... you will make great memories and friends. I worked at NU, live in Wilmette, biked cross-country and have done many multi-week rides. If you would like long ride tips, you are welcome to email me @ bruceamiller@comcast.net.
Laura Prohov
03/02/2019
$150.00
Debbie and Michael Rubashkin
02/23/2019
$50.00
Good luck Kristin!
Jackie Rubashkin
02/23/2019
$20.00
Steve Priest
02/15/2019
$50.00
Stephen Konicek
02/13/2019
$50.00
Have a good ride and we hope that supporting the people you meet along the way is a very rewarding experience! Steve and Tami K.
Kristin Engelhard
02/12/2019
$20.00
Donated by Dr. Woo-Strauss - Thank you!
Donna Lakowski
02/11/2019
$50.00
Best of luck. It's wonderful that you are doing so much to help people.
Craig Scherer
02/10/2019
$100.00
Good luck Kristin. Love Auntie Kathy & Uncle Craig
Michael Caughron
02/07/2019
$100.00
In honor of their courage, and yours Kristin.
Erica Engelhard
02/05/2019
$30.00
Great trip for a great cause! You go girl!
Elise Michnowicz
02/03/2019
$25.00
Jennifer Engelhard
01/31/2019
$50.00
You're amazing, Kristin! So proud of you for taking on this endeavor. Love, Aunt Jen
Erin Engelhard
01/31/2019
$50.00
Happy birthday, Kris!! This is such an awesome thing to do for others.
Margaret Feller
01/31/2019
$50.00
Have a great, safe, fun ride!
Maureen Prochenski
01/31/2019
$100.00
Kristin what an extraordinary adventure for you, while making such an impact to so many others! Safe travels! Love, Auntie Maureen & Uncle Tony
Katie Riggilo
01/25/2019
$50.00
Can't wait to hear about all your amazing adventures from this amazing trip! love you!
Kelsey Gow
01/25/2019
$25.00
If you broke your veganism before 1/26/19 add 25 more days
Wilmot Tramel
01/24/2019
$25.00
Kristin Engelhard
01/22/2019
$100.00
Thank you Quraishi family!!
Eileen Moriarty
01/20/2019
$75.00
Kristin, I am inspired by your passion to help others through this amazing fund raising effort --and your planned career in physical therapy. Best of luck from the Moriartys.
Anonymous Friend
01/17/2019
$125.00
Instagram/venmo donations - Thank you to everyone that contributed!
Lauren Engelhard
01/16/2019
$30.00
Every $3 = vegan for one day = 10 days of veganism Happy Birthday!
Kara Rubashkin
01/16/2019
$40.00
Kristin, you are a champion. Thanks for going the distance and making a difference. Hugs to you!
Susan and Barry Ottmann
01/16/2019
$200.00
Happy Birthday! Good luck on this awesome ride!
Eric Ottmann
01/16/2019
$41.00
Happy Birthday! -With love from NCI
Andy Hung
01/16/2019
$25.00
Happy birthday! Don't forget to eat plenty of pineapples along the way
Katie & Cathy Priest
01/16/2019
$100.00
Happy Birthday lovely lady. You are a constant inspiration and the best best friend anyone could hope for.
Ellen Lyman
01/16/2019
$25.00
Happy Birthday Kristin!!! So excited for you!
Lisa Nattrass
01/16/2019
$50.00
Happy Birthday! Lisa & Doug Nattrass (Eric's aunt and uncle)
Kristin Engelhard
01/15/2019
$30.00
Shout out to the Shapiro brothers!
Michael and Cheryl Shapiro
01/14/2019
$100.00
Lou Vonn C. Engelhard
01/14/2019
$50.00
Kim and Richard Dobro
01/13/2019
$50.00
Thank you so much for putting your heart and soul into such a worthy cause!
Catherine Fuhr
01/12/2019
$250.00
Eileen and Herb Engelhard
01/10/2019
$200.00
Happy Birthday dear Kristin! We are so proud of you & love you very much!
Eileen and Herb Engelhard
01/09/2019
$100.00
We love you and we wish you the very best on your bike trip!
Anonymous Friend
01/06/2019
$50.00
Very proud of you
Eric Ottmann
01/06/2019
$100.00
Love is priceless
Abigail Ernst
01/06/2019
$10.00
Lorna Pinner
01/02/2019
$30.00
Good luck!
Will Sherer
12/16/2018
$75.00
technically you never popped that girls birthday balloon... but this is way more extreme so Ill pay up
Carter Tesch
12/14/2018
$25.00
This is awesome, good luck!
Mikayla Bernstein
12/14/2018
$30.00
Good Luck Kris! You're AMAZING!!
Kristin Engelhard
12/09/2018
$100.00
Total
$5,344.59
Report Abuse
Edit My Page