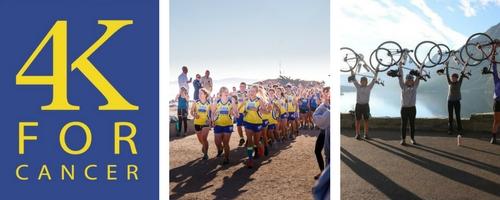 Karrah Weaver's Fundraising Page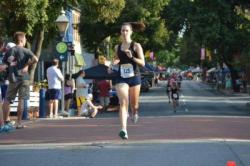 Karrah Weaver is a senior at the University of Maryland. In the summer of 2017 she will be traveling with a group of college-aged students on a 49 day, 4000+ mile run from San Francisco, CA to Baltimore, MD.
What is your connection to the cancer community?
While attending high school in a small Maryland town, two fellow students were diagnosed with a rare type of cancer called Ewing's sarcoma within the same year. After long, tough battles, they passed away within two months of each other. This was my first encounter with the disease, but unfortunately not the last. After registering for this event, I found out that a close friend of my mother had lost her battle with breast cancer. I plan to dedicate a day of my journey, and run in memory of Josh, Katie, and Carolyn along with many others.
Why are you traveling over 4000 miles this summer with the Ulman Cancer Fund for Young Adults?
I will be graduating from the University of Maryland in the spring of 2017, meaning I will have a summer break for the first time in three years. I could not think of a better way to spend my summer than traveling 4,000 miles across the country with my new friends for a great cause. Due to the fact that I was only 16 years old when I had my first experience with cancer, I did not fully understand everything the families went through. Seven years later, I have a better understanding and I want to do my part to help the world that faces the gruesome battle with cancer far too often. I stumbled upon 4K for Cancer on Facebook and immediately fell in love with the idea. I knew right away that I had to become part of the team. I am incredibly excited and thankful for this life changing experience.
ABOUT 2017 4K for Cancer
2017 marks the 16th year of the 4K for Cancer sending young adults on journeys across the country in an effort to inspire hope and unite communities in the fight against cancer. The 4K for Cancer is a program of The Ulman Cancer Fund for Young Adults (UCF). Interested in joining the fight? Apply to be a rider or runner at www.4kforcancer.org!
Challenge:
Over 70,000 young adults are diagnosed with cancer every year. Young adults (ages 15-39) face a variety of unique challenges with a cancer diagnosis including fertility preservation, social isolation, lack of insurance, delayed diagnosis, and more.
Solution:
The Ulman Cancer Fund for Young Adults changes lives by creating a community of support for young adults, and their loved ones, impacted by cancer. With your support, the Ulman Cancer Fund is able to provide free support services and resources for the young adult cancer community including:
Cancer to 5K - a 12-week training program designed to introduce or reintroduce cancer survivors to physical activity.
Patient Navigation - a free program (onsite at cancer centers and remotely through our office) that ensures no young adult ever faces cancer alone. We provide one-on-one support & resources to young adults and their families to help them manage the cancer experience and long-term cancer survival.
Scholarships - a financial assistance program to help young adults continue their education after being affected by cancer through their own diagnosis or the diagnosis of a loved one.
UCF House - This year UCF broke ground on a "home away from home" to provide free housing for young adult cancer patients, and their caregivers, in East Baltimore.
Your donation will help make these programs and our mission possible!
Supporters
Name
Date
Amount
Comments
Katie Storm
08/03/2017
$100.00
Keep up the hard work!!! Can't wait to see you!!
Anonymous Friend
07/20/2017
$50.00
Thank you Karrah for helping to change the lives of young people battling this nasty disease.
Karrah Weaver
06/11/2017
$10.00
Scentsy Fundraiser
Daniel Cajazeiro
06/02/2017
$100.00
Ten East, DBA Tony's Pizza
05/01/2017
$37.50
Emily Cross
04/26/2017
$50.00
So proud of you Karrah!
Luis Arias
04/02/2017
$150.00
Good luck to you on your journey!
Joanna Luciano Parker
02/25/2017
$450.00
Good Luck! Charles Town Dental Center Joanna S. Luciano Parker, DDS, PLLC
Bryon Arnone
02/15/2017
$20.00
Saw you on the local news, Karrah. Great thing you are doing!
Stephanie Streeter
02/11/2017
$25.00
Good Luck!
Darryl Shirley
02/11/2017
$75.00
Martha Gisriel
02/11/2017
$25.00
What a wonderful tribute, Karrah.
Cheryl Crain
02/10/2017
$50.00
You are inspiring!
Bill Kesecker
02/10/2017
$100.00
A compassionate effort to bring hope and health. Congratulations and every best, Karrah!
Renee Streeter
02/10/2017
$50.00
Good luck! The Streeter Family
Cassandra Latimer
02/10/2017
$200.00
Simply amazing! You are such a kind and caring person, just like your mom, who I work with and am a big fan! Safe travels!!
Sheila's Jewelry & Loan LLC
02/10/2017
$100.00
What a very inspiring young lady! Good luck!
Brooke Price
02/10/2017
$20.00
Melanie Draper
02/10/2017
$100.00
Run, Karrah, run! Good luck and best wishes. Such a worthwhile cause - you're making a difference!
Anonymous Friend
02/09/2017
$100.00
In support of Karrah Weaver's relay leg for the Ulman Cancer Fund for Young Adults.
Nick & Jake Hendricks
02/09/2017
$100.00
Be safe!
Randy Buchman
02/09/2017
$25.00
Always pleased to see my WHS XC kids continuing on with running. Proud of you!
Karen Snyder
02/08/2017
$50.00
Karrah Weaver
02/08/2017
$329.00
Jacqueline S. Rand
02/04/2017
$25.00
Robin Walukonis
01/22/2017
$50.00
Best of luck to you Karrah as you embark on this journey. What an inspiration you are!
Stephen Flessner
01/11/2017
$20.00
Jared & Stephanie Luciano
12/30/2016
$40.00
Chipotle
12/29/2016
$250.21
Randy Ward
12/17/2016
$100.00
Proud of your work, to a very worthy cause, cancer has touched to many lives to mention, but we can't give up the fight!
Laina Hull
11/29/2016
$54.00
What a great cause, I can't wait to get updates from your mom as you take on this amazing adventure!
Kim Byron
11/29/2016
$200.00
Improved Order of Redmen #84
11/16/2016
$100.00
Maggie & Rick Pietrolungo
11/06/2016
$100.00
You are truly inspiring ! Good Luck.
Joe Corbis
11/04/2016
$171.00
Danielle Tabler
11/03/2016
$200.00
You are gonna do great! Every step you take makes a difference.
Red Feather Council #59
10/27/2016
$100.00
Ashley & Andrew Schnebly
10/21/2016
$100.00
We can't wait to hear all about your adventure!
Linda Middlekauff
10/17/2016
$100.00
Amber Asbury
10/16/2016
$75.00
I can't wait to see you at the end! Love you tons!
Chris Butler
10/14/2016
$50.00
This is a pretty cool thing. Good luck!
Derrick & Kelsey Faith
10/13/2016
$50.00
We wanted to wish you the best with your run. Good luck!
Karla King
10/11/2016
$200.00
What a great cause!! King Physical Therapy
Kitty Leung
10/10/2016
$20.00
Lindsey Szakacs
10/10/2016
$5.00
Good luck Karrah
Sarah Gisriel
10/10/2016
$10.00
Now we just need to get you on the news...
Steven San Miguel
10/08/2016
$20.00
Good on ya and good luck!!
Fred W
10/08/2016
$10.00
R R
10/08/2016
$500.00
Push yourself hard each step of the way. Good luck Karrah!!
Karli Jones
10/07/2016
$10.00
Wishing you all the best! What a wonderful cause!
Ester Sudec
10/07/2016
$25.00
What a great way to honor your friends. Best of luck and we'll be cheering for you!
Karrah Weaver
10/04/2016
$100.00
Total
$5,001.71