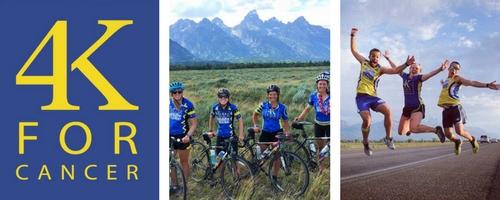 Haley Kenyon's Fundraising Page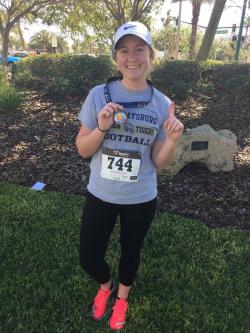 Haley Kenyon is a sophomore at Flagler College. In the summer of 2018, she will be traveling with a group of college-aged students on a 49-day, 4000+ mile run from San Francisco to New York City, raising money and awareness for the Ulman Cancer Fund for Young Adults.
What is your connection to the cancer community?
When I was 14, my dad was diagnosed with skin cancer. We lived in Pennsylvania and he had to go to regular treatments in Ohio. I was young and didn't really understand cancer at the time so it was all very scary and confusing for me. He ended up having his bottom eyelid cut out and part of his cheek and had to have reconstructive surgery to get rid of the cancer. He had to wear an eye patch for a while and we called him "Patchy the Pirate". Since then, he has recovered fully! When I was 16, my grandmother who I was very close with was diagnosed with stage 4 lung cancer. My mom moved down to Florida to take care of her for a while. I ended up missing a lot of school that year due to frequent trips to see her to spend as much time with her as I could. After a fight that lasted half a year, she passed away. Cancer has greatly affected my life and I have also participated in Relay for Life events while I was in high school. I believe it's important to get involved and do what you can do personally to help make a change!
Why are you traveling 4,000 miles this summer with the Ulman Cancer Fund for Young Adults?
I have been running since I was 12 years old. It has always been a big and positive part of my life. When I run, it gives me a feeling that nothing else can and it makes me feel strong and ready to take on anything. I want to put this feeling to good use by spreading awareness and encouragements for other dealing with or involved with cancer. I am lucky to be healthy, although I never know when this will not be the case anymore. I want to live every day to the fullest because I do not know what could happen next. I want to put my abilities I have into the community and join a team who has the courage and motivation to make a difference, as this foundation does.
ABOUT 2018 4K for Cancer
2018 marks the 17th year of the 4K for Cancer sending young adults on journeys across the country in an effort to inspire hope and unite communities in the fight against cancer. The 4K for Cancer is a program of The Ulman Cancer Fund for Young Adults (UCF). Interested in joining the fight? Apply to be a rider or runner a at www.4kforcancer.org!
CHALLENGE:
Over 70,000 young adults are diagnosed with cancer every year. Young adults (ages 15-39) face a variety of unique challenges with a cancer diagnosis including fertility preservation, social isolation, lack of insurance, delayed diagnosis, and more.
SOLUTION:
The Ulman Cancer Fund for Young Adults changes lives by creating a community of support for young adults, and their loved ones, impacted by cancer. With your support, the Ulman Cancer Fund is able to provide free support services and resources for the young adult cancer community including:
Cancer to 5K - a 12-week training program designed to introduce or reintroduce cancer survivors to physical activity.
Patient Navigation - a free program (onsite at cancer centers and remotely through our office) that ensures no young adult ever faces cancer alone. We provide one-on-one support & resources to young adults and their families to help them manage the cancer experience and long-term cancer survival.
Scholarships - a financial assistance program to help young adults continue their education after being affected by cancer through their own diagnosis or the diagnosis of a loved one.
UCF House - This year UCF broke ground on a "home away from home" to provide free housing for young adult cancer patients, and their caregivers, in East Baltimore.
Your donation will help make these programs and our mission possible!
Supporters
Name
Date
Amount
Comments
Wendi Huisman Kitsteiner
06/20/2018
$25.00
We are so proud of Haley and glad we could play a small part in her journey to this adventure! So exciting to watch this trip unfold.
Thomas Clark
06/13/2018
$100.00
Run, Haley! Run!
Anonymous Friend
06/08/2018
$100.00
From the Barry's!
Anonymous Friend
06/08/2018
$25.00
From the Holsinger's
Dainey DeDonatis
04/28/2018
$50.00
You ROCK, Haley!
Breton Frazier
04/25/2018
$50.00
Haley, you inspire us!
Anonymous Friend
04/25/2018
$50.00
good luck and god bless
Anonymous Friend
04/25/2018
$20.00
Crush it!
Anonymous Friend
04/24/2018
$100.00
Double survivor (rectal and lung) wishes you good luck and thanks!
Richard Ingraham
04/22/2018
$25.00
I saw your article in the paper and I wish you the best of luck
Darien Andreu
04/12/2018
$25.00
"What is the meaning of life? The meaning of life is to live!" --Robin King
Anonymous Friend
03/19/2018
$379.00
Saint George Street fundraising
Mary Pat Sullivan
03/19/2018
$75.00
Christopher Kenyon
03/19/2018
$47.20
I love you, don't ever stop.
Christopher Kenyon
03/19/2018
$2.00
I love you, don't ever stop, again.
Pyles Family
03/15/2018
$100.00
Good luck Haley!!
Bonfire
03/15/2018
$28.02
Anonymous Friend
03/12/2018
$317.00
Saint George Street fundraising - Sunday
Anonymous Friend
03/12/2018
$100.00
Lynne Thompson Art Auction Bid
Anonymous Friend
03/12/2018
$100.00
Monica Moore - Go Fund Me
Anonymous Friend
03/12/2018
$15.92
Carl Kenyon - Go Fund Me
Anonymous Friend
03/10/2018
$200.00
St. George Street fundraising
Haley Kenyon
03/10/2018
$100.00
Uncle Doug painting bid
Anonymous Friend
03/09/2018
$90.00
Mom's change bowl
Carl Kenyon
03/08/2018
$14.41
February Change Bowl Challenge 14.41 I am scraping the bottom of the bowl and looking in the sofa too
Anonymous Friend
03/06/2018
$20.00
Sam Eason
Anonymous Friend
03/05/2018
$721.00
Fort fundraising
Anonymous Friend
03/01/2018
$227.00
Fort fundraiser
Anonymous Friend
02/25/2018
$25.49
January Change Bowl Challenge - Carl Kenyon
Anonymous Friend
02/25/2018
$38.00
Tomato Fundraiser
Anonymous Friend
02/25/2018
$12.00
Flower Fundraiser
Kaesi Morelli
02/13/2018
$10.00
Cary Ellis Keener
02/13/2018
$25.00
Happy birthday Haley! :)
Chipotle
01/26/2018
$141.18
Anonymous Friend
01/25/2018
$40.34
Carl Kenyon's December change bowl challenge
Panera, LLC
01/22/2018
$39.10
Anonymous Friend
01/20/2018
$49.00
Venmo donations
Peter Klambatsen
01/07/2018
$500.00
Run like the wind Haley! You are a shining star!! -Peter and Dorothy
Cooper DeDonatis
01/04/2018
$15.00
Anonymous Friend
12/13/2017
$50.00
From Loretta Rizzo
Carl Kenyon
12/04/2017
$50.34
change bowl challenge november
Lauren Tivey
11/29/2017
$25.00
Good luck, Haley! I think what you're doing is wonderful!
Anonymous Friend
11/22/2017
$279.00
Walmart Fundraiser
Lily Ramirez
11/19/2017
$10.00
Good luck!
James Provanzano
11/18/2017
$25.00
Good Luck!
Gordon Schley
11/12/2017
$10.00
Anonymous Friend
11/10/2017
$100.00
From Lynne Thompson
Anonymous Friend
11/10/2017
$24.00
From my wonderful creative writing class
Troy Caillier
11/10/2017
$100.00
Anonymous Friend
11/02/2017
$41.00
50/50 raffle fundraiser
Anonymous Friend
11/01/2017
$96.00
50/50 raffle fundraiser
Sarah Frank
09/29/2017
$25.00
Amazing girl!
Heather Wensley
09/28/2017
$25.00
Proud of you! Good luck!
Jo Ball
09/28/2017
$25.00
Cary Ellis Keener
09/28/2017
$15.00
Love you girl :)
Ellie Ross
09/28/2017
$10.00
I LOVE YOU
Tammy Merritts
09/28/2017
$25.00
❤
Nate Eckard
09/28/2017
$15.00
Go get it
Gail High
09/28/2017
$20.00
Haley Kenyon
09/26/2017
$100.00
Total
$5,072.00