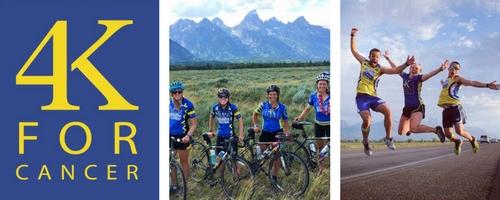 Emily Baas's Fundraising Page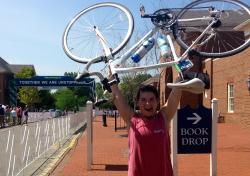 Emily Baas is a graduate student at Tulane University. In the summer of 2018, she will be traveling with a group of college-aged students on a 70-day, 4000+ mile ride from Baltimore, MD to Portland, OR, raising money and awareness for the Ulman Cancer Fund for Young Adults.
What is your connection to the cancer community?
I was a 180-mile participant, and member of the student executive board for Pelotonia benefitting Ohio State's cancer research facility while I was an undergraduate student. I became involved when my aunt was first diagnosed with bladder cancer and participated again in her memory. More recently, I witnessed my uncle's decline and end of life battle to brain cancer. I stood by and watched as his ability to farm his land left him, his vision taken away as his tumor took over, watched him fall in an attempt to prove he could still care for himself, and heard the desperation in his voice when he said," I am too young to die," a week before his passing. I promised him at his funeral that I would do better for him as I pursue a career in medicine and give with all my ability to make sure others don't have to head down his path.
Why are you traveling over 4000 miles this summer with the Ulman Cancer Fund for Young Adults?
I need and want to do more with the abilities I have been given. I am so fortunate that I get to enjoy using my body on an almost daily basis doing all of the physical activity that I enjoy doing. Why not use that love and drive to do some good for someone other than myself? As mentioned previously, I promised my uncle that I would do better for him. I believe 4K is something I need to do. I have a body that is capable of making the trip and a spirit that is yearning to do the work that means so much more than going on a bike ride. This ride gives me a powerful platform to share my encounters with cancer and enables me to empower everyone I come across that they can make an impact on cancer in the course of their lifetime by using their own passions and talents, and not wait to care until cancer has touched their life.
ABOUT 2018 4K for Cancer
2018 marks the 17th year of the 4K for Cancer sending young adults on journeys across the country in an effort to inspire hope and unite communities in the fight against cancer. The 4K for Cancer is a program of The Ulman Cancer Fund for Young Adults (UCF). Interested in joining the fight? Apply to be a rider or runner a at www.4kforcancer.org!
CHALLENGE:
Over 70,000 young adults are diagnosed with cancer every year. Young adults (ages 15-39) face a variety of unique challenges with a cancer diagnosis including fertility preservation, social isolation, lack of insurance, delayed diagnosis, and more.
SOLUTION:
The Ulman Cancer Fund for Young Adults changes lives by creating a community of support for young adults, and their loved ones, impacted by cancer. With your support, the Ulman Cancer Fund is able to provide free support services and resources for the young adult cancer community including:
Cancer to 5K - a 12-week training program designed to introduce or reintroduce cancer survivors to physical activity.
Patient Navigation - a free program (onsite at cancer centers and remotely through our office) that ensures no young adult ever faces cancer alone. We provide one-on-one support & resources to young adults and their families to help them manage the cancer experience and long-term cancer survival.
Scholarships - a financial assistance program to help young adults continue their education after being affected by cancer through their own diagnosis or the diagnosis of a loved one.
UCF House - This year UCF broke ground on a "home away from home" to provide free housing for young adult cancer patients, and their caregivers, in East Baltimore.
Your donation will help make these programs and our mission possible!
Supporters
Name
Date
Amount
Comments
David Behrens
08/07/2018
$100.00
Emily Baas
07/06/2018
$300.00
This is a great thing you are doing, Emily. You are our hero!
Altria
06/30/2018
$100.00
Eric Hueve
06/14/2018
$100.00
At the end of this, you really should have a Keystone Light to re-hydrate. Johnny would be proud. Keep it up!!
Anonymous Friend
06/14/2018
$50.00
You can do it! You're doing a great job!!!
Amantha Yoshida
06/12/2018
$100.00
Good luck Emily! I am so proud of you!
Rachel Amice
06/12/2018
$100.00
I'm so proud of you for everything you do, but especially this Em! Keep on riding! Love you! Rach
Anonymous Friend
05/31/2018
$48.00
This will make it even Safe travels and enjoy the scenery
Jason Oglesbay
05/23/2018
$100.00
Doreen Brock
05/13/2018
$300.00
Bryce and Alex Thornton
05/12/2018
$100.00
Good luck, Baas!
Barbara Sowell
05/11/2018
$25.00
Dennis & Peggy Huff
05/11/2018
$50.00
Kelly O'Brien
05/11/2018
$25.00
ILU, so proud of you!
Peter Baas
05/11/2018
$100.00
Can't wait to celebrate with you in Portland!
John McDonald
05/11/2018
$50.00
Good luck on your long bike ride.
Margaret Closius
05/10/2018
$100.00
Proud of you, Em! Go get em!
Ruth Wygle
05/01/2018
$50.00
Love you, Fabulous!!
Jacquelle Tircuit
04/20/2018
$30.00
Hope it helps! Good Luck!! Have a safe journey!
Hua Lu
04/12/2018
$200.00
support cancer research
Ross Nosaville
04/03/2018
$25.00
Go Emily!!!
Lisa Yang Mills
03/25/2018
$75.00
David and Lauren Adams
03/18/2018
$50.00
Em, we'll be praying for your trek! Have fun! "So you shall serve the Lord your God, and He will bless your bread and your water. And I will take sickness away from the midst of you." Exodus 23:25 (NKJV)
Emily Baas
03/12/2018
$106.00
James Briscoe
03/09/2018
$100.00
Alexa Dow
03/09/2018
$10.00
Ashli Weber
03/09/2018
$50.00
David Franklin
03/08/2018
$50.00
Ashley Oalickal
03/07/2018
$50.00
You are an amazing human being! Good luck (:
Kartheek Gavini
03/06/2018
$5.00
Hope this helps!
Corey Carney
03/06/2018
$10.00
Taylor Henderson
03/06/2018
$5.00
Joseph Bradford
03/06/2018
$20.00
Anonymous Friend
03/06/2018
$10.00
Gabriel Egbuna
03/06/2018
$10.00
Liya Ayenew
03/06/2018
$11.00
Go Emily!!! You are freakin' awesome!!!
Kelly Ragland
03/06/2018
$10.00
Good Luck!
Harsh Patel
03/06/2018
$40.00
Good luck Emi!
Danny Berghoff
03/04/2018
$50.00
Proud of you, Baas! Team BergMills will see you in Baltimore!
Nancy and Eric Wygle
02/28/2018
$50.00
We'll let Ruthie help with the tattoo! Thanks for riding.
Elisa M Hueve
02/12/2018
$250.00
Anonymous Friend
02/05/2018
$100.00
Go get 'em. You're way too good to so many people!
Meggie Marie Hatem
02/03/2018
$250.00
Love you Em!
Mandi Vonderhaar
02/01/2018
$100.00
We'll be cheering you on from Active Physical Therapy!
Autumn Kramer
02/01/2018
$10.00
You are such an inspiration to me. I am so proud to know you. The best view comes after the hardest climb ;) <3
Dominic Avery
01/12/2018
$50.00
Bari Matherne
12/31/2017
$50.00
Christina Kowalski
12/19/2017
$100.00
Thank you, Emily, for all your caring for those in need.
Emily Baas
11/28/2017
$255.00
Knights of Columbus
10/06/2017
$200.00
Louisa Mezache
09/25/2017
$200.00
Way to go, Emily. :)
Tom Hageman
09/12/2017
$20.00
Tierney Grandis
09/07/2017
$100.00
Matthew Baas
09/05/2017
$250.00
Jean Baas
09/02/2017
$200.00
Heather Lewis
08/31/2017
$500.00
The Bedell Family
08/31/2017
$100.00
You are the ultimate #baasbabe!
Alison Cuevas
08/31/2017
$100.00
You got this Emii
Ariel DeNoto
08/31/2017
$25.00
ily baas! see you in san fran ;)
Gretchen Hinty
08/31/2017
$25.00
Get it girl!
Emily Baas
08/18/2017
$100.00
Total
$5,750.00