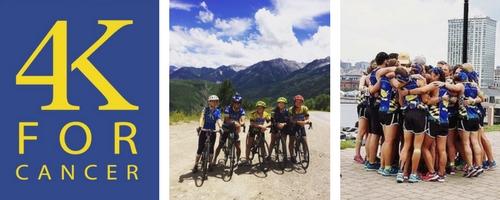 Cristina Lopez's Fundraising Page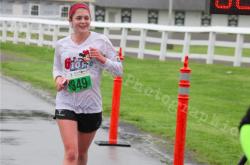 Cristina Lopez is a junior at Vassar College. In the summer of 2019, she will be traveling with a group of college-aged students on a 49-day, 4000+ mile run from San Francisco to Baltimore, raising money and awareness for the Ulman Foundation.
What is your connection to the cancer community?
I was involved in Relay for Life in high school, but never truly understood the impact of cancer until very recently. Within the past year, I have seen many friends and coworkers lose people close to them in their battles with cancer. I am fortunate enough that I have not known anyone personally who has lost their life to cancer; my great grandfather passed away before I was born, and my grandfather defeated skin cancer. However, seeing my friends and family lose loved ones to cancer has shown me the incredible impact this disease has not only on those directly affected by it, but on their entire communities as well.

Why are you traveling 4,000 miles this summer with the Ulman Foundation?
I am traveling 4,000 miles this summer with the Ulman Cancer Fund for Young Adults to support and honor those who have lost their lives to cancer or are in the midst of their battle with it. I believe this will be a life changing experience not only for the runners, but for those who we meet along the way. On our journey back to Baltimore, we will be visiting cancer centers, volunteering at cancer organizations, and delivering care packages and scholarships to young adults impacted by cancer. This is a very meaningful way to support those with cancer who are unable to do many of the things that most of us take for granted. I will be running because it is something I love doing and I am lucky enough to be able to do so in an environment that will positively impact the cancer community.
ABOUT 2019 4K for Cancer
2019 marks the 18th year of the 4K for Cancer sending young adults on journeys across the country in an effort to inspire hope and unite communities in the fight against cancer. The 4K for Cancer is a program of the Ulman Foundation (Ulman). Interested in joining the fight? Apply to be a rider or runner a at www.4kforcancer.org!
CHALLENGE:
Over 72,000 young adults are diagnosed with cancer every year. Young adults (ages 15-39) face a variety of unique challenges with a cancer diagnosis including fertility preservation, social isolation, lack of insurance, delayed diagnosis, and more.
SOLUTION:
Ulman Foundation changes lives by creating a community of support for young adults, and their loved ones, impacted by cancer. With your support, Ulman is able to provide free support services and resources for the young adult cancer community including:
Cancer to 5K - a 12-week training program designed to introduce or reintroduce cancer survivors to physical activity.
Patient Navigation - a free program (onsite at cancer centers and remotely through our office) that ensures no young adult ever faces cancer alone. We provide one-on-one support & resources to young adults and their families to help them manage the cancer experience and long-term cancer survival.
Scholarships - a financial assistance program to help young adults continue their education after being affected by cancer through their own diagnosis or the diagnosis of a loved one.
Ulman House - This year Ulman will open a "home away from home" to provide free housing for young adult cancer patients, and their caregivers, in East Baltimore.
Your donation will help make these programs and our mission possible!
Supporters
Name
Date
Amount
Comments
Cristina Lopez
07/25/2019
$10.00
St. Nick
07/25/2019
$5.00
Macaroni necklace
Laura Chandler
07/24/2019
$40.00
My very best wishes to you for a safe and fun journey. I wish you were running near Simsbury so we could come cheer you on!
Amy Messbarger
07/13/2019
$100.00
Tracy Lambros
07/12/2019
$110.00
Best of luck on your run from Tracy and Will!
Christie Root
06/21/2019
$50.00
Kimber Delbone
06/17/2019
$100.00
Good Luck Christina! May you have a friend like your Aunt Lyn that will make you laugh so hard tears fall down your legs!
Rodd Pope
06/11/2019
$100.00
Thank you. Be careful. See you in August.
Liz Rotolo
06/09/2019
$40.00
Go crush it, Cristina!! You are so amazing and I am so proud of you. <3
Molly Turlington
06/08/2019
$20.00
Proud of you<3
Patricia Turlington
06/08/2019
$25.00
Good luck Cristina!!!
Stephon Smith
06/08/2019
$10.00
Proud of you!
Cristina Lopez
06/08/2019
$10.00
You are my favorite sister. I wish I were as cool as you, but alas.
Cristina Lopez
06/08/2019
$100.00
I better be the favorite sister after this
Ari KJ
06/07/2019
$25.00
You're doing amazing sweetie!
Alexandra Karppi
06/07/2019
$25.00
Woohoo!!!
Diane Fales Doran
06/07/2019
$50.00
Cristina Good Luck! This is an Amazing thing you are doing to raise money for Cancer research.
Nicole Brummer
06/01/2019
$100.00
Way to go Cristina!!!
Chris Lambros
05/19/2019
$250.00
What a great cause. Good luck and have fun!!
Mary Ann Lambros
05/15/2019
$100.00
Edith McKeon Abbott
04/05/2019
$100.00
Dara Studnitzer
03/19/2019
$25.00
Good luck!
Robert Palma
03/19/2019
$200.00
Have a great run for a great cause! Go Cristina!
Karen Lopez
02/02/2019
$20.00
Good Luck! Have Fun! I will miss you!!
Miguel Lopez
01/23/2019
$150.00
Buena suerte!
Gaye Christensen
01/16/2019
$50.00
Good Luck Cristina! Great CAUSE!
Maury McKeon
12/31/2018
$500.00
Go Cristina Go
OneMain Financial
12/31/2018
$200.00
Bob Berg
12/29/2018
$750.00
Have fun and stay strong, from the Bergs in Iowa.
Andy Lambros
12/13/2018
$50.00
have fun tineth!
Miguel Lopez
12/06/2018
$200.00
Very proud of you, Cristina. Love you! - Dada and Mama
Helen Doggett-Plante
12/02/2018
$200.00
XOXO, Helen & Randy
Laurie Collidge
11/30/2018
$100.00
I love what you are doing, Cristina and we are happy to help you make your goal amount. You are an inspiration to other young adults.
Peggy and Chris
11/27/2018
$500.00
Cristina - Enjoy, do a good job, be careful. Love, Peggy & Chris
Sam Plante
11/27/2018
$50.00
You're doing grape!
Tracey Pate
11/26/2018
$1,000.00
Cristina, we are so proud of you! We will be praying for you and your teammates throughout your journey. We can't wait to hear all about it!
Barbara Becker
11/25/2018
$100.00
Jean McKeon
10/26/2018
$500.00
Proud of you. Good luck and have fun!
Cristina Lopez
10/07/2018
$70.00
Jim McKeon
10/01/2018
$100.00
Good luck Cristina! May you have a healthy and successful 6 weeks. Best wishes, Aunt Karen and Uncle Jim
Peter & Lyn Muszynski
09/26/2018
$250.00
Good luck Cristina! Have fun! Love, Aunt Lyn & Uncle Pete
jacqueline palma
09/21/2018
$100.00
Good luck, Cristina!!!!!!!! Proud of you!
Jeanne Ward
09/20/2018
$25.00
This sounds like an awesome adventure for a great cause. (I am a friend of your grandmother)
Maddie Maguire
09/13/2018
$45.00
Go Dirty you're amazing!!
Cristina Lopez
08/02/2018
$100.00
Total
$6,655.00
Report Abuse
Edit My Page