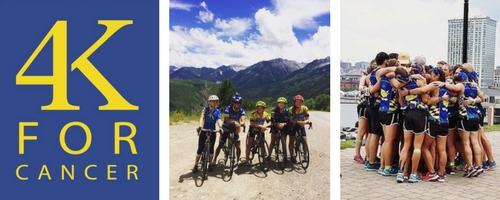 Caroline Watson's Fundraising Page
Caroline Watson is a graduate of University of New Hampshire. In the summer of 2019, she will be traveling with a group of college-aged students on a 49-day, 4000+ mile run from San Francisco to Boston, raising money and awareness for the Ulman Foundation.
What is your connection to the cancer community?
Last summer, my parents both lost their battle with cancer just one month apart from each other. My mother fought breast cancer for over ten years and was incredibly fearless and feisty – never willing to give up through the many twists and turns of her disease. My dad was diagnosed with cancer merely nine months before he passed away and continued working to provide for my family despite his aggressive diagnosis.
I have been intimately involved in the cancer community for half my life; from supporting both my parents through their battle and accompanying them to appointments, to participating in numerous fundraisers with the hope of finding a cure. Since graduating college in 2016, cancer has become more than a personal cause and I've been fortunate enough to work as a research assistant for oncology patients in Boston.
I have grown into my adulthood struggling to not only understand my parents diagnosis, but to provide care in a way most teenagers never experience. Over the past year, as I supported both my parents and eventually held their hands as they took their last breaths, it gave me a terribly unique look into the heartbreak of cancer. Despite the challenges this disease has created for me - this community, my parents, and my patients have taught me how deep my empathy and love really is, and only encouraged me to continue to stay engaged with such a resilient and inspiring group.
Why are you traveling 4,000 miles this summer with the Ulman Foundation?
I want to run across America to prove to myself that I am resilient and to show others who are struggling with cancer that you can survive even the toughest battles. I have suffered an unbelievable amount of loss and I'm hopeful that my journey across America will make me even stronger and give more meaning to my parents' death.
Additionally, I have participated in fundraisers and races that support cancer centers in the Northeast but I want to make a bigger impact across the United States. I am inspired to get my message out to other young adults dealing with loss from cancer and would be grateful to work directly with organizations supporting them across the country.
It is incredibly important to me to continue my parents' legacy of being the most tenacious and determined people I knew. I want them to be proud of what I am doing and I can't wait for this journey and the opportunity to prove myself.

ABOUT 2019 4K for Cancer
2019 marks the 18th year of the 4K for Cancer sending young adults on journeys across the country in an effort to inspire hope and unite communities in the fight against cancer. The 4K for Cancer is a program of the Ulman Foundation (Ulman). Interested in joining the fight? Apply to be a rider or runner a at www.4kforcancer.org!
CHALLENGE:
Over 72,000 young adults are diagnosed with cancer every year. Young adults (ages 15-39) face a variety of unique challenges with a cancer diagnosis including fertility preservation, social isolation, lack of insurance, delayed diagnosis, and more.
SOLUTION:
Ulman Foundation changes lives by creating a community of support for young adults, and their loved ones, impacted by cancer. With your support, Ulman is able to provide free support services and resources for the young adult cancer community including:
Cancer to 5K - a 12-week training program designed to introduce or reintroduce cancer survivors to physical activity.
Patient Navigation - a free program (onsite at cancer centers and remotely through our office) that ensures no young adult ever faces cancer alone. We provide one-on-one support & resources to young adults and their families to help them manage the cancer experience and long-term cancer survival.
Scholarships - a financial assistance program to help young adults continue their education after being affected by cancer through their own diagnosis or the diagnosis of a loved one.
Ulman House - This year Ulman will open a "home away from home" to provide free housing for young adult cancer patients, and their caregivers, in East Baltimore.
Your donation will help make these programs and our mission possible!
Supporters
Name
Date
Amount
Comments
Anonymous Friend
08/28/2019
$25.00
touched by Caroline Watsons story
Stuart Close
08/06/2019
$200.00
Jan Bent
08/05/2019
$100.00
Your parents would be so proud of you. What a wonderful thing to do in their memory.
Judy Barton
08/05/2019
$100.00
Your parents are proud! Mrs. Barton
Anonymous Friend
08/04/2019
$100.00
I am so proud of you!
Mary and Bruce King
08/04/2019
$50.00
Brian Pendleton
08/04/2019
$100.00
Go Caroline. You are an inspiration to us all at the Lyme School. Mr. P.
Heidi Lehner
08/03/2019
$200.00
Heard you are an amazing woman - doing wonderful and generous things!
Chris Pressey-Murray
08/03/2019
$225.00
Way to finish strong! So proud of you!!
Amy Stephens
08/03/2019
$25.00
Topped off! Way to go!!
Anonymous Friend
08/02/2019
$500.00
Go Caroline! Final day!
Tyler Hummel
07/25/2019
$1.00
You're amazing!
Peter & Kathy
07/12/2019
$100.00
Rachel Boghosian
07/08/2019
$47.85
You're amazing! Love you!
Bess Wyszynski
07/07/2019
$25.00
Just saw you guys east of Pierre, SD. Think it was you that talked to us in the charcoal pickup. Pretty cool thing you guys are doing. Good luck on the rest of your trek!
Catherine Choi
06/16/2019
$100.00
Best of luck, Caroline!! See you back in Boston!
Anonymous Friend
06/16/2019
$50.00
For my cousin, diagnosed with uterine cancer this week. Run Carol, you're awesome! Love Gramps
Anonymous Friend
06/14/2019
$188.00
Caroline Watson
06/13/2019
$400.00
From karaoke night fundraiser!
Will Smart
06/12/2019
$50.00
Vanguard Charitable
06/10/2019
$1,000.00
Torsten Wiegand
06/05/2019
$150.00
Have a good run! Torsten
Cole Flickinger
06/04/2019
$200.00
As your mother once told us, "wear sunscreen!" Best of luck, Caroline, stay strong! - Andrew, Taylor, Halie, and Cole
Jon and Mel Olinto
06/04/2019
$100.00
Jane Farrington
06/03/2019
$100.00
Best of Luck Caroline!
Ross Bermingham
06/03/2019
$10.00
i just wanted to thank you for always believing in me and always only expecting my best i hope you have a great 2,000 miles and a wonderful time and don't forget to always believe in your self like you do to us. ROSS (:
Heather Anne
06/01/2019
$50.00
I love you
Deanna St Germain
06/01/2019
$100.00
Great work, C! Have fun! Love you.
Liz and Keith Carey (Pippin)
06/01/2019
$50.00
Way to go Caroline! From Lyme to CA and back!
Sam Aiello
06/01/2019
$20.00
You are amazing Caroline! All my love <3
Courtney Smith
06/01/2019
$25.00
Nancy Papows
06/01/2019
$20.00
Eileen DeFilippis
05/29/2019
$25.00
It was a pleasure having you as my research assistant. Best of luck in you run and future endeavors.
Anonymous Friend
05/06/2019
$25.00
Good luck Caroline- you're amazing!
Chirag Shah
04/30/2019
$100.00
Very proud of you!
Anonymous Friend
04/22/2019
$25.00
Good luck!
Resilience Gives
04/08/2019
$112.00
Jeffrey Heier
04/03/2019
$200.00
Good luck! Polly and Jeff Heier
Mary Allen
03/28/2019
$112.94
You are a chip off the beautiful block! xoxox
Shayna Mallat
03/24/2019
$50.00
You got this Carol!!!
Jordan Campbell
03/24/2019
$100.00
So proud of you and obviously beyond impressed! Kaweh and I are cheering you on from Denver—love you!
Jessica Treanor
03/24/2019
$150.00
Carol Bean
03/20/2019
$100.00
Love, Grandma
Hannah Marie
03/09/2019
$25.00
So proud of you and the person you have become! Love you so much!
Bonfire
03/01/2019
$331.06
Charlotte Best
02/21/2019
$25.00
You go girl! Can't wait to see you in SF at the start ;)
Nicole Cercone
02/21/2019
$25.00
This is Amazing, you go Caroline!
Holly Shahzade
02/21/2019
$50.00
To the strongest girl I've met- I love you Carol!!!!
Anna Barlowe
02/21/2019
$300.01
Love you my yellow ray of sunshine and could not be more proud of you!
Kathryn Sparks
02/21/2019
$30.00
Go Carol, fuck cancer, I love u
Bill and Robin Watson
02/18/2019
$100.00
So proud of you, Caroline
Karen Drahozal
02/06/2019
$200.00
Go girl! You make everyone proud!
Grace Conrad
01/27/2019
$100.00
Run, Carol, Run! So impressed by you!
Emily Bordeau
01/24/2019
$100.00
You make me so proud! Can't wait to watch you trek along. I LOVE YOU!
Anonymous Friend
01/22/2019
$500.99
You go girl. Your Mom and Dad are routing for you! Look for a blue bmw motorcycle when you are on the road. We will try to catch up with your entourage. Colleen and Paul
Anonymous Friend
01/03/2019
$200.00
2019! Can't wait to cheer you on. Love you love you love you
Christine Davie
12/31/2018
$100.00
Best of luck Caroline! Your mom was a friend too. I miss her as well.
Olga Vandycheva
12/27/2018
$200.00
Asie Makarova
12/26/2018
$50.00
Alison Nowak
12/10/2018
$50.00
What an amazing challenge! I wish you and all the runners the very best!
Shane Gleason
12/07/2018
$50.00
Happy Birthday, Caroline! Your eagerness to support and lead others during such a difficult time for yourself demonstrates remarkable character. Keep fighting the good fight!
Anthony Joseph
12/07/2018
$500.00
You are absolutely incredible - rooting for you always CW
Nicole Bordeau
11/27/2018
$100.00
So proud of you Carol!
Anonymous Friend
11/26/2018
$50.00
We'll be thinking of you on your journey! Keep those feet happy & rotate your shoes.
Chris Pressey-Murray
11/17/2018
$500.00
Keep fighting the fight, Sweet Girl, and know that we're here for you always. With love & admiration, Chris, Michael, Malia & Hayden
James Watson
11/14/2018
$100.00
From Uncle Jimmy and Aunt Nancy!
jill butler
11/13/2018
$50.00
Good Luck Caroline!
Peter Bordeau
11/09/2018
$100.00
Best of luck on your journey of love and devotion next year!
Colleen and Thorsten Lorenzen
11/05/2018
$75.00
Lots of love and encouragement. Wishing you the best!
Fiona Heaney
10/31/2018
$400.00
You are strong. You are brave. You are an inspiration.
Mary and Scott Brown and Family
10/31/2018
$200.00
Caroline, what an inspiration you are. We are with you in all of your efforts, as are your parents. Stay strong and live a life of meaning.
Anonymous Friend
10/29/2018
$25.00
good luck caroline. what a wonderful way to honor your parents and pay forward. from an upper valley supporter
Anonymous Friend
10/29/2018
$30.00
Your extended Upper Valley "family" wholeheartedly supports your effort. I'm sure your parents would be so proud of you. You are a testament to the love with which they clearly raised you. <3
Gayle Krater
10/29/2018
$100.00
Johansen Family
10/28/2018
$100.00
Caroline, you are loved and supported by your whole community and especially the Johansens
Robert Krass
10/26/2018
$600.00
From the Hanover JV Girls Soccer team!
Amy Stephens
10/26/2018
$500.00
In honor of your parents who raised a caring and wonderful woman. Love you!
Anonymous Friend
10/25/2018
$200.00
We have always admired your strength, Caroline. You're an inspiration! Xo
Edsall Hilty Jr.
10/15/2018
$150.00
Carol Carr
10/11/2018
$200.00
Caroline you a strong woman-- your parents were and will always be proud of you. Best on your adventure
Emma Mahony
10/05/2018
$20.00
Incredibly inspired by this and what you are doing. Best of luck to your on your journey <3 - (Anna's friend :) )
Mark & Terri Feeney
10/04/2018
$100.00
Caroline...you're amazing! Your strength and determination to honor your parents legacy is truly inspirational. Couldn't be more proud of you!!
Andrew Meloche
09/19/2018
$100.00
Peter Bensen
09/13/2018
$30.00
Good luck! Your strength is remarkable.
Team JWH
09/13/2018
$100.00
Run like JT is at the finish line.
Sean Keller
09/13/2018
$70.00
Art Ellison
09/12/2018
$100.00
We will be with you in spirit.
Kassandra Bacon
09/12/2018
$100.00
Hi, I love you so much and can't even express how HAPPY and PROUD I am of you, my beautiful best friend.
Katharine Bauer
09/10/2018
$50.00
This is amazing! Sending you lots of love!!
Ryan Dean
09/09/2018
$100.00
Awesome Caroline! ❤️❤️
Anonymous Friend
09/08/2018
$200.00
So love your spirit, Caroline. Your dad and mom are smiling!
Julia Escobar
09/07/2018
$50.00
Love you amazing woman!
Treven Wesley
09/07/2018
$50.00
You are truly remarkable! Love, Trev
Erin Fili
09/06/2018
$100.00
Sending so much love to you!
Melissa & Kevin
09/06/2018
$50.00
This is incredible! We're rooting for you, Caroline!
Britney Bernard
09/06/2018
$50.00
This is awesome. You are going to do great! Love Brit & Cass
Dominique Cammarata
09/05/2018
$100.00
Love you!
Anonymous Friend
09/04/2018
$500.00
Such a worthy endeavor - much love
Eric and Jen Chinburg
09/04/2018
$500.00
such a wonderful tribut
Laurin Flynn
09/04/2018
$100.00
You are amazing Caroline. I knew it the moment i met you. This is such an amazing tribute to your parents. Hugs
Shahzade Family
09/01/2018
$500.00
In loving support to Caroline and her family for their tremendous courage and monumental losses
Sheryl Stotland
09/01/2018
$500.00
With much love and total admiration for you Caroline- the Stotland Family
Alex Bozuwa
08/31/2018
$50.00
To the best person I know.
Pierce Gendron
08/31/2018
$50.00
All my best.
Caroline Watson
08/30/2018
$100.00
Dan Remillard
08/30/2018
$200.00
Love, Dan
Total
$15,698.85