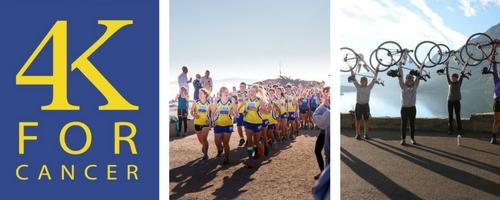 Caitlin Davis's Fundraising Page
Caitlin Davis is a senior at Mount Marty College. In the summer of 2017 she will be traveling with a group of college-aged students on a 49 day, 4000+ mile run from San Francisco, CA to Baltimore, MD to raise funds and awareness for the Ulman Cancer Fund for Young Adults.
What is your connection to the cancer community?
My grandpa, Floyd Leroy Davis, battled cancer for twenty-nine years. He was diagnosed with throat cancer in the 1980's, and recovered from that only to be diagnosed with melanoma in 1997. For several years, they used radiation to remove the spots, but it had spread too catastrophically. After five years of fighting, he passed away on July 17, 2009. I was only 15 years old at the time he passed, but I vividly remember the emotional and physical turmoil that cancer created not only for my grandpa, but on my entire family. However, I will never forget the way that our small town community came together to support my grandpa and our family in every sense of the word. When Grandpa Davis passed away, our community of only 1,500 people raised over 3,000 dollars for my grandma, who subsequently donated the money to the ambulance fund in Elk Point. This is my personal connection to cancer, but I believe that everyone is connected to the cancer community simply by being human. While cancer has the capacity to destroy, it is through the power of community and human connectedness that we refuse to let it defeat us.
Why are you traveling over 4000 miles this summer with the Ulman Cancer Fund for Young Adults?
As a collegiate cross country and track athlete, I have a fierce passion for running. The real joy of sport for me is within the process and the connections I've been able to develop with other people. At Mount Marty College, I am the President of FCA (Fellowship of Christian Athletes) and I constantly stress the importance of using the talents and abilities that God has given us in order to glorify Him and serve His people. This is the ultimate way for me to let God use my passions and abilities for something much greater than myself. Cancer is a battle that can only be overcome when people stand together to combine their strengths, hope, and determination. My love for running is complimented by my love for helping those around me in whatever ways I am best able. Through volunteering, I have cultivated my joy for serving others and incorporating various perspectives into my own. Everyone has their own unique perspective, and I can learn so much from opening my perspective to others. It is through this sharing of perspectives that great things happen. This once in a life time opportunity combines my two greatest passions in a way that I never even imagined possible. I am unbelievably excited for the opportunity to raise money and awareness for young adults who are battling cancer and to strengthen their support system.
ABOUT 2017 4K for Cancer
2017 marks the 16th year of the 4K for Cancer sending young adults on journeys across the country in an effort to inspire hope and unite communities in the fight against cancer. The 4K for Cancer is a program of The Ulman Cancer Fund for Young Adults (UCF). Interested in joining the fight? Apply to be a rider or runner at www.4kforcancer.org!
Challenge:
Over 70,000 young adults are diagnosed with cancer every year. Young adults (ages 15-39) face a variety of unique challenges with a cancer diagnosis including fertility preservation, social isolation, lack of insurance, delayed diagnosis, and more.
Solution:
The Ulman Cancer Fund for Young Adults changes lives by creating a community of support for young adults, and their loved ones, impacted by cancer. With your support, the Ulman Cancer Fund is able to provide free support services and resources for the young adult cancer community including:
Cancer to 5K - a 12-week training program designed to introduce or reintroduce cancer survivors to physical activity.
Patient Navigation - a free program (onsite at cancer centers and remotely through our office) that ensures no young adult ever faces cancer alone. We provide one-on-one support & resources to young adults and their families to help them manage the cancer experience and long-term cancer survival.
Scholarships - a financial assistance program to help young adults continue their education after being affected by cancer through their own diagnosis or the diagnosis of a loved one.
UCF House - This year UCF broke ground on a "home away from home" to provide free housing for young adult cancer patients, and their caregivers, in East Baltimore.
Your donation will help make these programs and our mission possible!
Supporters
Name
Date
Amount
Comments
Chris and Jem Hof
06/04/2017
$50.00
Lancer pride!
Jamie Jacobsen
06/02/2017
$15.00
I continue to be amazed by you, Caitlin! Best of luck on your journey.
Brody Weavill
05/27/2017
$20.00
Mark & Cherie Noteboom
05/23/2017
$50.00
Kimberly Brandon
05/23/2017
$100.00
To ALL affected by cancer.
Jonathan G Hasenbank
05/23/2017
$120.00
Terri & Brian Chicoine
05/22/2017
$50.00
Take care and all the BEST to you from San Francisco to Baltimore!
Lori Lincoln
05/22/2017
$10.00
Robert Neswick
05/22/2017
$20.00
Congratulations Caitlin! You are doing such a great thing for such a great cause! God bless!
Ralph Morse
05/20/2017
$100.00
great cause good luck to you on your adventure
Marc Long
05/18/2017
$75.00
Good luck, Caitlin, on the run and in law school at CU next year!
Kylee Donnelly
05/11/2017
$5.00
Terry Nelson
05/11/2017
$20.00
Patrick Ciganovic
05/08/2017
$15.00
Good on ya Caitlin great cause!
Michael and Laurie Wilson
05/04/2017
$150.00
Jason Nelson
05/02/2017
$150.00
Gene & Patty Kjose
05/01/2017
$50.00
Good luck, Caitlin, and God bless!
Kevin and Michelle Hueser
04/28/2017
$100.00
Best of Luck Caitlin!
Steve & Michelle Fejfar
04/27/2017
$25.00
Good luck on your run
Jamie Jacobsen
04/25/2017
$15.00
Keep up the good work, Cait! You are my inspiration--love you!
Christi Wegh
04/23/2017
$20.00
Kieran O'Malley
04/23/2017
$25.00
This is an amazing thing you're doing, Caitlin. Good luck on your journey!
Genny Clark
04/21/2017
$100.00
Zach and Abbey Bauman
04/19/2017
$100.00
Good luck this summer! Miss you and our track days at the Mount!
Anonymous Friend
04/17/2017
$25.00
Barb Rezac
04/11/2017
$50.00
Best wishes, Caitlin! We are so proud of you!
Janet Brusseau
04/03/2017
$20.00
Sister Ann Kessler
03/30/2017
$10.00
James Donnelly
03/30/2017
$50.00
Chad and Heidi Fennel
03/29/2017
$100.00
Very impressive, Caitlyn--we are in awe of you! Good luck this summer - God bless!
Chad and Heidi Fennel
03/29/2017
$25.00
I spelled your name wrong!!! Here's an extra little bit to correct the error! Thanks, Caitlin--we are wishing only the best for you and your group! :)
Jo A. Orr
03/27/2017
$25.00
Sondra K Stickney
03/27/2017
$100.00
Tim,Su & San Lester
03/26/2017
$25.00
You are an inspiration, we wish you luck on your journey, know the lord is in your heart !
Kevin Curry
03/26/2017
$100.00
Allison Cross
03/25/2017
$50.00
Good luck this summer, Caitlin!
Todd & Patty Larsen
03/25/2017
$50.00
"You will run & not grow weary, for our God will be your strength." Blessings & prayers from the Larsen's
Anonymous Friend
03/25/2017
$20.00
Robert D. Brink
03/25/2017
$25.00
Jamie Jacobsen
03/24/2017
$15.00
Good luck, Cait! You inspire me to be a better person. I love you!
Anonymous Friend
03/21/2017
$55.00
Thank you for being an inspiration and chasing after your dreams. You are destined to do great things!
Mandy O'Malley
03/18/2017
$100.00
From the O'Malley's!! We are all so proud of you Cait and blessed to have you as a friend:) God Bless on your journey.
Gavin Wright
03/17/2017
$100.00
Lori Donnelly
03/15/2017
$50.00
Good Luck Caitlin!! You're amazing!
Sierra Whitman
03/14/2017
$20.00
So proud of you, Caitlin! I am so glad I had you to look up to in my early years of high school and I am so happy I get to watch you do big things from afar! Keep up the good work!
Dave & Alice Wilson
03/14/2017
$50.00
Good luck, Caitlin!
Jane Wood
03/13/2017
$50.00
Bonnie Larsen
03/10/2017
$50.00
Amanda Schaefers
03/08/2017
$30.00
You are an inspiration to all women out there! So blessed to know you and watch you grow in this journey! Put a little Queen on your running play list!
David & Joy Cameron
03/08/2017
$30.00
We are so proud of you and constantly impressed. What a woman! We are with you all the way!❤
Alan R. Ferris
03/07/2017
$100.00
Shannon Viereck
03/06/2017
$50.00
Good luck, Caitlin! This is a great cause, and we are so proud of you!
Truman & De Ann Pugh
03/04/2017
$300.00
Thank you & your teammates for taking the time to honor those that are battling, or have passed from Cancer. You are a blessing!
Andy Bernatow
03/02/2017
$40.00
We wish you the best of luck! You are an amazing person! Good luck!! The Bernatow's
Nickie Harkema
03/01/2017
$25.00
Go girly!!
Dennis & Eileen Henze
03/01/2017
$50.00
Rich Lofthus
02/28/2017
$50.00
Thanks Caitlyn for taking up such a worthy cause!
Laura Nelson
02/25/2017
$25.00
"Endurance produces character, and character produces hope, and hope does not disappoint us..." Romans 5:1-5. Love you Caitlin! Whoop whoop!
S Eileen
02/22/2017
$25.00
Jim Reese
02/07/2017
$30.00
Way to go Caitlin! Jim, Linda, Willow an Paige Reese
Randy Fischer
02/05/2017
$50.00
Good luck Caitlin!
Scott Davis
02/03/2017
$50.00
Great thing you're doing.
Robert Davis
02/01/2017
$50.00
Go for it Caitlyn. Curing Cancer is a great cause. Good luck!
Norma Davis
01/26/2017
$100.00
Proud of you for putting forth all this hard work and effort for a beautiful cause.
Pat & Gail Davis
01/24/2017
$50.00
Jodi Jacobson
01/23/2017
$20.00
Caitlin Davis
01/23/2017
$50.00
Rachel Houdek
01/22/2017
$25.00
You're incredible and I am so proud of you! Good luck on this amazing journey.
Taylor Donnelly
01/22/2017
$25.00
I'm so proud of you girl! You really are living out God's purpose for you in life. Keep dreaming and keep doing. You have so many people who love and support you.
Anonymous Friend
01/21/2017
$200.00
Thank you for taking a step against cancer. God speed
Katie Ringley
01/21/2017
$20.00
Leann Davis
01/21/2017
$50.00
Proud if you Caitlin
David Davis
01/21/2017
$50.00
Marlene Hinds
01/21/2017
$50.00
We are all very proud of you !
Dawn and Gary Glover
01/20/2017
$50.00
Awesome, Caitlin!
Brian Davis
01/20/2017
$100.00
Wasn't my first choice having you wandering the country all summer but I admire your passion and realize you wouldn't listen to me anyway...you go girl
Jeanne Staum
01/20/2017
$50.00
A lovely way to honor your grandfather, Caitlin.
Floyd Davis
01/20/2017
$25.00
Cameron Pugh
01/20/2017
$50.00
Your amazing, good luck on the journey and I'll be here every step of the way to cheer you on.
Terri Chicoine
01/20/2017
$50.00
You inspire me Caitlin to do more for others... Good luck on your journey!
Mary & Rex Christensen
01/20/2017
$50.00
Uncle Floyd is very proud of you. Good Luck!
Jeanne/Doug Hanson
01/20/2017
$50.00
God bless your efforts, Caitlin. I pray He keeps you healthy and strong!
Grace Goehring
01/19/2017
$20.00
So very proud of you Caitlin! You are the epitome of resilience. Your dedication and passion is very inspirational. Keep working hard for your dreams. Best wishes! ❤
Katlyn Mace
01/19/2017
$20.00
So proud of all the great things you're doing, Cait! I believe we've all been touched by cancer in at least one way. You got this!!
Andrea Anderson
01/19/2017
$25.00
Caitlin Davis
01/18/2017
$100.00
Total
$4,685.00