Brooke Greyno's Fundraising Page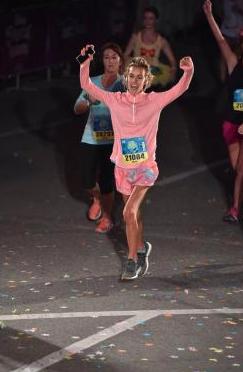 Brooke Greyno is a senior at North Carolina State University. In the summer of 2019, she will be traveling with a group of college-aged students on a 49 day, 4,000+ mile run from San Francisco, CA to Baltimore, MD to raise funds and awareness for the Ulman Foundation.
What is your connection to the cancer community?
I believe everyone is touched by cancer, I personally was touched in a profound way. Growing up I become very close to my best friend's mother, and loved her like my own. Her life on this earth was cut too short by her fight with stage four breast cancer, but boy did she fight. She showed an unconditional love for life, even when times became exponentially hard, she made the best of her life. She was the definition of give more than you take, even though she deserved the world! Cancer did not define her and her energy has lived on by those closest to her, especially her daughter! I am running for them and hoping to return the love I received!
My mother has also had also been touched by breast cancer, in which severe removal surgery was necessary. She unfortunately is also a carrier for the BRCA gene, so it could be in my future, which is a big eye opener. This only scratches the surface of it all. But being a young adult with cancer or affected by cancer seems to be growing and I am am so thankful to know so many wonderful warriors! I am striving to carry hope and recognition of these beautiful people who have had to go through an unfair battle.
Why are you traveling 4,000+ miles this summer with The Ulman Foundation?
I am traveling with the Ulman Cancer Fund to raise awareness and serve the young adults affected by cancer! I am beyond thrilled to meet some of these incredibly strong young adults. Running is a true passion of mine, and I am so ready to put my hobby into something that could be life changing for others. A quote dear to my heart comes to mind when I think of this mission:

"Helping, fixing and serving represent three different ways of seeing life. When you help, you see life as weak. When you fix, you see life as broken. When you serve, you see life as whole. Fixing and helping may be the work of the ego, and service the work of the soul." Rachel Naomi Remen

With every step I make, I hope to make a difference or impact on someone else's life! I also hope that along this journey people see us and ask why we are running coast to coast. For me that answer is simple, I am running for those who can't, and intend to make every mile count.
ABOUT 2019 4K for Cancer
2019 marks the 18th year of the 4K for Cancer sending young adults on journeys across the country in an effort to inspire hope and unite communities in the fight against cancer. The 4K for Cancer is a program of the Ulman Foundation (Ulman). Interested in joining the fight? Apply to be a rider or runner a at www.4kforcancer.org!
CHALLENGE:
Over 72,000 young adults are diagnosed with cancer every year. Young adults (ages 15-39) face a variety of unique challenges with a cancer diagnosis including fertility preservation, social isolation, lack of insurance, delayed diagnosis, and more.
SOLUTION:
Ulman Foundation changes lives by creating a community of support for young adults, and their loved ones, impacted by cancer. With your support, Ulman is able to provide free support services and resources for the young adult cancer community including:
Cancer to 5K - a 12-week training program designed to introduce or reintroduce cancer survivors to physical activity.
Patient Navigation - a free program (onsite at cancer centers and remotely through our office) that ensures no young adult ever faces cancer alone. We provide one-on-one support & resources to young adults and their families to help them manage the cancer experience and long-term cancer survival.
Scholarships - a financial assistance program to help young adults continue their education after being affected by cancer through their own diagnosis or the diagnosis of a loved one.
Ulman House - This year Ulman will open a "home away from home" to provide free housing for young adult cancer patients, and their caregivers, in East Baltimore.
Your donation will help make these programs and our mission possible!
Supporters
Name
Date
Amount
Comments
Bonfire
04/09/2019
$104.85
Brooke Greyno
10/02/2018
$100.00
Bonfire
07/13/2018
$70.73
Chas Gaspar
07/03/2018
$50.00
Bonfire
05/31/2018
$112.15
Brooke Greyno
05/08/2018
$550.00
Nancy Jane Barvinchak
04/21/2018
$30.00
Isabelle Stern
04/20/2018
$15.00
Can't wait to meet you this summer! Thanks for securing those awesome water bottles!
Brooke Greyno
04/17/2018
$350.00
Robert Campbell
01/24/2018
$50.00
Good luck Brooke! We are proud of you taking on this journey! Drs. Campbell & Covington and the staff at Campbell & Covington Orthodontics!
Brady J Semmel
01/15/2018
$100.00
Brooke Greyno
12/23/2017
$55.00
Brooke Greyno
12/12/2017
$120.00
Thank you Aunt Kathy, uncle Craig, aunt Linda, and uncle Johnny<3
Kim Ponsonby
12/08/2017
$25.00
So proud of you, Brooke!! Your determination, discipline and perseverance is inspiring!! xo
Sue Weber
12/07/2017
$50.00
You're awesome! God bless you! Love, Aunt Sue
Anonymous Friend
11/16/2017
$50.00
Brooke, Thank you for your magnificent and courageous efforts to support this cause! You ROCK, young lady!! I am your Aunt Geri's BFF... Karen Nichols
Geri Chmiel
11/13/2017
$100.00
YOU GO GIRL !!!! :+) XO
Total
$1,932.73