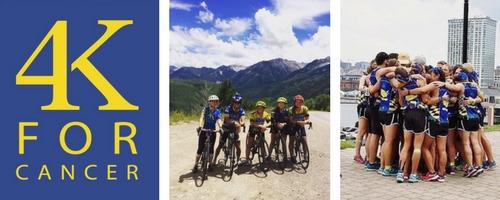 Bethany Gray's Fundraising Page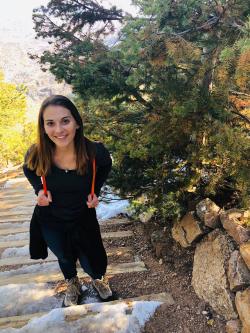 Bethany Gray is a graduate of Baylor University. In the summer of 2019, she will be traveling with a group of college-aged students on a 70-day, 4000+ mile ride from Baltimore, MD to San Francisco raising money and awareness for the Ulman Foundation.
What is your connection to the cancer community?
At any point in my life, I could name at least one person I know going through the intense experience their body turning against them. Cancer, in its many forms, is an insidious disease and it is shockingly common.

This year alone, I witnessed three individuals succumb to cancer. Their disease did not care about their strong, sharp, creative, loving, and passionate characteristics. Cancer has no regard for what kind of person you are, whether or not you are religious, what kind of job you work, or the depth of your relationships. It especially does not care what you are leaving behind, whether that is a family or a life left unlived to its full potential.
Why are you traveling 4,000 miles this summer with the Ulman Foundation?
Nobody should have to deal with cancer. But many must. It is bad enough that many face cancer in their lives at all, but it is especially heartbreaking when young people are forced to take on the challenge and divert their time and energy to reclaiming their health instead of focusing on their education, passions, and early careers.

I am so! very! lucky! that I have good health and the capability to do something such as biking across the country. It is my hope that I can use my abilities as a cyclist to make a difference in young people's lives.

It is my hope that my time and efforts through fundraising, volunteering, and scholarships alleviate even a small portion of the financial and physical stress that comes with treating cancer.
ABOUT 2019 4K for Cancer
2019 marks the 18th year of the 4K for Cancer sending young adults on journeys across the country in an effort to inspire hope and unite communities in the fight against cancer. The 4K for Cancer is a program of the Ulman Foundation (Ulman). Interested in joining the fight? Apply to be a rider or runner a at www.4kforcancer.org!
CHALLENGE:
Over 72,000 young adults are diagnosed with cancer every year. Young adults (ages 15-39) face a variety of unique challenges with a cancer diagnosis including fertility preservation, social isolation, lack of insurance, delayed diagnosis, and more.
SOLUTION:
Ulman Foundation changes lives by creating a community of support for young adults, and their loved ones, impacted by cancer. With your support, Ulman is able to provide free support services and resources for the young adult cancer community including:
Cancer to 5K - a 12-week training program designed to introduce or reintroduce cancer survivors to physical activity.
Patient Navigation - a free program (onsite at cancer centers and remotely through our office) that ensures no young adult ever faces cancer alone. We provide one-on-one support & resources to young adults and their families to help them manage the cancer experience and long-term cancer survival.
Scholarships - a financial assistance program to help young adults continue their education after being affected by cancer through their own diagnosis or the diagnosis of a loved one.
Ulman House - This year Ulman will open a "home away from home" to provide free housing for young adult cancer patients, and their caregivers, in East Baltimore.
Your donation will help make these programs and our mission possible!
Supporters
Name
Date
Amount
Comments
Brandon Davis
07/03/2019
$50.00
Have fun on your ride! I'm very jealous
Anonymous Friend
06/06/2019
$25.00
Keep on pedaling!
Bonfire
03/01/2019
$44.34
Wendy Oliver
02/03/2019
$50.00
Go Bethany!
MacKenzie Sullivan
02/02/2019
$1,001.00
go get em!
Sterling Horton
02/02/2019
$1,100.00
Try me
Jessica Morrow
02/01/2019
$20.00
Good Luck Bethany! Keep at it!
Macee R.
01/30/2019
$4.00
This is so inspiring! Proud that you are my siren sister!
Bethany Gray
01/26/2019
$50.00
Jacqueline Gray
01/23/2019
$57.00
In memory of your grandmother, Verna Gray, who would have loved you so much!
Waco Half Ironman
01/21/2019
$70.30
yes.
Bethany Gray
01/16/2019
$19.18
Lisa Ackerman
01/11/2019
$25.00
Ride on, Siren Sister!
Anonymous Friend
01/11/2019
$20.00
Cycle on, Siren!!
Rob Sanders
01/10/2019
$60.00
Bethany Gray
01/09/2019
$25.00
Charles Spillers
01/08/2019
$25.00
Good luck and be safe.
Brittany Nesbitt
01/07/2019
$100.00
I love you, and I am so proud of you for taking on this incredible journey! ♥️
Jackie Nunes
01/07/2019
$100.00
Roll on Sister Siren
Sterling Horton
01/07/2019
$1,000.00
Jenny Teague
01/07/2019
$25.00
Ride on my Siren Sister!
Cullen Welch
01/07/2019
$50.00
Tremendous!
Kathleen Hall
01/06/2019
$15.74
Lucas McCutchen
01/06/2019
$20.00
Watch out for quick sand!
Siona Slepoy
01/03/2019
$5.00
You got this!
Anonymous Friend
01/03/2019
$2.50
John Blanchette
12/28/2018
$100.00
Bethany Gray
12/27/2018
$250.00
Bethany Gray
12/27/2018
$19.18
Bethany Gray
12/20/2018
$67.58
Anna Freeto
12/20/2018
$100.00
Good Luck to you! You are amazing!
Mary Mounts
12/18/2018
$50.00
what a great cause - good luck!
Ginger Riley
12/17/2018
$50.00
Way to go, Bethany.
Bethany Gray
12/13/2018
$100.00
Derek Page
12/13/2018
$20.00
Total
$4,720.82