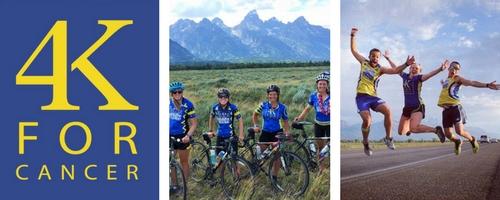 Austin Gallant's Fundraising Page
Austin Gallant is a sophomore at the University of Maine. In the summer of 2018, he will be traveling with a group of college-aged students on a 70-day, 4000+ mile ride from Baltimore, MD to Portland, OR raising money and awareness for the Ulman Cancer Fund for Young Adults.
What is your connection to the cancer community?
I've seen family members and friends go through cancer. Sadly, everyone has seen people in their lives go through cancer. I've had a sneak peak at the wonderful cancer community through events like relay for life, and that is just the beginning! My mom has worked in the oncology field for as long as I can remember and that is how I got introduced to fundraising events like this.
Why are you traveling over 4000 miles this summer with the Ulman Cancer Fund for Young Adults?
The main reason I'm participating in this event is to support the cancer community through donation of money and my time. This event is so unique in that it provides riders a way to donate a summer to a cause much greater than themselves. I want to provide support to people going through cancer, survivors and their family members as well, and this is a great way to do it. Along with providing support for others, I will be growing as an individual in this once in a lifetime journey, cycling across the US!
ABOUT 2018 4K for Cancer
2018 marks the 17th year of the 4K for Cancer sending young adults on journeys across the country in an effort to inspire hope and unite communities in the fight against cancer. The 4K for Cancer is a program of The Ulman Cancer Fund for Young Adults (UCF). Interested in joining the fight? Apply to be a rider or runner a at www.4kforcancer.org!
CHALLENGE:
Over 70,000 young adults are diagnosed with cancer every year. Young adults (ages 15-39) face a variety of unique challenges with a cancer diagnosis including fertility preservation, social isolation, lack of insurance, delayed diagnosis, and more.
SOLUTION:
The Ulman Cancer Fund for Young Adults changes lives by creating a community of support for young adults, and their loved ones, impacted by cancer. With your support, the Ulman Cancer Fund is able to provide free support services and resources for the young adult cancer community including:
Cancer to 5K - a 12-week training program designed to introduce or reintroduce cancer survivors to physical activity.
Patient Navigation - a free program (onsite at cancer centers and remotely through our office) that ensures no young adult ever faces cancer alone. We provide one-on-one support & resources to young adults and their families to help them manage the cancer experience and long-term cancer survival.
Scholarships - a financial assistance program to help young adults continue their education after being affected by cancer through their own diagnosis or the diagnosis of a loved one.
UCF House - This year UCF broke ground on a "home away from home" to provide free housing for young adult cancer patients, and their caregivers, in East Baltimore.
Your donation will help make these programs and our mission possible!
Supporters
Name
Date
Amount
Comments
Anonymous Friend
06/22/2018
$500.00
Thank you all for riding for her. Keep your stride. Happy trails.
Oriental Lodge #13
05/20/2018
$50.00
Lucy Maki
05/14/2018
$50.00
Dave Whitney
05/13/2018
$40.00
Austin is the man
Brent Gallant
05/12/2018
$50.00
Great job raising funds! Enjoy the journey
Karen Sylvain
05/09/2018
$10.00
Laura Madere
05/07/2018
$50.00
Norman White
05/07/2018
$25.00
Theresa Boulos
05/06/2018
$100.00
Have a great trip!!
Theresa Maneen
05/04/2018
$10.00
Ride hard & stafe safe! Go get it, Austin!
Anonymous Friend
05/04/2018
$25.00
Farrah Khan
05/04/2018
$25.00
Thank you!
Laurie Gambino
05/04/2018
$100.00
Steve Gallant
05/04/2018
$50.00
Wes Libby
05/04/2018
$100.00
Anonymous Friend
05/04/2018
$150.00
In memory of my niece who passed away too young from metastatic breast cancer. Think of her as you ride through Chicago, that was her favorite city.
Ken Sylvester
05/04/2018
$60.00
Scott Lowell
04/30/2018
$100.00
Great cause Austin. Ride safe. Scott Lowell and Carolyn Heiser
Elmira Allain
04/27/2018
$100.00
Way to go Austin! We are all very proud of you.
Evan Plummer
04/27/2018
$25.00
Have fun bud!
Dori Anderson
04/26/2018
$100.00
Enjoy the ride and be safe, Austin.
Ben Rogers
04/26/2018
$80.00
Love you bud
Stephanie Rogers
04/26/2018
$50.00
Good luck Austin!
Freeport Workers
04/22/2018
$130.00
Tami Plummer
04/20/2018
$100.00
Have Fun!
Stacy Nunley
04/19/2018
$25.00
Thank you!
Wendy & Jim Hennemann
04/15/2018
$100.00
Danielle is the daughter of my college roommate. She has beat cancer twice now! Once at age 9 and again last year at age 18. I admire her strength and thank you for participating in this worthy cause!
Chris & Kathy Boyd
04/15/2018
$100.00
Loyal Order of Moose, Inc.
04/11/2018
$200.00
Donation Jar
04/08/2018
$85.00
Cynthia Bailey Manning
04/07/2018
$50.00
Leslie L Bailey
04/01/2018
$50.00
Elaine M Gallant
04/01/2018
$200.00
Freeport Workers
03/26/2018
$150.00
Ronald Helie
03/26/2018
$10.00
Nicole L Randall
03/25/2018
$65.00
Cliff & Sonia Gallant
03/24/2018
$100.00
Sonia had cancer back in 2011...but she's clear today
Jody Freeman
03/23/2018
$25.00
Brian Muggeo
03/22/2018
$50.00
Gabrielle Martineau
03/20/2018
$10.00
Melody Larson
03/14/2018
$25.00
The Whole Kitchen, Inc.
03/14/2018
$200.00
Zachary Whitney
03/13/2018
$30.00
Go Austin
Jeffrey Kustron
03/13/2018
$50.00
Great job austin!!
Anonymous Friend
03/07/2018
$50.00
Jennifer Arps
03/03/2018
$100.00
Chipotle
02/28/2018
$50.40
Austin Gallant
02/15/2018
$170.00
The Fitch Company Engineers
02/14/2018
$200.00
Austin Gallant
01/17/2018
$5.00
Thank you Jake Danforth!
Anonymous Friend
01/14/2018
$155.00
Austin Gallant
01/12/2018
$10.00
Thank you Gabrielle Martineau, and Adrianna Kimball!!!
Lori Arsenault
01/03/2018
$50.00
Safe travels and what a wonderful cause !
Austin Gallant
12/29/2017
$25.00
Thank you Chaplin Builders!
Austin Gallant
12/29/2017
$25.00
Thank you Cindy Cogswell!!
PCS Performance, LLC
12/18/2017
$100.00
Wilkinson Excavation
12/08/2017
$25.00
Sue LaCerda
11/21/2017
$25.00
Nick Gallant
11/09/2017
$100.00
Lea Wernau
11/06/2017
$40.00
Your mom did a wonderful thing for me so I am paying it forward. Happy Pedaling Austin!!!
The Thomas Family
11/03/2017
$100.00
Great cause, great adventure, pedal hard, good luck!
Liam Stewart
10/26/2017
$25.00
Chloe Hedrich
10/26/2017
$25.00
Steve Nickerson
10/26/2017
$50.00
Skye Conley
10/26/2017
$20.00
Cathy Gallant
10/25/2017
$150.00
Karen Stewart
10/25/2017
$100.00
Austin we are behind you 100%! Good luck and enjoy the adventure while supporting a great cause. The Stewart Clan
Austin Gallant
10/24/2017
$100.00
Total
$5,305.40
Report Abuse
Edit My Page