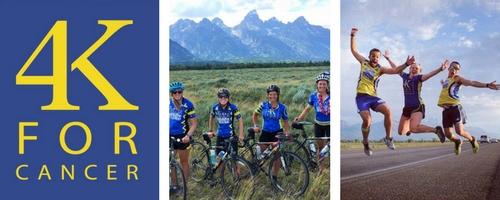 Anna Wagner's Fundraising Page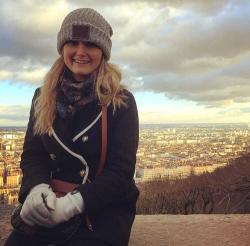 Anna Wagner is a senior at Salisbury University. In the summer of 2018, she will be traveling with a group of college-aged students on a 49-day, 4000+ mile run from San Francisco to Baltimore, raising money and awareness for the Ulman Cancer Fund for Young Adults.
What is your connection to the cancer community?
I stay active in the cancer community whether it be volunteering or participating in Relay for Life, or simply donating to events. I was little when my mom got cancer. Honestly I thought "no way my mom could die, only the bad guys die and she is superwomen" and how was I to know any better. I am blessed to have my mother with me today as a survivor. It was only a couple of years later my best friend's mom, Jodi Griffin, lost her life to cancer. There is not a day that goes by without thinking of her. I began to see the true horror and hopelessness this disease can leave. It was the strength of the Griffins and our community that made me passionate about awareness and fundraising.
Why are you traveling 4,000 miles this summer with the Ulman Cancer Fund for Young Adults?
I get called crazy already, and I would be honored to be called crazy for the Ulman Cancer fund. My love for the 4K journeys started back as a teenager on the field hockey field daydreaming about riding my bike across the country for cancer. Flash forward to this past spring when I was in an auditorium full of college students listening to a presentation about the effects of cancer. The speaker showed us the ruthless impact cancer has by asking us to stand if we have been impacted by cancer. The image of the full auditorium standing for the same cause makes me so passionate and honored to be a part of this journey.

Over this past summer Bob Barber who was my professor, mentor, and most importantly my friend, was diagnosed with cancer. The lessons of life he has shared with me has inspired me to apply for the 4k4Cancer journey. I am running because it is so much bigger than me. "If you want to go fast, go alone. If you want to go far, go together."
ABOUT 2018 4K for Cancer
2018 marks the 17th year of the 4K for Cancer sending young adults on journeys across the country in an effort to inspire hope and unite communities in the fight against cancer. The 4K for Cancer is a program of The Ulman Cancer Fund for Young Adults (UCF). Interested in joining the fight? Apply to be a rider or runner a at www.4kforcancer.org!
CHALLENGE:
Over 70,000 young adults are diagnosed with cancer every year. Young adults (ages 15-39) face a variety of unique challenges with a cancer diagnosis including fertility preservation, social isolation, lack of insurance, delayed diagnosis, and more.
SOLUTION:
The Ulman Cancer Fund for Young Adults changes lives by creating a community of support for young adults, and their loved ones, impacted by cancer. With your support, the Ulman Cancer Fund is able to provide free support services and resources for the young adult cancer community including:
Cancer to 5K - a 12-week training program designed to introduce or reintroduce cancer survivors to physical activity.
Patient Navigation - a free program (onsite at cancer centers and remotely through our office) that ensures no young adult ever faces cancer alone. We provide one-on-one support & resources to young adults and their families to help them manage the cancer experience and long-term cancer survival.
Scholarships - a financial assistance program to help young adults continue their education after being affected by cancer through their own diagnosis or the diagnosis of a loved one.
UCF House - This year UCF broke ground on a "home away from home" to provide free housing for young adult cancer patients, and their caregivers, in East Baltimore.
Your donation will help make these programs and our mission possible!
Supporters
Name
Date
Amount
Comments
Edward Leheny
06/29/2018
$30.00
Good luck Anna! See you in the 'Burgh!
Stacy Ernst
06/16/2018
$20.00
Anna, you're going places!
Anonymous Friend
06/12/2018
$100.00
You are a very special person, thank you.
Doug Wagner
06/06/2018
$500.00
Anna, what you are doing is awesome and a great way to give back. We are very proud of you. Uncle Doug, Mitch and Dan
Anonymous Friend
06/05/2018
$30.00
Go Anna! The Kozycki Family.
Robert C Vetters
06/02/2018
$50.00
Kelly Stifler
05/31/2018
$100.00
Go kick some butt ya weirdo (; love you babes. You're doing big things. Best of luck to you on this journey, my family and I are rooting for ya!! - The Stifler Family
Jack Downey
05/29/2018
$50.00
Good Luck!
Robert Barber
05/22/2018
$100.00
Anonymous Friend
05/17/2018
$100.00
Venmo Fundraiser!
Mandy Wagner
05/17/2018
$75.00
So proud of you!! Love you Anna!
Laurie Ess
05/17/2018
$50.00
I'm very proud of you Anna! Keep up the good work!
Michelle Lambert
05/17/2018
$100.00
Anna, you are amazing! Good luck on your journey!
Anonymous Friend
05/17/2018
$400.00
Good luck Anna! Donation from the Perdue School of Business Student Business Leaders.
Anonymous Friend
05/16/2018
$140.00
Go Anna! Donation from Coldwell coworkers.
Candi Noyes
05/11/2018
$150.00
Scott Beatty
05/02/2018
$100.00
Anna Wagner
04/22/2018
$100.00
Go 4 it Annie...
Sadie Addlesberger
04/17/2018
$5.00
Good luck Anna!!!
Robert Barber
04/15/2018
$150.00
Laurie Fitzsimmons
04/03/2018
$100.00
You are an inspiration! Run, Anna, Run!
Rory Cooper
03/26/2018
$50.00
I love what you are all doing! Good luck Anna!!!
Douglas Tribull
03/15/2018
$100.00
Good Luck to my friend Anna Wagner...My Mom & Dad died from this awful disease and my wife is a Breast Cancer Survivor....With the help of people like Anna - maybe we can get closer to beating this!!!
Anonymous Friend
03/14/2018
$25.00
Go Anna!!
Anonymous Friend
03/03/2018
$100.00
You are amazing!
Elaina Budny
02/23/2018
$5.00
Kimberly Wagner
12/29/2017
$400.00
Go Anna with love your family!
Jeremy Williams
12/25/2017
$100.00
Merry Christmas my love! You are going to make such an incredible impact on so many during this once in a lifetime journey. So proud of you! Love you always.
Becca Langham
12/21/2017
$31.00
Anonymous Friend
12/09/2017
$100.00
Donation from Salisbury University's Pi Lam Fraternity chapter
Anonymous Friend
12/09/2017
$440.00
Salisbury University Greek Life and BMT Drive donations
Anonymous Friend
11/28/2017
$125.00
You are such an inspiration! Safe travels along this incredible journey Anna!
Emma Imbierowicz
11/27/2017
$5.00
You are amazing!!
Carly Pasqualine
11/21/2017
$5.00
James Norfolk
11/06/2017
$250.00
Go Anna!
Anonymous Friend
09/30/2017
$50.00
Happy to support such a worthy cause.
LuAnne Moreland
09/29/2017
$50.00
You go Anna
Robert Barber
09/20/2017
$200.00
Congratulations for being selected to run in the upcoming cross country event starting in San Francisco.
Paula Betz
09/16/2017
$50.00
Terry Miller
09/09/2017
$50.00
Quentin Wagner
08/30/2017
$25.00
Good Luck!
Will Wagner
08/30/2017
$25.00
Run Forest!
Hayley Hoagland
08/29/2017
$5.00
YOURE AMAZING!!! Such an inspiration to all, ily.
Patricia Rogers
08/29/2017
$75.00
GO ANNA!
Laurie Ess
08/27/2017
$100.00
Good job Anna! I'm very proud of you!
Dawn Dye
08/27/2017
$250.00
Kimberly Wagner
08/27/2017
$100.00
Go Anna!
Carol McGuire
08/25/2017
$100.00
Amazing! Wishing you much success Anna
Cherie Maio
08/24/2017
$100.00
You go Anna...
Jen Craighead
08/24/2017
$25.00
Megan Quigley
08/24/2017
$20.00
Proud of you for going after your goals! Have fun!!
Bill Ritz
08/24/2017
$50.00
Jim Lawn
08/23/2017
$100.00
go for it Anna and thank you
Mark Wagner
08/22/2017
$100.00
Go for it Anna! Way to go!
Anna Wagner
08/14/2017
$100.00
Total
$5,761.00