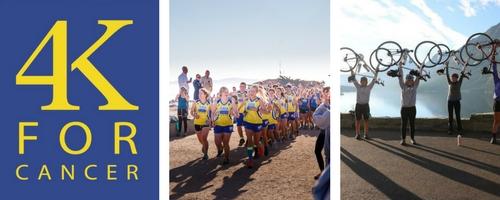 Andrew Mohama's Fundraising Page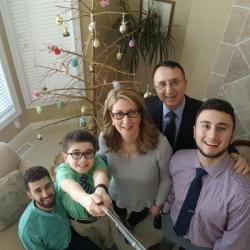 Andrew Mohama is a sophomore at the University of St. Thomas. In the summer of 2017, he will be traveling with a group of college-aged students on a 70-day, 4000+ mile ride from Baltimore to San Francisco, raising money and awareness for the Ulman Cancer Fund for Young Adults.
What is your connection to the cancer community?
Unfortunately, it seems as if every person is connected to the cancer community in one way or another. Many people in my life have suffered the physical and mental effects of a cancer diagnosis and a relentless path towards the hope of recovery. My grandmother suffered a malignant melanoma skin cancer that caused her death during a hard time for my mother who had just given birth to her newborn child, my older brother. I never had the chance to meet her. My grandfather lost the battle to brain cancer before I was even born. My other grandmother suffered a harsh lung and throat cancer that ultimately led to her passing a little over fiver years ago. Learning and understanding all of this shook me dearly and was the start of my exceeding awareness towards the cancer community. Since then, the prevalence of cancer really struck me. My best friend's mother was diagnosed with colon cancer and painfully went through chemotherapy. A life-long family friend was diagnosed with liver and bone cancer with a 1% chance of survivability. Another friend's father had died when he was very young due to cancer. His mother was just recently diagnosed with a pancreatic cancer that has seriously metastasized. He now struggles with the thought of losing both of his parents to cancer. Also, a good friend of mine actually battled Leukemia himself at age three going through intense chemotherapy and radiation.
These are only some of the many stories of people battling a cancer diagnosis. It has not only been a painful path for these people in terms of physical health, but also in terms of mental health. I felt the need to support people that were afflicted with cancer on a personal basis. This past summer, I volunteered at the Dougherty Hospice House in Sioux Falls, SD. I spent ample quality time with people inflicted with cancer who were preparing for death. This was highly rewarding in opening me up to the different sides of cancer while allowing me to develop a personal relationship with the amazing staff and residents of the hospice. The last five years of my life have been eye opening. Although cancer can cause detrimental effects on one's life, the cancer community is filled with beautiful people who unite to fight a main cause. I am humbled to be part of this community.
Why are you traveling over 4000 miles this summer with the Ulman Cancer Fund for Young Adults?
For quite some time now, I have been struggling with the question, "But what can I do?" I think a lot of us question this at some point in our lives. The 4k for Cancer journey seems to be the perfect answer to this question. To be part of something that dedicates so much passion, suffering, inspiration and love for those afflicted with cancer would be humbling. I think that I can personally gain an unforgettable experience that will shape the way I live for the rest of my life. Not only will I be able to experience the country in a unique and profound way, but I will also be able to do it with a true meaning. Any suffering I experience seems to be nothing relative to those battling cancer just to see the next day. Cancer has affected many people in my life that had the determination to fight for themselves, their families, and the whole community. As a healthy, able-bodied young adult, I see the 4k as a calling to do the same. I am cycling over 4000 miles across the country as a dedication to the cancer community and every individual that I have known to be impacted by the effects of cancer. It is an honor to be a part of the 4k family and the Ulman Cancer Fund For Young Adults during the summer of 2017
ABOUT 2017 4K for Cancer
2017 marks the 16th year of the 4K for Cancer sending young adults on journeys across the country in an effort to inspire hope and unite communities in the fight against cancer. The 4K for Cancer is a program of The Ulman Cancer Fund for Young Adults (UCF). Interested in joining the fight? Apply to be a rider or runner at www.4kforcancer.org!
Challenge:
Over 70,000 young adults are diagnosed with cancer every year. Young adults (ages 15-39) face a variety of unique challenges with a cancer diagnosis including fertility preservation, social isolation, lack of insurance, delayed diagnosis, and more.
Solution:
The Ulman Cancer Fund for Young Adults changes lives by creating a community of support for young adults, and their loved ones, impacted by cancer. With your support, the Ulman Cancer Fund is able to provide free support services and resources for the young adult cancer community including:
Cancer to 5K - a 12-week training program designed to introduce or reintroduce cancer survivors to physical activity.
Patient Navigation - a free program (onsite at cancer centers and remotely through our office) that ensures no young adult ever faces cancer alone. We provide one-on-one support & resources to young adults and their families to help them manage the cancer experience and long-term cancer survival.
Scholarships - a financial assistance program to help young adults continue their education after being affected by cancer through their own diagnosis or the diagnosis of a loved one.
UCF House - This year UCF broke ground on a "home away from home" to provide free housing for young adult cancer patients, and their caregivers, in East Baltimore.
Your donation will help make these programs and our mission possible!
Supporters
Name
Date
Amount
Comments
Anonymous Friend
08/11/2017
$50.00
Better late than never! SO incredibly proud of you and everything you have done this summer, Andrew.
Dan & Pam Bollinger
07/18/2017
$100.00
Andrew, you are amazing and so passionate about fighting cancer and other devastating illnesses affecting loved ones. Thank you for encouraging so many people across our great country through your actions and for being a great friend to our nephew Christian and cheering my husband, Dan Bollinger, by putting his name on you so he could 'ride with you'. May God bless you now and always! Pam Bollinger
Carolyn Schroeder
06/17/2017
$100.00
Prayers for safe biking travels, Andrew! May your benevolence, amazing strength and endurance be an example for all.Bless you as you support an important cause for those battling cancer.
Maria Hassel
06/15/2017
$10.00
You are simply amazing, Andrew. Your journey inspires me to take a stand in things I believe in. Cancer sucks and I lost my grandma and aunt to it, but I know they are in a better place- cheering you on each mile you hit. Keep riding, you can do it.
Andrew Mohama
06/04/2017
$10.00
Rima Mohama
06/03/2017
$100.00
So proud of you for doing this ride!! It will be an incredibly meaningful summer with many lives touched. I will be thinking of you all summer!!
Andrew Mohama
06/01/2017
$20.00
Andrew Mohama
05/31/2017
$30.00
venmo from mitch poss and matt lyttle
Maria Dees
05/25/2017
$50.00
This is amazing! Good Luck Andrew!
Tinna Veloira
05/07/2017
$50.00
Good luck Andrew!! Fr: Wil and Tinna Veloira
John and Molly Heisler
05/04/2017
$250.00
What a good thing you are doing, Andrew!
Anonymous Friend
04/24/2017
$705.00
Linda Tarnasky
04/23/2017
$50.00
Good Luck Andrew! You will do great!
Teresa Schoenfelder
04/08/2017
$100.00
Mike and Jenny Puumala
03/27/2017
$100.00
Best wishes on your journey! Stay Safe!
Raida Karkenny
03/27/2017
$100.00
What a loving compassionate heart you have, your selfless act towards helping and supporting people who struck with cancer is greatly appreciated among them and whole society and set up a great example for others to follow. Good luck on your run and be safe.
Bassel Jabbour
03/26/2017
$100.00
Good luck Andrew with your journey.
John Forrette
03/24/2017
$200.00
Jeanne Hassel
03/21/2017
$40.00
Good luck Andrew! Upon receipt of this donation I will submit a matching donation request to Midco.
Robert and Maria Feiock
03/21/2017
$200.00
Very cool what you are doing. Have a fun and safe ride. Don't forget to back a toothbrush.
Marilynn Poss
03/20/2017
$25.00
Lori Eckrich
03/20/2017
$50.00
Patrick Lawler
03/19/2017
$250.00
Good job Andrew. This will be a fabulous accomplishment!!
Rima Mohama
03/19/2017
$365.00
This amount of money was donated from Saint Mary's parishioners in Sioux Falls.
Ann Henkhaus
03/19/2017
$20.00
Julie McKay
03/19/2017
$50.00
Christiane Maroun
03/19/2017
$100.00
Sherri L Alvey
03/18/2017
$20.00
Andrew B Boese
03/18/2017
$25.00
Jeanne Kappenman
03/18/2017
$100.00
Anonymous Friend
02/27/2017
$200.00
Good Luck on a great commitment for a great Cause Andrew!
Laura Sukalski
02/16/2017
$40.00
You're so awesome! Good luck Andrew!!
Myra Truex
02/12/2017
$75.00
Good Luck to you on this amazing journey! I will pray that you have safe travels
Lukas Pitzl
02/11/2017
$25.00
Good luck man!
Douglas Tschetter
02/11/2017
$50.00
Have a great ride! Proud of you!! Be safe!
Zahie El Kouri
01/29/2017
$50.00
Emily Stearns
12/25/2016
$50.00
Good luck Andy, so proud of you! You'll kill it
Ann Cowan
12/19/2016
$100.00
Mary Ann Losasso
12/16/2016
$200.00
Michael Losasso
12/07/2016
$100.00
Good Luck Andrew. So proud of you!!
Sheila Zimprich
12/02/2016
$100.00
Good luck Andrew
Gassan Mohama
11/30/2016
$200.00
Sandra Mohama
11/30/2016
$25.00
Ginny Shamoun
11/30/2016
$200.00
So happy to support you Andrew and this great cause.
Pat Schwebach
11/30/2016
$75.00
God Bless your heart and cause!! Thank you Andrew!
Anonymous Friend
11/29/2016
$200.00
Mark and Kelly Stearns
11/29/2016
$150.00
We admire your efforts and will be thinking of you during your ride this summer.
Nada Marcho Halabi
11/29/2016
$100.00
Zeina and Saad Samaan
11/29/2016
$250.00
Good luck to you Andrew, what a great event for a great cause. We love you and we are so proud of you.
Rima Mohama
11/23/2016
$100.00
Dear Andrew, you are very brave we wish you the best of luck as you start once in a life time journey!
Abboud Kawak
11/23/2016
$200.00
way to go Andrew, good luck
Anonymous Friend
11/22/2016
$25.00
Lauren Bixby
11/21/2016
$30.00
Andy, you rock! :-) Such an inspiring endeavour ahead of you.
Christiane Maroun
11/15/2016
$100.00
We are so proud of you! Best of luck, Andrew!
Anonymous Friend
11/06/2016
$20.00
Anne LoCoco
11/03/2016
$50.00
You are an inspiration!! Love you and miss you already! Make me proud ;)
Aaron Tarnasky
11/03/2016
$75.00
Super proud dude. Kill it next summer.
Anonymous Friend
11/03/2016
$10.00
Rima Mohama
10/26/2016
$500.00
We are so proud of you Andrew and wish you the best of luck in your journey!
Andrew Mohama
10/21/2016
$100.00
Total
$6,770.00