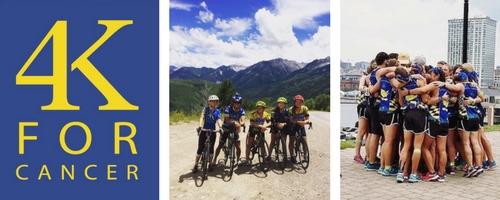 Tyler Didra's Fundraising Page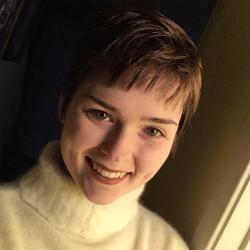 Tyler Didra is a senior at Stevenson University. In the summer of 2019, she will be traveling with a group of college-aged students on a 49-day, 4000+ mile run from San Francisco to Baltimore, raising money and awareness for the Ulman Foundation.
What is your connection to the cancer community?
Many people in my life have been affected and have lost their lives to cancer, but the person that affected my life most was a young man I went to high school with. Dalton was an active, fun-loving kid who I met when he played soccer with my younger brother. But there came a time that Dalton could no longer play, and I found out that he had DSRCT, a fatal form of childhood cancer. It was devastating to see how such a terrible disease hurt someone who had always been so bright, happy and healthy, and who had such a huge future ahead of him. It seemed so unfair for Dalton and his family that he would have to leave us so early in his life.​ I had the opportunity to help Dalton's family fund a trip to Niagara Falls, a trip I hoped would be a fun way for Dalton and his family to spend time together in his last months alive. When Dalton passed, I was devastated, and I made a commitment to help the cancer community as much as I could. Since then, I have continued to meet so many inspirational people who have personally struggled or know someone who has struggled with cancer. Through Relay for Life and other small fundraisers, I was able to better get to know members of the cancer community, and I know the Ulman 4K for Cancer will give me the opportunity to meet many more of these warriors.
Why are you traveling 4,000 miles this summer with the Ulman Foundation?
When I discovered the Ulman Foundation, I was moved by its mission. As someone who dealt with health problems as a teenager and young adult (although, thankfully nothing as devastating as cancer), I remember what it was like to feel alone and struggle through what is already a difficult time in one's life. Because of my past, I have always been motivated to help others who are struggling with their health and to be a source of inspiration and comfort for them. The Ulman Foundation does something that I want to be a part of. Through this 4K, I hope to raise awareness for cancer and raise the spirits of those who are unable to run because of their illness. I want to give back to a health community that helped me, and I want to give my life to something that matters more than I do. One of the skills I have is running. I have always been a passionate runner, and to have an opportunity to use this to bring more good and happiness into this world is amazing.
ABOUT 2019 4K for Cancer
2019 marks the 18th year of the 4K for Cancer sending young adults on journeys across the country in an effort to inspire hope and unite communities in the fight against cancer. The 4K for Cancer is a program of the Ulman Foundation (Ulman). Interested in joining the fight? Apply to be a rider or runner a at www.4kforcancer.org!
CHALLENGE:
Over 72,000 young adults are diagnosed with cancer every year. Young adults (ages 15-39) face a variety of unique challenges with a cancer diagnosis including fertility preservation, social isolation, lack of insurance, delayed diagnosis, and more.
SOLUTION:
Ulman Foundation changes lives by creating a community of support for young adults, and their loved ones, impacted by cancer. With your support, Ulman is able to provide free support services and resources for the young adult cancer community including:
Cancer to 5K - a 12-week training program designed to introduce or reintroduce cancer survivors to physical activity.
Patient Navigation - a free program (onsite at cancer centers and remotely through our office) that ensures no young adult ever faces cancer alone. We provide one-on-one support & resources to young adults and their families to help them manage the cancer experience and long-term cancer survival.
Scholarships - a financial assistance program to help young adults continue their education after being affected by cancer through their own diagnosis or the diagnosis of a loved one.
Ulman House - This year Ulman will open a "home away from home" to provide free housing for young adult cancer patients, and their caregivers, in East Baltimore.
Your donation will help make these programs and our mission possible!
Supporters
Name
Date
Amount
Comments
Anonymous Friend
08/07/2019
$20.00
Tyler Didra
08/05/2019
$100.00
Many thanks to the kind couple at The Lighthouse who donated to me!
Anonymous Friend
07/25/2019
$10.00
Alison Cuomo
07/09/2019
$40.00
Katherine Krawczyk
07/06/2019
$50.00
Enjoy the adventure!
Joanna Willard
07/05/2019
$100.00
Tyler you're such an inspiration. Dan and I both love you and are so proud of this adventure you're on to raise awareness for something you are so passionate about. Cancer sucks, and I love you for doing something so big.
Wendy Feldblum
06/26/2019
$100.00
Tyler Didra
05/13/2019
$597.00
Many thanks to everyone who came to Paint Night!
Tyler Didra
05/13/2019
$14.00
Many thanks to everyone who participated in the Facebook Raffle & Auction!
Tyler Didra
04/21/2019
$109.00
Many thanks to everyone who participated in the Easter bake sale!
Tyler Didra
04/18/2019
$64.00
Many thanks to everyone who participated in the Facebook Raffle & Auction!
Averil Christens-Barry
04/16/2019
$5.00
Go Tyler!
Bonfire
04/09/2019
$17.78
Tyler Didra
04/07/2019
$186.00
Many thanks to everyone who participated in the 50-50 Raffle!
James Sahlin
04/06/2019
$100.00
Great work Tyler, so proud of you. You are in our prayers!
Jane Drozinski
04/05/2019
$30.00
Keep up the good work, Tyler!
Freeman Dodsworth
04/04/2019
$200.00
Run Tyler, run!
Jen and Bryan
03/27/2019
$50.00
Go Tyler!! Such an awesome way to make a difference in people's lives!!
Anonymous Friend
03/26/2019
$50.00
Go get 'em!
Tyler Didra
03/19/2019
$69.00
Many thanks to everyone who participated in the 4K for Cancer Raffle & Auction!
Tyler Didra
03/19/2019
$98.00
March Bake Sale
Tyler Didra
03/18/2019
$338.00
Many thanks to everyone who participated in the 50/50 Raffle!
Tyler Didra
03/18/2019
$2.00
Many thanks to everyone who participated in the 50/50 Raffle!
Lorilea Caplinger
03/18/2019
$25.00
Good luck.
Tyler Didra
03/06/2019
$50.00
Many thanks to Mary Anne Gertson!
Tyler Didra
03/06/2019
$20.00
Many thanks to the Turners!
Averil Christens-Barry
03/05/2019
$10.00
way to go!
Allyson Sigler
02/24/2019
$25.00
All the best!❤️
Patricia Feldblum
02/21/2019
$25.00
Just trying to help ...
Tyler Didra
02/16/2019
$5.00
Many thanks to Lisa Labrecque!
Tyler Didra
02/16/2019
$91.00
Valentine's Day Bake Sale
Tyler Didra
02/15/2019
$195.00
Facebook Raffle/Auction Fundraiser
Jacob Didra
02/15/2019
$125.00
Tyler Didra
02/08/2019
$50.00
Many thanks to Buehler's in St. Leonard for donating!
Tyler Didra
01/26/2019
$100.00
Tyler Didra
01/26/2019
$25.00
Lily Ali
01/25/2019
$100.00
Good luck! I wish you the best!
Emily + Chris Rogers
01/22/2019
$100.00
I hope you have a wonderful running adventure! :)
Beth Rogers
01/21/2019
$200.00
Dean & Tammy Conner
01/20/2019
$50.00
Run with your heart, soar with your soul, and make every dream come true. We are so proud of you. Love you
Rebecca Conner
01/20/2019
$50.00
In honor of my friends and family who have fought and are fighting personal battles against cancer. Thanks for what you are doing, Tyler.
Cynthia Marquez
01/17/2019
$50.00
Goooo Tyler!
Nina Mentges
01/11/2019
$50.00
So very proud of you, Tyler! Your efforts make a difference!
Meghan Cady
01/07/2019
$25.00
Elizabeth Mueller
01/07/2019
$5.00
Tyler Didra
01/06/2019
$50.00
Thea Anna Almuete
01/05/2019
$15.00
I'm so proud of you and what you're doing! You're so amazing and I know you're gonna do amazing on this run
Karen Skladany
01/05/2019
$35.00
Good luck Tyler
Sheila Gearhart
01/05/2019
$20.00
I'm very proud of you Tyler! Good luck with this journey and keep us posted along the way.
Debra Peters
01/04/2019
$50.00
David Didra
01/02/2019
$250.00
We are so very proud of you Laney! I can't wait for you to begin this adventure. I have enjoyed being your running partner. # inspired
Steven Cheeseman
12/26/2018
$250.00
This looks to be an exciting adventure and for a great cause. Look forward to seeing updates along your journey!
Tyler Didra
12/25/2018
$20.00
Jimmy Massie
12/20/2018
$100.00
RUN TYLER, RUN!!!
Erin Nordquist
12/20/2018
$35.00
:)
Anonymous Friend
12/19/2018
$100.00
We are so excited for you! This is a great cause and you are going to do amazing!
Jeff Schrecengost
12/19/2018
$25.00
Go get em Tyler, Have a great one !
Chip Rouse
12/18/2018
$100.00
Good luck, Tyler! You can do this! ~Chip Rouse
Caitlin Knight
12/18/2018
$15.00
I am so proud of you! Best of luck, you will be thought of everyday!
Judy Knight
12/18/2018
$20.00
Good luck honey! Love the Knights
Robert Stout
12/18/2018
$50.00
I'm very proud of what you are doing for this cause Tyler! Pace yourself and drink plenty of water!
Tyler Didra
12/13/2018
$100.00
Total
$4,960.78