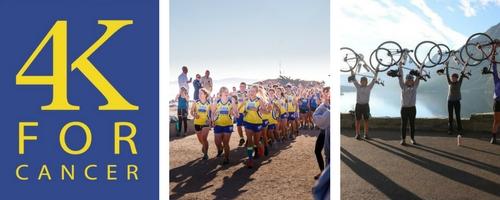 Alex Lang's Fundraising Page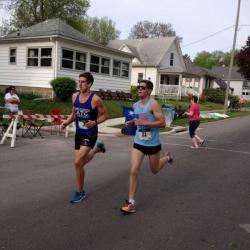 Alex Lang is a senior at University of Northern Iowa. In the summer of 2017 he will be traveling with a group of college-aged students on a 49 day, 4000+ mile run from San Francisco, CA to New York, NY raising money and awareness for the Ulman Cancer Fund for Young Adults.
What is your connection to the cancer community?
My connection to the cancer community is through my cross country coach who passed away from cancer. He influenced me to live a healthier and active life. I want to continue to fuel that passion of mine, while influencing others.
Why are you traveling over 4000 miles this summer with the Ulman Cancer Fund for Young Adults?
I have aspirations to influence others to live a happy and healthy life. I want to encourage others to better themselves through my influence. Now, I am blessed with the amazing opportunity to run across the nation to: raise money for the Ulman Cancer Fund, visit with cancer survivors, and touch the hearts of others while forging relationships that will last a lifetime. Once I heard about the 4k for cancer I knew, I had to apply. I wanted to run across the country and dedicate it to my high school cross country coach (Coach Dave Wilson) who passed away from cancer.
Coach Wilson was a very influential person in my life, he taught me to embrace every situation in life and make the best of it. He did this by preaching a simple motto. This motto was "attitude and effort". Everyday coach Wilson would come to practice even after long days of treatment, preaching this motto. Despite having treatment for cancer on some days he would come to practice happy to see us and ready to work. He meant business, Coach wanted us to live by the motto of attitude and effort, he wanted to show us that with the right attitude and effort we could achieve our goals. He truly lived by the motto. This motto still sticks with me nearly 6 years later.
Coach Wilson influenced my life for the better by instilling those values into my life. I now want to influence others in the same way. I want to influence others to better their lives. This is why I want to embark on this journey and dedicate it to him, influencing others along the way.
ABOUT 2017 4K for Cancer
2017 marks the 16th year of the 4K for Cancer sending young adults on journeys across the country in an effort to inspire hope and unite communities in the fight against cancer. The 4K for Cancer is a program of The Ulman Cancer Fund for Young Adults (UCF). Interested in joining the fight? Apply to be a rider or runner at www.4kforcancer.org!
Challenge:
Over 70,000 young adults are diagnosed with cancer every year. Young adults (ages 15-39) face a variety of unique challenges with a cancer diagnosis including fertility preservation, social isolation, lack of insurance, delayed diagnosis, and more.
Solution:
The Ulman Cancer Fund for Young Adults changes lives by creating a community of support for young adults, and their loved ones, impacted by cancer. With your support, the Ulman Cancer Fund is able to provide free support services and resources for the young adult cancer community including:
Cancer to 5K - a 12-week training program designed to introduce or reintroduce cancer survivors to physical activity.
Patient Navigation - a free program (onsite at cancer centers and remotely through our office) that ensures no young adult ever faces cancer alone. We provide one-on-one support & resources to young adults and their families to help them manage the cancer experience and long-term cancer survival.
Scholarships - a financial assistance program to help young adults continue their education after being affected by cancer through their own diagnosis or the diagnosis of a loved one.
UCF House - This year UCF broke ground on a "home away from home" to provide free housing for young adult cancer patients, and their caregivers, in East Baltimore.
Your donation will help make these programs and our mission possible!
Supporters
Name
Date
Amount
Comments
Kelly Rycroft
08/02/2017
$20.00
I am so happy I was able to meet you! Keep on running and good luck on your last few days!
Tyler Tweeten
07/26/2017
$25.00
Finish strong Alex!
Northwestern Steakhouse
07/18/2017
$200.00
We are very proud of you and your team!!
Alex Lang
06/05/2017
$100.00
Robert M Klatt
06/03/2017
$200.00
Kathy Klatt
05/09/2017
$50.00
My best to you as you embark on this awesome adventure, Alex!
Krystyna Sloan
05/03/2017
$100.00
North Iowa Periodontics
04/11/2017
$200.00
Fabio Fontana
03/30/2017
$25.00
Go Alex!
Joe Klatt
03/27/2017
$30.00
Way to go!!
Cash Cash
03/08/2017
$458.00
Kay E Larson
02/22/2017
$20.00
Sandy Schupanitz
01/10/2017
$50.00
Proud of you Alex! Go get em!
Chris ,Lisa ,Alex B, Brittani & Ryanna B Sanchez
01/10/2017
$50.00
What a wonderful tribute to a wonderful and very inspiring coach
Jerry & Kristy Puffett
01/10/2017
$50.00
Best of luck on reaching your goal, Alex. Hoping your team remains injury free through the run!
Greg Gustafson
01/10/2017
$25.00
Sarah Lang-McKenna
01/08/2017
$200.00
Good Luck, Alex!
Deb Lassise
01/05/2017
$250.00
wishing you the best on your journey - Mark and Deb
Fireplace & More
01/03/2017
$1,000.00
Nicole M. Cadena
12/28/2016
$20.00
Laurie Lichman
12/23/2016
$20.00
4K Fundraiser
12/20/2016
$651.00
Lisa J. Voves
12/20/2016
$50.00
Ann Long
12/18/2016
$25.00
Wendi Younker
12/16/2016
$50.00
Mary Oertel
12/10/2016
$100.00
Little Angel's Child Care and Preschool
12/09/2016
$50.00
Anonymous Friend
11/30/2016
$50.00
Lori Watson
11/28/2016
$50.00
Go Alex! Looks like a great life experience!
Daniel Waters
11/28/2016
$50.00
Jessica Alexander
11/26/2016
$20.00
Proud of you, Alex!
Susan Lang
11/26/2016
$25.00
GO Alex!!!
Alex Lang
11/18/2016
$100.00
Running for a great cause, Alex! We're proud of you
Linda Rush
10/30/2016
$20.00
Marcia Sonquist
10/20/2016
$100.00
Jeanene Klatt Prince
10/19/2016
$50.00
God bless all the participants!
Deb (Wilson) Thorsen
10/18/2016
$100.00
Coach would be honored, Alex! He thought SO highly of you & we're all very proud of you!
BARBARA PELTAN
10/18/2016
$50.00
I'm so proud to know you!
Susan Lang
10/17/2016
$25.00
Go Alex!!!
Alex Lang
10/15/2016
$100.00
Total
$4,759.00