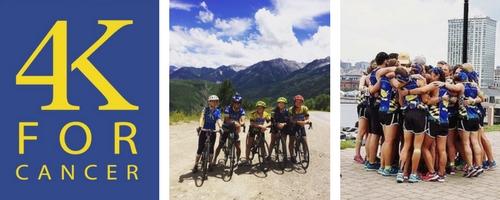 Joe Crosetto's Fundraising Page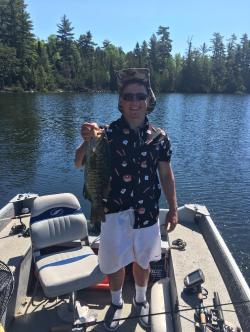 Joe Crosetto is a sophomore at The University of Saint Thomas. In the summer of 2019, he will be traveling with a group of college-aged students on a 70-day, 4000+ mile ride from Baltimore to Seattle, raising money and awareness for the Ulman Foundation.
What is your connection to the cancer community?
My Uncle Fred past away from Pancreatic Cancer. In his years of good health, he taught my dad how to fish. Pretty soon, my dad was doing just what Uncle Fred did with him to me, and I had my first passion. As a result, my connection to him is not based off an experience I personally had with him, but if you know me, and if you know how much fishing means to me, he had a significant impact on my life.

My wrestling coach in middle school, Coach Ritter, suffered a similar fate in 2015 from kidney cancer. Prior to this Coach Ritter took a role not many people would have taken: the demonstration dummy. Bear hugs, double legs, half nelsons, cradles...you name it, he was of the receiving end of it. Meanwhile, kids like me would ask for the most brutal of moves to be done again because I "didn't understand" the move.

Fast forward, two years after Coach Ritter passed away, I became a wrestling coach. Just like fishing went full circle so did coaching, and I am the demonstration dummy. And as I have taken a role that Coach Ritter had, I have realized how much he cared for our team. If he was willing to get bent out of shape, week after week, just so we could learn a move, he truly cared for us. And wished I knew that back in 2015, but I know it now.
Why are you traveling 4,000 miles this summer with the Ulman Foundation?
I want to do it for 4 reasons:
1. Action speaks louder than words I can talk all I want about my care for cancer or my connection to cancer, but if I do nothing, it means nothing.
2. It is a great cause. This is pretty self-explanatory.
3. It is difficult. A lot of people see this as impossible. Biking 4,000 miles, coast to coast, is intimidating, but it is possible. I believe by stretching the realms of what I can do, things that look impossible to most, won't intimidate me.
4. I won't leave the same person. This trip is all about opening eyes. I will be with 24 other individuals who all have had their own run with not just cancer, but life as well. Between that and the first three things I said, I won't leave the same person.
ABOUT 2019 4K for Cancer
2019 marks the 18th year of the 4K for Cancer sending young adults on journeys across the country in an effort to inspire hope and unite communities in the fight against cancer. The 4K for Cancer is a program of the Ulman Foundation (Ulman). Interested in joining the fight? Apply to be a rider or runner a at www.4kforcancer.org!
CHALLENGE:
Over 72,000 young adults are diagnosed with cancer every year. Young adults (ages 15-39) face a variety of unique challenges with a cancer diagnosis including fertility preservation, social isolation, lack of insurance, delayed diagnosis, and more.
SOLUTION:
Ulman Foundation changes lives by creating a community of support for young adults, and their loved ones, impacted by cancer. With your support, Ulman is able to provide free support services and resources for the young adult cancer community including:
Cancer to 5K - a 12-week training program designed to introduce or reintroduce cancer survivors to physical activity.
Patient Navigation - a free program (onsite at cancer centers and remotely through our office) that ensures no young adult ever faces cancer alone. We provide one-on-one support & resources to young adults and their families to help them manage the cancer experience and long-term cancer survival.
Scholarships - a financial assistance program to help young adults continue their education after being affected by cancer through their own diagnosis or the diagnosis of a loved one.
Ulman House - This year Ulman will open a "home away from home" to provide free housing for young adult cancer patients, and their caregivers, in East Baltimore.
Your donation will help make these programs and our mission possible!
Supporters
Name
Date
Amount
Comments
Julie and Pat Gainer
07/21/2019
$50.00
Hey joe— hope it's going well!!
Tom Connor
06/23/2019
$100.00
Good luck! Be Safe.
Kelley Snow
06/11/2019
$50.00
Good Luck Joe! So proud of you!!! Safe ride!!! ❤️Kelley, Chris, Mikey & Sutton
Bernadette Gardner
06/11/2019
$50.00
Good Luck and enjoy the journey.
Mary Ann Snow
06/05/2019
$100.00
Good luck Joe! Enjoy the ride!!! Love, Aunt Mary Ann & Uncle Billy
Maureen & Steve Daley
06/01/2019
$20.00
What a wonderful thing you are doing! Best of luck!
Anonymous Friend
05/29/2019
$1,000.00
Joe-Joe one of my favorite quotes from Maya Angelou, " If you're always trying to be normal you will never know how amazing you can be." I do!
Mike & Mary Jo Fox
05/06/2019
$200.00
Good luck, Joe. This is really a great thing you're doing, we're so proud of you.
Jo Delores Misheck
04/28/2019
$100.00
Shawn Cabalfin
04/28/2019
$15.00
Good luck Joe, I am honored to be your friend and good luck. I'm going to miss you buddy!
Kristin Reiff
04/27/2019
$50.00
Way to go, Joseph!!
Denise Lugo
04/26/2019
$100.00
Helen and Pat Sullivan
04/26/2019
$50.00
Great cause. Good luck on the ride!
Lori Rago
04/22/2019
$50.00
Brian Sladek
04/22/2019
$50.00
Love you buddy! You make us proud
Bart and Mary Ellen Clifford
04/18/2019
$150.00
Great success
Jill Walsh Michalek
04/18/2019
$50.00
You are impressive!
Linda Ferguson
04/18/2019
$25.00
Sam Knott
04/16/2019
$100.00
This is an awesome challenge you're undertaking. Good luck!
Jim Woulf
04/16/2019
$100.00
Raymond Palascak
04/16/2019
$200.00
JoJo Crosetto have fun.
Justin Amaker
04/16/2019
$25.00
Really enjoyed hearing and telling your story! Best of luck to you!
Lori Connor
04/15/2019
$100.00
what a great cause and wishing you safe travels and a grand adventure. Be careful out there. Paul and Lori
Steven Pioppo
04/15/2019
$100.00
Change the world Joe! Good Luck
Mike & Mary Cahill
04/15/2019
$100.00
Keep eating those burgers Jo-Jo, just like at Tom Kelly's, you'll need the protein. No veggies until you get back. Seriously this is a great cause. We're proud of you Buddy.
Bryan Lee
04/15/2019
$200.00
If you are anything like your uncle and my bestest Joe, you will do this. Good Luck
Emily Brey
04/15/2019
$50.00
We are so proud of you, Joe Joe! Can't wait to hear all about your adventure!! Love, Emily and Bill
Meredith Kloeppel
04/14/2019
$50.00
Good luck, Joe! You are awesome! So proud of you
Sir Giggles
04/14/2019
$50.00
Go get'em shittzn
Linda Shute
04/14/2019
$50.00
What a great cause. Thank you for donating your time and physical efforts for such a great cause
Diane Callaghan Husar
04/14/2019
$50.00
Paying forward the generosity of the entire Crosetto family. Best wishes on your life changing journey.
Fred King
04/02/2019
$100.00
Keegan Welch
03/19/2019
$100.00
Steven Chasten
03/18/2019
$100.00
Good luck on your journey.
Robert Flynn
03/18/2019
$100.00
Good Luck Joe and thanks for doing this! Bob and Rita
Anonymous Friend
03/12/2019
$20.00
Make sure you stretch!
Michael Dukelow
12/04/2018
$10.00
Jo Jo, Best of luck to you on this 4,000 mile ride. If I had to do that right now, my heart would probably fail. Good luck!
Chris Coffey
12/04/2018
$20.00
Good Luck JoJo!
Eric Brenner
12/04/2018
$60.00
I am excited to hear about your expierience when you return, goodluck Joe!
Rick Beane
10/31/2018
$100.00
Good luck! No stopping at lakes along the way to fish!
Carol and Michael Jago
10/25/2018
$100.00
Bon voyage.
Tim Wei
10/22/2018
$100.00
Get your 4K done so we can meet back at Grandma's for some steak! Tim and Kristy
Joe Crosetto
10/22/2018
$50.00
Go Joe Go!
Sue and Kayli Weber
10/20/2018
$50.00
Thanks for doing this! Good Luck!
Matt & Jeannine Kelly
10/20/2018
$100.00
Ride JoeJoe ride! Can't wait to hear the stories when you are done:)
Rosalie Giacchino-Baker
10/20/2018
$100.00
Uncle Fred and Aunt Rosalie are proud of all you are doing, Joe-Joe. Can't wait to hear about your 4,000-mile fundraising ride.
Donna Ritter
10/18/2018
$50.00
Matt and Catie Crosetto
10/18/2018
$50.00
Enjoy the adventure!
Lorri Nagle
10/18/2018
$50.00
Good luck! We're rooting for you!
Diana McDonnell
10/17/2018
$50.00
Awesome awesome mission and goal Jie. Good luck with the journey!
Lampasona Family
10/17/2018
$30.00
What a great cause! Best wishes on this journey, Joe!
Anonymous Friend
10/17/2018
$500.00
Best of Luck, jo-jo. So very proud of you.
Jeff & Lori Kirby
10/16/2018
$50.00
Keep up with the Great Work !
Joe Crosetto
09/18/2018
$100.00
Total
$5,375.00