Rick Erline K2K 2019 Honor / Love Memory & Life of Grace G. Erline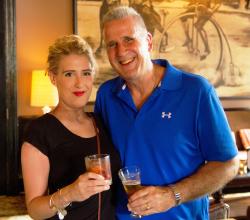 K2K 2019 will be my second ride, so....Why am I riding again for the Ulman Foundation?
Hard to explain unless you have participated, there exists many variables, I found it to be a rewarding physical, emotional and spiritual experience. However, most noteworthy is to continue to Love and Honor the Life / Memory of our daughter Grace Gabrielle Erline. Our 24 year old daughter who left us physically November, 2015 as a result of the evils of cancer. And...I believe in the Ulman Foundation's mission to raise funds to continue to support awareness, resources and programs for cancer patients and their families.
I am biking with this amazing family of individuals: staff, drivers and riders to express my support, compassion and love for ALL who have been impacted by cancer. This committment will unite me with a community of like-minded compassionate and loving individuals.
Hope to have your support and look forward to seeing you along the way!
Share the Love! Stay in Love! Sending Love!!
ABOUT 2019 Key to Keys
CHALLENGE:
Over 72,000 young adults are diagnosed with cancer every year. Young adults (ages 15-39) face a variety of unique challenges with a cancer diagnosis including fertility preservation, social isolation, lack of insurance, delayed diagnosis, and more.
SOLUTION:
Ulman Foundation changes lives by creating a community of support for young adults, and their loved ones, impacted by cancer. With your support, Ulman is able to provide free support services and resources for the young adult cancer community including:
Cancer to 5K - a 12-week training program designed to introduce or reintroduce cancer survivors to physical activity.
Patient Navigation - a free program (onsite at cancer centers and remotely through our office) that ensures no young adult ever faces cancer alone. We provide one-on-one support & resources to young adults and their families to help them manage the cancer experience and long-term cancer survival.
Scholarships - a financial assistance program to help young adults continue their education after being affected by cancer through their own diagnosis or the diagnosis of a loved one.
Ulman House - This year Ulman will open a "home away from home" to provide free housing for young adult cancer patients, and their caregivers, in East Baltimore.
Your donation will help make these programs and our mission possible!
Supporters
Name
Date
Amount
Comments
Nordstrom
05/16/2019
$25.00
Debra Towson
05/05/2019
$150.00
Rick-we're so proud of your commitment to complete this ride and your dedication to this cause.
John Bennett Sr.
05/03/2019
$40.00
Rock on, Rick! John & Gina
Leslie Nissenberg
05/02/2019
$25.00
K2K2019 is so lucky to have you. Soak it all in. xoxo
Mary Peacock
05/01/2019
$50.00
Go Rick!!
Karen Conroy
04/30/2019
$25.00
Best of luck, Rick!
Patti & Ron Long
04/30/2019
$25.00
In memory of beautiful Grace!! Safe travels Rick!!
Sherri Pollock
04/29/2019
$50.00
Paying forward the LOVE
Lori McGinley
04/27/2019
$25.00
Best wishes Rick for a great ride!
Kathy Oliver
04/26/2019
$25.00
Ray Hensberger
04/26/2019
$100.00
Thinking of you and the family always - ride hard for us all!
Sharon R Compton
04/24/2019
$100.00
Safe Travels- We Love Kathy and You!
Timothy F Madgar
04/24/2019
$50.00
John & Nancy Kane
04/21/2019
$250.00
Ride Rick Ride! In memory of Grace and all the memories we cherish and our dear friendship with you and Kathy.♥️
Jean Raymond
04/20/2019
$25.00
Kathleen Szpara
04/19/2019
$100.00
Lots of love traveling with you on your ride. Kathi & Ed S
Jodi Heston
04/19/2019
$75.00
Best of luck, you are an inspiration to us all! What an amazing way to honor sweet Grace. ❤️
LuAnn Brown
04/18/2019
$200.00
Christopher Mills
04/17/2019
$50.00
Colleen Childs
04/17/2019
$50.00
Such an amazing way to honor your sweet Grace :)
Susan Fowler
04/15/2019
$50.00
Good Luck- This Should be on The News
Mark Ricks
04/12/2019
$75.00
Outstanding ride, outstanding cause and outstanding organization. It's an honor to help in any way I can.
Matthew Gubernick
04/12/2019
$100.00
Grace❤️
Cindy & Bill Broydrick
04/05/2019
$200.00
Kathy & Rick - You two are such an inspiration
Susan Nester
04/03/2019
$50.00
Thank you Rick for raising money again for this amazing organization that has made a huge difference in the life of my family and so many others dealing with cancer. Good luck!
Rick Erline
04/01/2019
$.00
Peggy Liberatore Castagna
03/29/2019
$25.00
What a beautiful way to remember Grace! Rick, you & Kathy are amazing people.
Vickie Miller
03/25/2019
$100.00
With love, for Grace
Kathy Kreft
03/22/2019
$375.00
Deep gratitude, to Theresa Tsamoutalis, Allsafe Elevator, & The Baltimore Power Group! Our soul sister luncheon time together today was so special. You put some Fun in FUNdraising! Congrats to Phylis Seman 50/50 winner!
Rick Erline
03/22/2019
$75.00
So Thankful to Teika Booze, a beautiful Power Group friend for your 'round it up' donation! Thanks to You ❤ we raised $500. today at the BPG Lunch! We are praying with you, for Him!
Jill Gansler
03/22/2019
$50.00
Dennis & Marsha Burke
03/21/2019
$50.00
As parents of a child with cancer we are in awe of your dedication and love for your daughter when we see you walk and bike every day. Hope to meet you sometime! God bless you and keep you safe. Your "waving" Bayside neighbor.
Linda Crandall
03/20/2019
$50.00
Rick-What a way to honor your daughter Grace, always remembered always in your heart
Dorsey J. McVicker
03/20/2019
$25.00
It's a good thing you are doing
Pamela Hundley
03/18/2019
$50.00
Rick, Wishing you the best on your ride! Pam
Lauren Heyliger
03/16/2019
$50.00
Thank you for what you are doing! Sending love and prayers...
Jane Timmons
03/14/2019
$25.00
Good luck on your ride!
Lauren & Rich Fiorilla
03/13/2019
$50.00
Charlotte Bryan
03/12/2019
$150.00
Enjoy your ride and I'm sure Grace will be with you all the way.
Charles Eilman
03/10/2019
$100.00
Nancy Wallis Teasley
03/10/2019
$150.00
Wishing you a safe journey. I'll sure Grace will be with you the whole way. Enjoy your ride to beautiful Key West!❤️
Vicki Chadwell
03/09/2019
$50.00
Much love and many prayers Rick as you ride for Gracie
Julia & Ray Hensberger
03/09/2019
$100.00
God speed my brother! Our thoughts and prayers are with you on your incredible journey. See you when you return.
Linda Tice
03/08/2019
$200.00
Go, Rick Erline! Great job!
Alaina Kreft
03/08/2019
$150.00
From the Kreft family. Good luck, love ya!
Julie Davies
03/08/2019
$20.00
Love to the Erline family.
Barbara Wurster
03/06/2019
$100.00
Louise Benach
03/06/2019
$50.00
Best of luck!! Have a great ride.
Amanda Keene
03/06/2019
$100.00
Jackie Romoser
03/06/2019
$100.00
Mark & Linda Gregory
03/04/2019
$100.00
Bob and Jane Dillon
03/04/2019
$200.00
Mary Beth Harow
02/28/2019
$50.00
Congratulations on another Key to Keys ride! The 2019 team is blessed to have you!! I'm sure Grace is so proud! Ride safe and soak up all the support!
Michelle & Jeff Smith
02/26/2019
$100.00
What you are doing is heartwarming - I'll be there with you in spirit!
Joe Dulsky
02/23/2019
$100.00
Grace in our hearts. Love - Godfather Joe
Joanna & Tom Lyckberg
02/22/2019
$100.00
What you are doing - we are in awe! A worthy cause.
Ron Lewis
02/21/2019
$25.00
from Bayside
Joanne Clasing
02/20/2019
$25.00
In memory of your Daughter Grace. Love to you and Kathy.
Eileen Lamasa
02/20/2019
$25.00
A great cause - good luck and best wishes on your ride!
Rick Erline
02/19/2019
$100.00
From Lisa & Steve Prisco ❤ Ride for Grace & Ride for Jessica ❤
Evelyn Milburn
02/15/2019
$25.00
Anonymous Friend
02/15/2019
$25.00
In honor of Faith and your family. Have a great ride!
Keffy Kehrli
02/15/2019
$10.00
David Jaffa
02/14/2019
$100.00
Love Rules!
Jerilyn Deitch
02/13/2019
$50.00
Brian Brown
02/08/2019
$100.00
The "Buddies" continue to amaze me, as they always have in all they do and have done. Bryan
Kathy Kreft
02/08/2019
$135.00
From: Mom-Mom = Lola Kreft, mom, mother~in-law~, grandmom, missing Grace!
Candice Van Scoy
02/07/2019
$100.00
Rick, you're amazing! Chuck and I are so blessed by your and Kathy's friendship. Enjoy the ride!
Peg Anft
02/07/2019
$50.00
Lots of love being sent to you ❤️
Lisa Colby
02/06/2019
$50.00
Safe Travels! I am so sorry for your loss, and this is such a great cause:) Hopefully we meet one day at Bayside:)
SaraJane and Mark Camillo
02/05/2019
$50.00
Your Bayside neighbors support you in this amazing ride to honor your lovely daughter, Grace.
James Edelen
02/04/2019
$100.00
Good ride to you, buddy.
Nicole Massoni
02/04/2019
$50.00
Keeping her beautiful memory alive..one ride at a time! ❤️
Kathy Bosley
01/31/2019
$25.00
Much Love
Sharon Manos
01/31/2019
$100.00
Have a great journey Rick! Be safe.
Tim Kreft
01/31/2019
$100.00
Thank you Rick,ride safe brother
Maureen Morrow
01/30/2019
$50.00
Have a great ride Rick. I'll be thinking of all of you. Mo
Kathy Kreft
01/30/2019
$100.00
Love You Rick Erline - my soul mate, athlete and advocate. Lovingly riding with AMAZING Grace!
Trish Kane
01/28/2019
$50.00
We love you and miss you Grace!
Pediatric Partners
01/24/2019
$100.00
Remembering sweet Grace and her beautiful smile. Ride Rick, Ride!!!! Much love, Pediatric Partners, LLC
Jake Bennett
01/24/2019
$100.00
In loving memory of your beautiful Grace. Good luck on the ride, be safe. God Bless!
Kirsten Smith
01/22/2019
$20.00
Rick, you are an amazing and giving guy! I wish you the most amazing 2019 trip to Key West! Remember to share the love! #AmazingGrace #K2K2018
Judy Gray
01/17/2019
$20.00
Daria & Ron Homens
01/17/2019
$50.00
You and Kathy are amazing
Christine Watson
01/17/2019
$25.00
For dearest Grace who is always in my heart. Ride on Rick! Cheer on Kathy! XOXO
Kim Carey
01/15/2019
$50.00
Tom Erline
01/14/2019
$500.00
Hey Bro!!! You da Man. Namaste! Tom
Paula Kane
01/14/2019
$50.00
In support of Rick Erline and in memory and honor of Grace Erline.
Susan Wojciechowski
01/10/2019
$25.00
So proud of you Rick!
Celeste Lee
01/10/2019
$50.00
In honor of your beautiful Grace!
Garrett Evans
01/09/2019
$300.00
Raise the goal! :)
Peter S Grant
12/12/2018
$50.00
In honor of Amazing Grace!! #K2K2019
Rick Erline
12/10/2018
$50.00
Total
$7,595.00
Report Abuse
Edit My Page