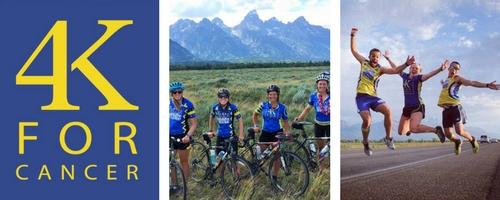 Isabelle Stern's Fundraising Page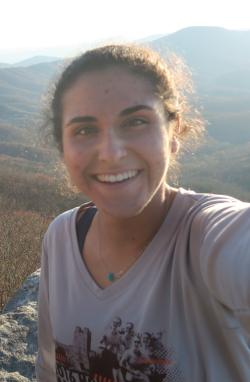 Isabelle Stern is a senior at Virginia Tech. In the summer of 2018 she will be traveling with a group of college-aged students on a 49-day, 4,000+ mile run from San Francisco to Baltimore, raising money and awareness for The Ulman Cancer Fund for Young Adults.
What is your connection to the cancer community?
Unfortunately, all too many loved ones have battled cancer. My grandmother, Isabelle, passed away at a young age from breast cancer. The fact that cancer made it so I was unable to share life and make memories with my grandmother is upsetting, and I wish this was not the case. During my sophomore year of high school, I lost one of my best friends, Kganya, to Leukemia after she battled it for nearly 3 years. Kganya was the most radiant, optimistic, and fun-loving person I have met. She wanted to make others smile, and her laugh was truly contagious. Earlier this year, one of my family's close friends, who was like an uncle to me, lost his battle to kidney cancer. He encouraged me to love the world through his love of travel, meeting people, reading, and art.
Since Kganya's passing, I have raised money for cancer research through Play 4 the Cure field hockey games to benefit the National Foundation for Cancer Research, and I have been committed to Relay for Life at Virginia Tech for the past three years.
Why are you traveling 4,000 miles this summer with the Ulman Cancer Fund for Young Adults?
Each of these individuals have been among the most influential people in my life. and I want to run this journey to spread their love of life and adventure in addition to forming relationships with other people in the cancer community across America. Running and seeing the country by foot would be an incredible way for me to keep their memories and passions alive, while combining them with my own passions for travel and running. I think the best way to learn about the world is by meeting as many people in it as I can, and I would be honored to meet the young cancer patients and their families. I love meeting new people and seeking adventures, and this experience would challenge me in thrilling ways to reach incredible goals with my teammates.
Both Kganya and Uncle Richard were the happiest people I have ever met with the most innate sense of curiosity and adventure for the world. Kganya reached out to everyone she saw—stranger or not, and her desire to help others find happiness was truly inspiring. Travelling was so important to Uncle Richard, and he always challenged me to travel far and love widely. There is so much to learn, and he wanted to be connected to others globally as much as possible. When I saw him for the last time in hospice earlier this spring, he begged me to pursue my passions regardless of any obstacles that came about and to learn as much about other people through travel as I possibly could. Although I never had the change to meet my grandmother, Isabelle, it would be an honor to keep her memory alive, as well.
Since I was little, running has been one of my favorite activities because it allows me to see the world as an amazing journey that other forms of transportation and travel do not allow as well. When I run, I feel truly connected to the people I encounter, to the community and environment through which I run, and my thoughts. Running brings out my best self and makes me truly excited to take on life's challenges.
ABOUT 2018 4K for Cancer
2018 marks the 17th year of the 4K for Cancer sending young adults on journeys across the country in an effort to inspire hope and unite communities in the fight against cancer. The 4K for Cancer is a program of The Ulman Cancer Fund for Young Adults (UCF). Interested in joining the fight? Apply to be a rider or runner a at www.4kforcancer.org!
CHALLENGE:
Over 70,000 young adults are diagnosed with cancer every year. Young adults (ages 15-39) face a variety of unique challenges with a cancer diagnosis including fertility preservation, social isolation, lack of insurance, delayed diagnosis, and more.
SOLUTION:
The Ulman Cancer Fund for Young Adults changes lives by creating a community of support for young adults, and their loved ones, impacted by cancer. With your support, the Ulman Cancer Fund is able to provide free support services and resources for the young adult cancer community including:
Cancer to 5K - a 12-week training program designed to introduce or reintroduce cancer survivors to physical activity.
Patient Navigation - a free program (onsite at cancer centers and remotely through our office) that ensures no young adult ever faces cancer alone. We provide one-on-one support & resources to young adults and their families to help them manage the cancer experience and long-term cancer survival.
Scholarships - a financial assistance program to help young adults continue their education after being affected by cancer through their own diagnosis or the diagnosis of a loved one.
UCF House - This year UCF broke ground on a "home away from home" to provide free housing for young adult cancer patients, and their caregivers, in East Baltimore.
Your donation will help make these programs and our mission possible!
Supporters
Name
Date
Amount
Comments
Anonymous Friend
08/02/2018
$25.00
Debra Cameron
06/23/2018
$50.00
Thank you for honoring Neil with a run through Death Valley and for inspiring our family! This was a lovely gift for his son Matt's Birthday and your friend Madi's also! Stay awesome, you are a true gift to the world. The Cameron family
James Hicks
06/16/2018
$15.00
Joan Cohen
05/26/2018
$25.00
Sonia Stern
05/26/2018
$39.00
Joy to you!
Martha Legg
05/11/2018
$100.00
Proud of you always. The Legg's love you.
VICTORIA MOURAS
05/04/2018
$300.00
Dear Isabelle, I wish you a healthy and fulfilling running experience! Vickie M @ VT
Marsha Morgan
05/01/2018
$100.00
Go Hokie! Enjoy the journey across country this summer. Marsha and Herb Morgan
Stephanie Cario
04/27/2018
$10.01
As a VT & 4k alum, I couldn't resist helping you guys out! Have the best summer ever!!
Grace Croitoru
04/26/2018
$40.00
So proud of you and all your hard work!! You never cease to amaze me! Good luck with everything
Jack Montgomery
04/26/2018
$50.00
Hey Isabelle! I can't describe in words how awesome this is. I hope that we have the chance to catch up at some point. Best of luck and just remember to put one foot in front of the next. Jack
Anonymous Friend
04/26/2018
$25.00
Have fun and good luck!
Google Inc.
03/22/2018
$108.00
Peter Shier
03/22/2018
$108.00
Keala Mason
02/05/2018
$556.00
This is from In Balance Yoga Studio! Thank you! Inspired by you!
William D Gellerman
02/02/2018
$54.00
Kenny Gellerman
01/23/2018
$100.00
Isabelle, so excited for your journey! Looking forward to following your progress. Love, your Gellerman cousins!
Stefan Haimann
01/22/2018
$60.00
Daniel Markowitz
01/21/2018
$200.00
Isabelle, you make me incredibly proud. Keep doing amazing things, following your dreams, and being kind!
Carolyn Olmsted
01/21/2018
$10.00
Yoga!
Valerie Dymond
01/20/2018
$60.00
Supporting Isabelle Stern in her run across the country. You are an inspiration!
Amelia Colley
01/18/2018
$100.00
Isabelle, Good luck with your trip and your job in Chicago. Dr. Colley
Anna Bossa
01/15/2018
$10.00
Good luck!
Ryan Schuler
01/05/2018
$25.00
Thank you for the wine glasses!
Robert Bossa
12/29/2017
$50.00
Good Luck!
Nick Gentile
12/28/2017
$50.00
Such a great cause from such a great person. Best of luck in 2018!!
Carol Stern
12/27/2017
$500.00
William Stern
12/26/2017
$500.00
Isabelle, you are the most marvelous person, thinking of others as you do. Love, Grandma and Poppa
Anonymous Friend
12/25/2017
$35.00
Matt Slutzker
12/24/2017
$35.00
Isabelle, you're an inspiration to those around you. You have so much potential and you've already done so much. Keep it up!
Tori Bossa
12/23/2017
$30.00
Good luck, Forrest!
Arielle Grim-McNally
12/20/2017
$100.00
This is wonderful. Good luck reaching your goal!
Brooke Maloney
12/19/2017
$20.00
Shannon Pierce
12/18/2017
$10.00
Samuel Abernethy
12/15/2017
$100.00
Laura Wild
12/08/2017
$30.00
You got this!!!
Jaclyn Abramson
12/08/2017
$15.00
Thank you so much for participating in this wonderful cause!
Caroline Turner
12/07/2017
$20.00
Jackie and Joel Berman
12/06/2017
$200.00
You have no idea how amazed we are with you. With all the nonsense that goes on in this world, you bring some real beauty. Run, Isabelle, Run!!
William Stern
12/06/2017
$99.00
Isabelle, this is to round out to $3000. Much more to come.You are running for all those who need. You are a shinning light.
Miriam Silver
12/06/2017
$100.00
You got this Isabelle !!! You're awesome !!!
Diane Franco
12/04/2017
$100.00
Keep up your love for adventure and helping others along the way.XOXO
Fred Steinman
12/04/2017
$50.00
Anonymous Friend
12/03/2017
$31.00
From Kappa Kappa Gamma at Virginia Tech
Elise and Howie Markowitz
12/03/2017
$300.00
Isabelle, You continue to inspire us in all you do. We are so proud of you.
Anonymous Friend
12/03/2017
$25.00
From Sigma Phi Delta at Virginia Tech
Amanda Stuchel
11/30/2017
$30.00
Gabi Shook
11/28/2017
$35.00
Lauren Schwartz
11/28/2017
$18.00
Diana Royer
11/28/2017
$20.00
I'm so proud of you Isabelle, you're amazing and you're making such positive impacts, good luck with running!! <3
Morgan Faye
11/26/2017
$30.00
good luck :)
Majeed Alsikafi
11/19/2017
$25.00
Nina Kempic
11/17/2017
$30.00
This is an amazing cause! Good luck!
Anonymous Friend
11/11/2017
$230.00
You've got this!
Anonymous Friend
11/06/2017
$35.00
Anonymous Friend
11/05/2017
$30.00
Anonymous Friend
10/29/2017
$20.00
Carolyn Olmsted
10/28/2017
$15.00
Adventuring!
Anonymous Friend
10/08/2017
$25.00
Anonymous Friend
10/08/2017
$41.00
Bill Knocke
09/27/2017
$50.00
Very proud of you, Isabel! Dr. Knocke
Anonymous Friend
09/24/2017
$25.00
Anonymous Friend
09/18/2017
$30.00
Anonymous Friend
09/17/2017
$34.00
Allie Jo Vogrig
09/17/2017
$55.00
Good luck running!!!!
Anonymous Friend
09/15/2017
$22.00
Mabel Vasquez
09/07/2017
$10.00
Best of luck Isabelle!
Emily Casola
09/06/2017
$50.00
Anonymous Friend
08/28/2017
$50.00
Laura Wagner
08/20/2017
$50.00
Great work Isabelle!
Abby Russo
08/19/2017
$15.00
This is such an amazing project! Good luck!!
Charles Lane
08/17/2017
$145.00
Isabelle, I'm glad the Yoga class turned out so well. Thank you for the opportunity to donate to such a great cause. I wish you the best of luck in your run! Gratefully, Charlie
William Stern
08/14/2017
$36.00
Isabelle, This is only to round out your first thousand dollars. Richard would be proud of you. Obviously, much more to come from us.
Richmond Branch ASCE
08/08/2017
$150.00
Good luck!
Sally Kaplan
08/07/2017
$45.00
Natalie Bailey
08/06/2017
$15.00
Good Luck!!
Leah Gillespie
08/02/2017
$20.00
I was inspired by the article on you in the Wyndham Wire. Thank you for raising awareness for an important cause. Best wishes to you on your journey!
Anonymous Friend
07/29/2017
$100.00
Liz Freund
07/25/2017
$15.00
Best of Luck
Michael Bishop
07/24/2017
$55.00
Happy running.
Anonymous Friend
07/21/2017
$10.00
Carrie Nowlan
07/20/2017
$35.00
Merrill Milani
07/19/2017
$30.00
Carly Railing
07/16/2017
$20.00
So proud of you Isabelle!! Keep being awesome you rock and good luck!
Gabrielle Bomberg
07/14/2017
$10.00
Best of luck on this incredible journey!
Anonymous Friend
07/13/2017
$10.00
Anonymous Friend
07/12/2017
$40.00
Erin Knape
07/12/2017
$50.00
Jinx You Owe Me A... Cinnamon Role Nice Twist Bro!
06/29/2017
$18.00
Really incredible what you are doing! Have an amazing time, and be sure to make lots of people smile along the way!!
Anonymous Friend
06/29/2017
$20.00
Gabrielle Vance
06/29/2017
$20.00
Anonymous Friend
06/28/2017
$15.00
Merrill Milani
06/21/2017
$40.00
Lindsay Mullins
06/13/2017
$10.00
You're so awesome!!
Josh Disney
06/12/2017
$20.00
Lauren Hein
06/12/2017
$20.00
Jonathan Wertheim
05/16/2017
$36.00
Emmie Lacy
04/29/2017
$10.00
Thank you for honoring sweet Kganyga and wishing you the best of luck on your journey next summer!!!! I hope you reach your goal :)
Michelle Oelsner
04/28/2017
$50.00
You are making a difference! Don't stop!!!!
Isabelle Stern
04/26/2017
$100.00
Total
$6,690.01