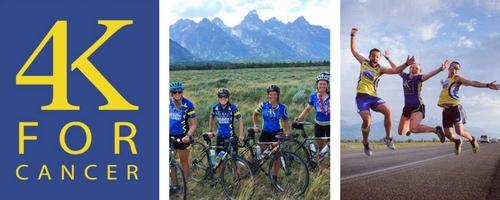 Jamie Blondina's Fundraising Page
Jamie Blondina is a graduate of Rowan University. In the summer of 2018, she will be traveling with a group of college-aged students on a 49-day, 4000+ mile run from San Francisco to Boston, raising money and awareness for the Ulman Cancer Fund for Young Adults.
What is your connection to the cancer community?
When I was a little girl, around seven years old my great grand grandmother passed away from esophageal cancer. She was the sweetest person you'd ever meet. I remember having a bunch of antique bottles lined along the kitchen and we'd always sing "99 bottles of beer on the wall"; she'd get upset that we were saying the word beer and would always encourage us to say "pop," but we never listened. About a year later my Pop-Pop (my Mom's Dad) was diagnosed with lung cancer and passed away at a young age of 60. He was a hard working man at the sand plant and would always leave his soda class on the headboard of his bed after work because he knew I'd always bring it to the sink for him. He was also a huge fan of circus peanuts and spearmint leaves and whenever I see them in the grocery store I get a huge smile on my face because I know he's looking down on me. Fast forward to my Freshman year of High School and my Uncle Rich was diagnosed with Pancreatic cancer. Unfortunately, less than three months later he passed away at the very young age of 44. He and I were really close. He was my tickle monster when I needed a good laugh and my voice of reason when I needed a good sports pep talk. I swear while I'm coaching sometimes I can still hear him yelling from the stands. When I was a Freshman in college I met a friend (who became my roommate for the next three years), her mom had been battling lung cancer for sometime. Her mom's cancer took a turn for the worst while we were away at school and she passed away. Since this was something I had gone through numerous times, I became the shoulder for my friend to lean on....at times, we leaned on each other (that's what friends are for). After I graduated from Rowan we found out my Nana (my Dad's mother) was diagnosed with thyroid cancer. Luckily she had surgery to remove it and she is currently cancer free! In 2016, we found out my Aunt Barb was diagnosed with skin cancer. Fortunately enough they were able to remove the spot and she is currently cancer free! The end of 2017 was a real drag for my family. We found out my Dad was diagnosed with prostate cancer and my Aunt Tracy (my Dad's sister) was diagnosed with thyroid cancer. The good news is my Dad had surgery Dec. 18th to have his prostate removed and is currently cancer free! We are waiting for my Aunt to receive her surgery sometime this January.
Why are you traveling 4,000 miles this summer with the Ulman Cancer Fund for Young Adults?
I feel that cancer has impacted my life both in negative and positive ways, but I choose to focus on the positive ones. I am blessed to have known those who passed and even more blessed to still have the loves near and dear to me who kicked cancers butt! I think in years past I have taken my health for granted. I took waking up in the morning every day healthy, being able to eat the things I want, hang out with friends and family when I want, all of the simple things in life I took for granted. Now with the huge wake up call of my dad having prostate cancer and needing surgery I see things slightly differently. My dad is a super active guy. At 57 years old he still plays competitive soccer and goes for runs numerous nights throughout the week. Now after his surgery he is unable to lift anything over 10lbs for almost a month now (he is starting to go stir crazy, itching to do anything....even laundry at this point!) I want to be a runner in the 4K for all those people who currently cannot. For those active young adults who are bed ridden, or too tired from chemo and radiation to do anything but rest. I want to be a runner so that I can represent my town and community and the district in which I teach. I want to show my students that you can do anything you set your mind to and how great it feels to raise money and give back to those in need.I want to touch the lives of the families we meet along the way, hear their stories and share mine. In such a big world, I find this as a personal opportunity to make a difference in a place where almost everyone has been touched in some way by cancer.
ABOUT 2018 4K for Cancer
2018 marks the 17th year of the 4K for Cancer sending young adults on journeys across the country in an effort to inspire hope and unite communities in the fight against cancer. The 4K for Cancer is a program of The Ulman Cancer Fund for Young Adults (UCF). Interested in joining the fight? Apply to be a rider or runner a at www.4kforcancer.org!
CHALLENGE:
Over 70,000 young adults are diagnosed with cancer every year. Young adults (ages 15-39) face a variety of unique challenges with a cancer diagnosis including fertility preservation, social isolation, lack of insurance, delayed diagnosis, and more.
SOLUTION:
The Ulman Cancer Fund for Young Adults changes lives by creating a community of support for young adults, and their loved ones, impacted by cancer. With your support, the Ulman Cancer Fund is able to provide free support services and resources for the young adult cancer community including:
Cancer to 5K - a 12-week training program designed to introduce or reintroduce cancer survivors to physical activity.
Patient Navigation - a free program (onsite at cancer centers and remotely through our office) that ensures no young adult ever faces cancer alone. We provide one-on-one support & resources to young adults and their families to help them manage the cancer experience and long-term cancer survival.
Scholarships - a financial assistance program to help young adults continue their education after being affected by cancer through their own diagnosis or the diagnosis of a loved one.
UCF House - This year UCF broke ground on a "home away from home" to provide free housing for young adult cancer patients, and their caregivers, in East Baltimore.
Your donation will help make these programs and our mission possible!
Supporters
Name
Date
Amount
Comments
Fred and Susan Barton
07/23/2018
$100.00
You are awesome Jamie
Rob Berardi
06/28/2018
$50.00
Good luck, Jamie. I work with your dad, and like your story showed, cancer touches everyone on some level.
Arianna Smith
06/14/2018
$50.00
Blondina, thank you so much for your amazing coaching and dedication althrough our season. I think what your doing is amazing and I wish you the best of luck! Love, Arianna
Danielle Pittaluga
06/14/2018
$20.00
Good luck Jamie!!! This is awesome what you're doing!!!
Lisa Robbins
06/13/2018
$25.00
All the best to you Jamie on your exciting journey!
Jacob McCartney
06/09/2018
$50.00
I am proud of you! This is a huge task that most people could not do. I am happy that I got the chance to work with you throughout the school year and became friends with an incredible person. I will see you in Boston!!!
Eileen Lombardi
05/29/2018
$25.00
Many blessings to you Jamie !
Adriana Krasniansky
05/25/2018
$40.00
Wishing you strength, stamina, the wind at your back, and no mud anywhere! Really proud to know you Jamie and rooting you on!
Mike, Jenna, and Bo Rosenfeld
05/22/2018
$100.00
Sissy, We are so proud of you!! You're such an inspiration to everyone around you. We hope you have an amazing time on this journey and know you are going to touch the lives of so many. We will miss you but know that this will be the experience of a lifetime. We can't wait to meet you at the finish line!! XoXo Love you lots!! Good luck Team Boston!! <3 Mike, Jenna, and Bo
Sydney Lorentzen
05/21/2018
$25.00
Ally Fumosa
05/19/2018
$10.00
This is amazing! Congratulations and keep up the great work! Here's to all the TRS memories
Adriana Aurite
05/19/2018
$50.00
Jamie you're amazing!!! Good luck love, can't wait to see you!! ❤️ Adg & Eddie
Becca Wood
05/18/2018
$100.00
So incredibly proud of you and what you are doing! Best of luck I know you'll do amazing. Love you always!!!
Williams Family
05/18/2018
$50.00
nancy cagno
05/17/2018
$25.00
Thanks for doing this Jamie --what a great example to set for your students! Safe travels-
JoyceAnn Lamparello
05/17/2018
$10.00
Good luck COACH.... Best wishes from The Lamparello Family
Marie Dudar
05/16/2018
$50.00
Your such a great role model! Wishing you the best of luck in your journey and know we are cheering you on in Toms River! The Dudar Family
Kim Platten
05/16/2018
$100.00
Good Luck! Proud of u!!
Courtney Coppinger
05/16/2018
$50.00
Good luck!!!
Tracy and John Schubach
05/15/2018
$20.00
God Speed on your journey Jamie. Keep looking ahead with each mile. It's time to beat this disease!! ( Aunt Tracy's co-worker)
Tracy and John Schubach
05/15/2018
$20.00
Best of Luck to you Jamie! Your courage is a ripple in a big ocean of people who need it. (Co-worker of your Aunt Tracy) Be Safe!!
Tracy and John Schubach
05/15/2018
$20.00
Thank you Jamie for your efforts. You must be a very special person to take on this endeavor. Your Aunt Tracy speaks highly of you! Good Luck and be safe!
Rachel Calhoun
05/15/2018
$25.00
You are awesome! Good Luck on your run, can't wait to see all the pictures!
Carrie Bush
05/15/2018
$50.00
Safe strides all the way, Jamie. Thank you for leading the way with this amazing work!
Dawn Aulisi
05/15/2018
$25.00
Jamie, You are a true inspiration! Best of luck this summer!
Tracy and John Schubach
05/15/2018
$200.00
Jamie, Your Greatness is not what you have, it's what you Give. To describe you would be... A Kind Heart ❤️ A Fierce Mind
Tracy and John Schubach
05/15/2018
$20.00
When we walk...cancer runs. Together we can beat this! Thank you for your commitment to a cure. Stay safe! (I work with your Aunt)
Jamie Blondina
05/14/2018
$20.00
Good Luck!!
Jamie Blondina
05/14/2018
$100.00
Good Luck on your journey!!
Rocco Gonnella
05/09/2018
$50.00
Best of luck Jame. Proud of ya!!
Michele Galda
05/02/2018
$50.00
Awesome job! Thank you for doing this! If you remember helping us at the food drive with you in the back of the truck! You have always been a giver! Xo
Jamie Blondina
04/26/2018
$100.00
Good luck Jamie!
Louis Sferlazzo
04/25/2018
$25.00
Best of luck for a wonderful cause,!!
Kaitie - Pampered Chef
04/21/2018
$76.54
Run Jamie Run!! I was so happy to help with your Pampered Chef Fundraiser!
Jamie Blondina
04/20/2018
$100.00
Good luck Jamie!
Jamie Blondina
04/20/2018
$210.00
Godspeed Jamie! We are all so very proud of you! Love, Your teacher fans at West Dover Elementary School <3
Jamie Blondina
04/20/2018
$500.00
Good luck on your amazing journey this summer. We'll be rooting for you!!
Anonymous Friend
04/18/2018
$10.00
Good Luck!
Ben & Eileen Nogiewich
04/18/2018
$100.00
We are proud of you Jamie! Best of Luck to you❤️❤️
Ryan Miskanich
04/17/2018
$150.00
Best of luck, I'm sure you'll kill it!! :)
Jenna Bado
04/16/2018
$200.00
Jame Jame, Finally an adventure to match your craziness, a true reflection of your BIG heart! I am so grateful that we became friends nearly seven years ago. You were my shoulder to cry on, listening ear and first phone call when my mom could not fight her battle anymore. Thank you for dedication in finding a cure. I'll be tracking every step of your adventure! BEST OF LUCK! Love Jen Jen
Adrianna Macaro
04/16/2018
$50.00
This is so awesome & so are you! Good luck Jamie!! <3
Becky Nesterwitz
04/16/2018
$25.00
Go Jamie!! Love Becky & Tom :)
Ann Blondina
04/12/2018
$150.00
You're loving with a compassionate, giving heart. Pop & I could't be more proud of you. Travel safe, have fun & may God's hand be on your shoulder all the way home to us. WE LOVE YOU xoxo
Tara Murray
04/07/2018
$25.00
Fight the good fight.
Sandy Nesterwitz
04/07/2018
$70.00
You go Jamie!!
Joanne Sinnott
03/30/2018
$25.00
In a gentle way, you can shake the world. ~ Mahatma Gandhi Godspeed Jamie!
Bonfire
03/29/2018
$798.01
Wendy Mahne
03/29/2018
$50.00
This donation is to support those who have lost their lives to cancer like my husband, those surviving cancer like my dear friend Tracey Schubach and for those who love and support family members by fundraising. Rock on and F**k cancer
Tracy and John Schubach
03/29/2018
$20.00
This is for my best friend Tracy that I've known for 30 yrs. Good Luck Jamie, this is a wonderful thing you're doing!
Jamie Blondina
03/26/2018
$100.00
You Are Awesome! Thank you for supporting those who battle the Big C Safe Journey xoxo
Wayne Friedland
03/19/2018
$250.00
Good Luck from all of us at Epic Mechanical Inc.!
Judith Anderson
03/19/2018
$50.00
Good Luck!
Jamie Blondina
03/19/2018
$50.00
You go girl, make us proud! <3
Sherri Boag
03/19/2018
$50.00
Go Blondina!!! The Boag's are super proud!! Xo
Aly Bills
03/18/2018
$20.00
What an amazing adventure you are embarking on! Good luck!!!
Lindsay Delaney
03/14/2018
$50.00
LJ, we hope you have an amazing experience.
Dave and Sherry Blondina
03/10/2018
$100.00
Good luck Jamie!! Have a great time, we'll be cheering you on from Sanibel <3
Denise Mcquaid
03/09/2018
$75.00
This is an amazing thing that you're doing Jamie. You're truly an inspiration. Best of luck! Thank you!
Matthew abbott
03/09/2018
$15.00
Kerry Pehnke
03/08/2018
$100.00
Best of luck Jamie! Such an amazing event to do! You'll do great!
Becky Kelly
03/08/2018
$100.00
Jamie!!!! You are amazing! Not only are you a great coach, teacher and friend you are a great person inside and out. Your determination and commitment is something I admire so much. Thank you for fighting for such a wonderful cause. Best of Luck! #SouthPride #Cancersucks #ForDad
Kelly O'Brien
03/08/2018
$100.00
This is amazing, LJ! Good luck! You're going to kill it on this adventure!
Laura Cutrone
03/08/2018
$50.00
Kick butt gf. Bob and I are both big fans of yours. ❤️
Dawn, Danny and Bryan Sullivan
03/08/2018
$50.00
So proud of you Jamie! Best wishes in this awesome journey.
Janet Carr
03/08/2018
$75.00
Go get em Jaime! You and your family are wonderful role models for so many people. We wish you great success on this journey. Love, Rodney, Janet Carr and family
Debbie Dodd
03/08/2018
$25.00
You were an amazing student at WD. You continue to strive to do your best in life. Good luck on your journey!
Barbara Granato
03/08/2018
$100.00
Jamie, I could not be more proud of you. Ever since you were a little girl you always had such a big heart! What a journey you are going to have running across country for that damn thing called cancer! Luv you, Aunt Barb ----Now let's kick some but!!!!!
Melodie Lecuyer
03/08/2018
$25.00
Good luck!
Jen&Bob Mathis
03/08/2018
$100.00
BEST of luck on your journey. You are an amazing person❤️
Lucia Doulong
03/04/2018
$10.00
Julie Clark
03/04/2018
$160.00
Ms Blondina We are so proud of you, and your willingness to always give to others! Have a great summer traveling across America for a great cause. Love, the students of Ms. Clark's and Mr. Sandberg's health classes run Ms. Blondina run!!
Rose Marie Porzio
02/27/2018
$75.00
Jamie, This is an awesome event, your involved with. I lost my Dad to brain cancer at the age of 61. Miss him terribly everyday. Lost my dear friend Lizzy last year she was 59. It is great to have friends to help us get through these tough times. So glad you were there for your friend and so happy your Dad is doing well. Prayers for your aunt().
Carol Nigro
02/27/2018
$20.00
Way To Go Jamie!!!!! You are an amazing person!!! Love, Carol
Dave and Sherry Blondina
02/26/2018
$200.00
We are extremely proud of you! On behalf of your family we would like to thank you for devoting your time running across the country in search for a cure for cancer. You have a BIG heart and we want you to know we appreciate you and love you lots! xoxo Go Team Boston!!
Brittany Sorrentino
02/23/2018
$55.00
So proud fo everything youre doing it is truly amazing! ❤
Adrienne, Jessica, Danielle Marler
02/17/2018
$25.00
We are so inspired by your story & wish you the best running across the country! You will do awesome!
Pam Budrow
02/08/2018
$25.00
So awesome you're doing this. Way to go girl! Cancer took both my Mom & Aunt and we currently have a friend battling brain cancer. Safe travels - your Uncle Rich will be with you every step of the way. Love ya! Pam & Preston
Kim Peto
02/07/2018
$50.00
This is awesome!!! Way to go, Jaime!!! ❤️
Erica Farinaro
02/07/2018
$25.00
You go girl!
Kevin Cohen
01/26/2018
$50.00
Good luck coach. You are a great role model to the girls in our program!
Kevin Cohen
01/26/2018
$50.00
Best of luck on this journey coach. We will be thinking of you throughout the summer!
Lindsay Barrie
01/22/2018
$100.00
Good luck on your adventure LJ, you are going to crush it! love you - The Barrie Family
Marie Walling
01/20/2018
$20.00
Wishing you the best of luck. Cancer affects so many.here is praying we find the answers for a cancer-free future.
Jamie Blondina
01/19/2018
$20.00
<3 Good Luck
Drew Anders
01/18/2018
$50.00
Your story is emotional, but we love how you focus on the positive aspects of the challenges life can throw our way. Your actions will be meaningful both personally and for others. Best wishes during this journey...keep being the great person you are, sounds like you have a lot to be proud of!
Ken Drazin
01/17/2018
$50.00
Good luck!
Lisa McGowan
01/17/2018
$100.00
You are an inspiration! Love you Jamie!!
Kiko and Jemand Ezeonwuka
01/17/2018
$200.00
What a wonderful cause. Good luck Jamie!
Solsiree McGowan
01/17/2018
$100.00
This is a beautiful cause. We keep praying every day fir this horrible disease to stop taking our love ones. ❤
Tom & Lisa Nasce
01/16/2018
$100.00
Ashley Greenberg
01/16/2018
$50.00
What an amazing and inspiring journey! Best of luck. Ashley & Chase
Resa & Tom Murawski
01/16/2018
$50.00
Jamie, you are such a beautiful soul to be doing this! We are so proud of you and think this is absolutely amazing! We can't wait to follow your journey this summer and cheer you on from NJ! God Bless you and your family as you will remain in our thoughts and prayers for health and happiness! F@%! Cancer!! Show it who's boss!!!!! ❤️
Jamie Blondina
01/12/2018
$100.00
Total
$7,384.55