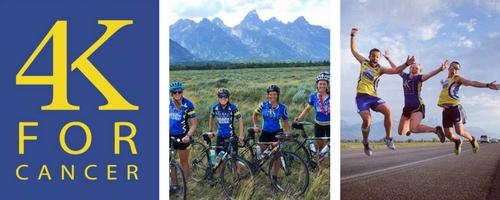 Ashley Cooper's Fundraising Page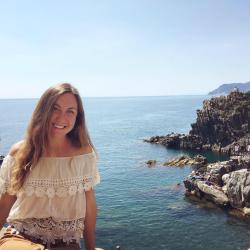 Ashley is a sophomore at Virginia Tech. In the summer of 2018, she will be traveling with a group of college-aged students on a 49-day, 4000+ mile run from San Francisco to Baltimore, raising money and awareness for the Ulman Cancer Fund for Young Adults.
What is your connection to the cancer community?
Cancer has afflicted many people in my life, including both family and friends. My MaMa won her battle with breast cancer, while my Granny and Papaw both won their battles with thyroid and prostate cancers, respectively. Several people close to my family were all younger than 50 when they lost their lives to cancer. Each of these ties contributes to my connection to the cancer community, however, the most impactful moment for me happened when my father was diagnosed with prostate cancer. The week between his diagnosis and his surgery felt like months as my family waited anxiously for the results. He was lucky. The doctors were able to remove all the infected areas before it could spread, and to this day he is cancer free. Nevertheless, I haven't forgotten that moment of helplessness before his fate had been determined. Unfortunately, instances like my Dad's are more of an exception than the norm. In today's world, there are still countless people who continue to carry the burden of cancer's stifling presence, but the Ulman Cancer Fund offers ways to alleviate this burden. Until a cure is found, I want to aid this foundation in improving both quality of treatment and of life for patients during their battle against cancer.
Why are you traveling 4,000 miles this summer with the Ulman Cancer Fund for Young Adults?
At first glance, the connection between running across the country and raising resources and awareness for cancer may lack an obvious connection. However, 4K for Cancer fosters both a surface level of support as well as a deeper purpose. At the surface, our 4K team will help alleviate some of the hardships of cancer by providing chemotherapy bags, scholarships, and support programs to families across the country who are currently influenced by cancer. In addition to spreading resources, however, we will also spread hope. Running across the country will be the greatest physical challenge I've taken on in my life, but it carries a higher meaning than simply running. It symbolizes that anything is possible. The countless miles represent countless research projects aiming to improve treatments. The sheer determination of pushing through the exhaustion of running represents the sheer determination of families to stay strong despite the difficulty of their circumstance. As I run across the country, I want to lift, even partially, some of the burden of cancer from each family I meet and replace it with hope. I'm running for the victories of my Dad and my Grandparents. I'm running for the ongoing battles of those still fighting cancer. I'm running in memory of those whose lives have been taken by cancer. More than anything, though, I'm running to show that this isn't a losing battle--it is a fight we can win.
ABOUT 2018 4K for Cancer
2018 marks the 17th year of the 4K for Cancer sending young adults on journeys across the country in an effort to inspire hope and unite communities in the fight against cancer. The 4K for Cancer is a program of The Ulman Cancer Fund for Young Adults (UCF). Interested in joining the fight? Apply to be a rider or runner a at www.4kforcancer.org!
CHALLENGE:
Over 70,000 young adults are diagnosed with cancer every year. Young adults (ages 15-39) face a variety of unique challenges with a cancer diagnosis including fertility preservation, social isolation, lack of insurance, delayed diagnosis, and more.
SOLUTION:
The Ulman Cancer Fund for Young Adults changes lives by creating a community of support for young adults, and their loved ones, impacted by cancer. With your support, the Ulman Cancer Fund is able to provide free support services and resources for the young adult cancer community including:
Cancer to 5K - a 12-week training program designed to introduce or reintroduce cancer survivors to physical activity.
Patient Navigation - a free program (onsite at cancer centers and remotely through our office) that ensures no young adult ever faces cancer alone. We provide one-on-one support & resources to young adults and their families to help them manage the cancer experience and long-term cancer survival.
Scholarships - a financial assistance program to help young adults continue their education after being affected by cancer through their own diagnosis or the diagnosis of a loved one.
UCF House - This year UCF broke ground on a "home away from home" to provide free housing for young adult cancer patients, and their caregivers, in East Baltimore.
Your donation will help make these programs and our mission possible!
Supporters
Name
Date
Amount
Comments
Rebecca Carlson
07/28/2018
$20.00
I'm enjoying reading about your run! Blessings on the last stretch
Peter Kienle
07/28/2018
$100.00
Ashly, Thanks for dedicating part of your run to Judy Kienle. Your participation is a tremendous gift you are giving to children and their families. God Bless You...Pete Kienle
Dolores Burback
07/28/2018
$100.00
So proud of you Miss Ashley! What a beautiful spirit you are sharing across our country! Andrea Edwards and Christine Garner are members of Bill Edwards' family who have lost their fight with cancer but claimed their victory in Heaven. From Bill's Sunday School classes - Faith & Covenant
Alicia Herr
07/23/2018
$100.00
Cindy Cooper
07/22/2018
$200.00
May the Lord shower you with stamina, motivation, and blessings! Go Ashley!
Leigh & Tom Hronek
07/18/2018
$100.00
Buddy & Mackie Nix
07/02/2018
$25.00
Randy Carlson
06/26/2018
$50.00
Good luck Ashley Cooper on your run. Tear up that road!
Tamy Lemke
06/26/2018
$20.00
Many blessings to you during this journey and beyond, Ashley. What a beautiful soul you have!
Sandy Conger
06/21/2018
$50.00
Cindy Cooper
06/19/2018
$20.00
Marie-Claire & Matthew Brittain
06/18/2018
$1,000.00
Connie Wright
06/17/2018
$200.00
Mara Minter
06/07/2018
$100.00
Good Luck!!
Ruth Tubb
06/01/2018
$25.00
Very proud of what you are doing Ashley
G. Douglas Schepp
05/28/2018
$75.00
Cindy Cooper
05/15/2018
$10.00
Go Ashley!
Rosemary Sheedy
05/07/2018
$50.00
Mr. & Mrs. William Haas
05/06/2018
$50.00
Mildred Dowdle
05/05/2018
$50.00
Will Harrington
04/29/2018
$10.00
Thank you for supporting so many families!
Susie Bousquet
04/27/2018
$20.00
Go Ashley! You're doing an awesome thing and gonna have a blast! Keep training!
Stephanie Cario
04/27/2018
$10.00
As a VT & 4k alum, I couldn't resist helping you guys out! Have the best summer ever!!
Anonymous Friend
04/26/2018
$50.00
God speed!
Jack Murphy
04/05/2018
$500.00
Brian Gurley
03/25/2018
$300.00
Thanks for doing this run, Ashley. We will be thinking of you. The Gurleys
Cindy Cooper
03/24/2018
$20.00
Go Ashley!
Ashley Cooper
03/21/2018
$80.00
Haygood United Methodist Church
03/20/2018
$260.00
Anonymous Friend
03/15/2018
$100.00
You're doing a good thing for all the right reasons.
Billie L Bonniwell
03/09/2018
$100.00
Rosemarie R Morgan
03/09/2018
$50.00
Marie Porter
03/07/2018
$50.00
Susan Over
03/05/2018
$27.00
You go, girl!
R M Enterprises, LLC
03/02/2018
$200.00
Heather Hockey
02/24/2018
$60.00
Best wishes Ashley on your run. Debra Hockey would like to donate this in memory of her brother Ronald Beaulieu and John Hockey Jr would like to donate this in memory of his mother Edna Hockey.
Bettie Goganious
02/23/2018
$50.00
As a three time survivor I am so thankful for supporters like you who are Fighting for a Cure. May God keep you safe on your mission. I am so proud to have you as my neighbor. I still have the little bear you give me during my illness. Go Ashley
Cindy Cooper
02/23/2018
$56.00
Bobbi Coleman
02/19/2018
$20.00
Safe Travels.
Cindy Cooper
02/19/2018
$22.00
Go Ashley!
Anonymous Friend
02/17/2018
$50.00
Friends from your presentation at Fieldstone Church. Good luck!
Christina E Dowdy
02/16/2018
$30.00
Sarah Esparza
02/15/2018
$75.00
We love your dedication, Ashley, & wish you the best!
Clay & Emma Ruth Brittain
02/15/2018
$150.00
Good Luck Ashley! Clay & Emma Ruth Brittain
Donna Sawyer
02/13/2018
$50.00
Way to go Ashley!
Cindy Cooper
02/13/2018
$50.00
Cindy Cooper
02/13/2018
$15.00
Heather Hockey
02/11/2018
$20.00
Best wishes Ashley on your run. Thank you so much for raising money and supporting such a great cause.
Ashley Cooper
02/10/2018
$121.00
G Peyton Neatrour
02/06/2018
$100.00
Drs. Savage, Sabol & Visser, Ltd
02/05/2018
$50.00
Kimberly A Oren
01/31/2018
$100.00
The McNeel Family
01/30/2018
$250.00
We appreciate you giving your summer for the benefit of others!
James Dolan
01/26/2018
$100.00
Cindy Cooper
01/25/2018
$80.00
Go Ashley!
John T Edmonds
01/23/2018
$100.00
Michael Mihalick
01/23/2018
$25.00
We hope you enjoy your trip this summer, it is a great way to help many people. Mike and Zona Mihalick
Dona K Brower
01/23/2018
$100.00
Tami Booth
01/22/2018
$100.00
good luck Ashley!!
Chad Manke
01/21/2018
$100.00
Ride Hard!
Michael Carlson
01/20/2018
$250.00
Carol McLaughlin
01/18/2018
$50.00
Bob Sasser
01/17/2018
$100.00
Gail Winkle
01/12/2018
$100.00
Thanks for running and helping those touched by cancer!
Jody Ullmann
01/07/2018
$100.00
So proud of your willingness to make this sacrifice. You've got this.
Patricia Pyle
01/06/2018
$50.00
Lots of love, MaMa
Alanna Ramquist
01/06/2018
$2.00
Katie Knapp
01/06/2018
$2.00
Patricia and Neil Collins
01/06/2018
$25.00
Anonymous Friend
01/05/2018
$100.00
Humphrey Family
12/30/2017
$50.00
Go for it Ashley! We are happy to support this great project.
Natalie Aziz
12/29/2017
$100.00
So proud of all you do and all you will continue to do! Can't wait to hear about this experience and your adventures!
Lorraine Eaton
12/29/2017
$200.00
Thank you so much for doing this, Ashley!
Selwyn Hector
12/25/2017
$85.00
Merry Christmas and thanks for giving up time to be a positive force. I'm happy to help.
Tina Cooper
12/24/2017
$50.00
We will be cheering you on:)!
Anonymous Friend
12/23/2017
$500.00
Proud of you for raising money and providing your time and energy to a great cause.
Kay Hinds
11/13/2017
$100.00
Pamela Taylor
11/09/2017
$30.00
Mike Moore
10/20/2017
$100.00
WOW!
Catalina Ortega
10/18/2017
$40.00
What an amazing adventure! and a generous cause!
Vicki Vaughan
10/18/2017
$50.00
go girl! we wholeheartedly support you and will be tracking your run for this awesome cause! vicki & joe
Anonymous Friend
09/28/2017
$50.00
You got this!!!
Christopher Cooper
09/16/2017
$100.00
Can't wait to see all you accomplish! Run fast!
Jordan Arbuckle
09/16/2017
$15.00
You got this babe!
Cindy Cooper
09/14/2017
$250.00
So proud of your generous spirit! We love you! What an amazing adventure you will have this summer.
Ashley Cooper
07/07/2017
$100.00
Total
$8,595.00